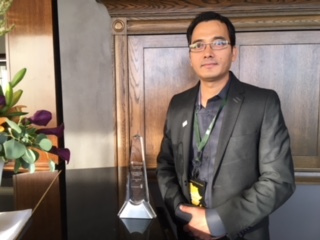 DES MOINES, Iowa (CIMMYT) – A scientist whose work is projected to significantly increase wheat production for smallholder farmers around the world has won the 2017 Ted Crosbie MBBISP Impact Award presented by Monsanto.
Bhoja Raj Basnet, who heads a hybrid wheat-breeding program at the International Maize and Wheat Improvement Center (CIMMYT), received the award on the sidelines of World Food Prize celebrations in Des Moines, Iowa.
Basnet was recognized as the former recipient of Monsanto's Beachell-Borlaug International Scholars Program (MBBISP) whose work since graduation has developed beyond his academic experience. The program provided support for his doctoral studies at Texas A&M University.
"He received the award for the impact his work has had and will continue to have on smallholder farmers," said Bonnie Finger, Jen Jacobs and Stella Salvo, the Monsanto team that liaises with Ed Runge, director of the scholars program at Texas A&M University.
"Monsanto truly wants to improve lives through better harvests, and the aim of this award was to improve the lives of smallholder farmers," Finger said. "Dr. Basnet's work on hybrid wheat has the potential to make a huge impact."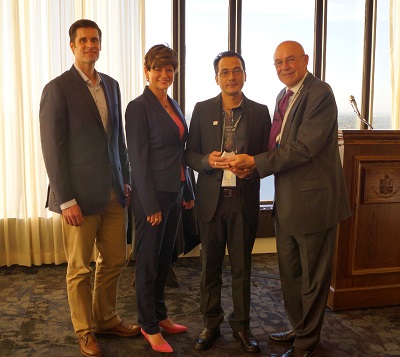 Runge tracks the progress of Beachell-Borlaug alumni and led the judging panel, which was comprised of world-renowned scientists and World Food Prize laureates, with Finger, Jacobs and Salvo. Since 2008, 89 scholars have received $13 million in funding through the program.
Basnet, who grew up on a one-acre subsistence farm in southeastern Nepal, studied plant breeding at Texas A&M University, receiving the Beachell-Borlaug scholarship in 2009 and graduating with a doctoral degree in 2012.
Since 2014, Basnet has led CIMMYT's research to develop tools and technology to produce commercially viable hybrid wheat varieties, which could lead to a 15 to 20 percent improvement in yield potential.
Hybrid wheat is created by intentionally crossbreeding two genetically distinct wheat lines to produce offspring that combine the best traits of the parents, a process that can take many years. Traits are chosen to achieve such characteristics as increased grain yield, heat, drought or stress tolerance.
"I'm thrilled to receive the award," Basnet said. "I'm truly honored that my team's work, which has massive potential to increase wheat production globally, has been recognized in this way. It's so encouraging to receive support for our project and my work since graduation."
The award honors the memory of Ted Crosbie, former vice president of Global Plant Breeding and leader of Integrated Farming Systems for Monsanto, an agrochemical and agricultural biotechnology company, as well as Iowa's chief technology officer, who died at age 65 in 2016.