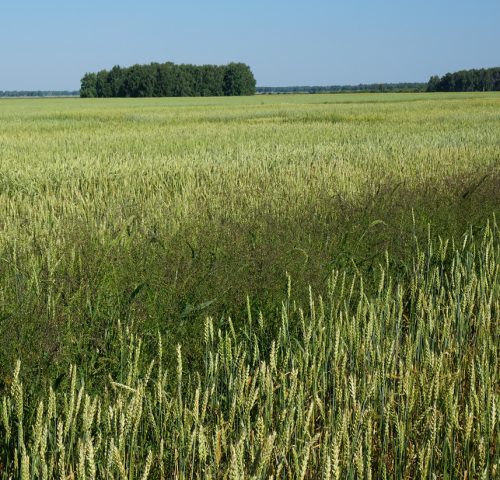 FOR IMMEDIATE RELEASE           
MEXICO CITY — Breeders of spring wheat for North America and Russia need to adapt their varieties to the regions' changing climates, which are bringing longer and wetter whegrowing seasons, according to a scientific paper published yesterday.
Published by a five-country team of wheat researchers, the study analyzed changes in wheat yields, along with air temperatures and precipitation, on farms and research stations in Canada, Kazakhstan, Russia, and the USA, from 1981 to 2015.
The 22 million hectare study area — nearly the size of the United Kingdom — accounts for as much as 10 percent of global wheat production and exports nearly all its wheat, making it a big contributor to world food markets, according to Alexey Morgounov, wheat scientist at the International Maize and Wheat Improvement Center (CIMMYT) and first author of the paper.
"June, when the grain-holding wheat spike begins to form, turned out to be the critical month for spring wheat," Morgounov said. "Maximum temperatures for that month rose over the 35 years studied, which hurt yields, but average rainfall increased and boosted grain yield, offsetting the temperature effect."
Still, breeding for adaptation to higher temperatures will be critical to increasing spring wheat yields, according to Morgounov, who added that there were substantial changes in the dates of planting and harvesting, normally leading to longer growing seasons in the regions studied. "New varieties should be able to take advantage of the longer wheat growing seasons that warming brings."
Overall, climate changes were more favorable for spring wheat in North America than in Kazakhstan and Russia, with greater precipitation in Canada and the USA and less exposure to extreme, high temperatures. Growing season precipitation increased as much as 15 percent at North American locations.
The two regions covered in this study represent distinct environments. The Kazakhstan and Russia locations are more than 500 kilometers further north than the North American latitudes and experience colder winters, hotter summers, and less precipitation.
"Interestingly, the two regions appear to complement each other, over the period we studied," Morgounov said. "Higher-than-average wheat yields in one were normally associated with lower yields in the other, helping to foster stability in grain markets."
"The whole high-latitude, continental climate spring wheat area certainly presents a huge potential for global wheat production," he added, "and both can benefit from germplasm exchange and cooperation, with emphasis on the climate change challenges and opportunities presented in this paper."
Morgounov acknowledged contributions for the study from the Prairie Recommending Committee on Wheat, Rye and Triticale, Canada, and other Canadian partners; the USDA-ARS Plant Science Research Unit; the Samara Agricultural Research Institute, the Agricultural Research Institute of Southeast Saratov, the Altay Agricultural Research Institute at Barnaul, the Siberian Agricultural Research Institute at Omsk, the Shortandy Variety Testing Site, and the Siberian Crop  Production Research Institute at Novosibirsk, Russia; and the Karabalyk Agricultural Research Station, Kostanay, Kazakhstan. Finally, Morgounov thanked the CGIAR Research Program on Wheat for its support.
FOR MORE INFORMATION OR TO ARRANGE INTERVIEWS:
Courtney Brantley
Junior communications consultant
International Maize and Wheat Improvement (CIMMYT)
Email: c.brantley@cgiar.org
Tel: +52 55 5804 2004