A multitude of research on the benefits of conservation agriculture in South Asia has predominantly focused on favorable environments where farmers have reliable access to energy supporting irrigation and inputs.
In this new publication, scientists from the International Maize and Wheat Improvement Center (CIMMYT) explore the performance of conservation agriculture in under-developed coastal environments in southern coastal Bangladesh over a period of three consecutive years, including under rainfed conditions and/or with limited application of irrigation.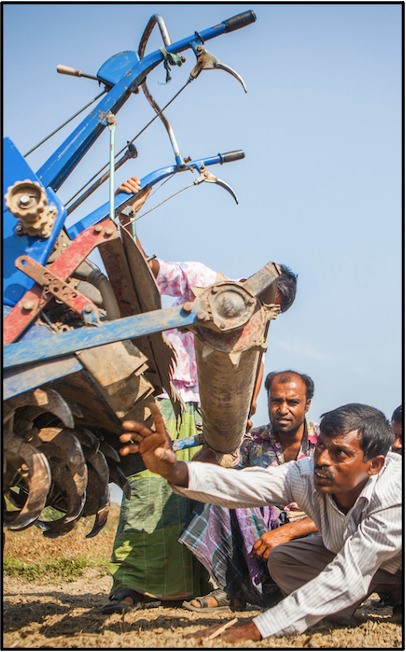 Responding to the identified research gap, this research tests the hypothesis that seasonally alternating tillage (SAT) practices that alternate between strip-tillage in the winter season for maize and conventional tillage (CT) prior to rice can reduce energy use, increase energy productivity, and reduce yield-scaled emissions while increasing or maintaining yield and profit, even under these challenging conditions.
Working with 35 farmers who managed experiments in partially irrigated and rainfed environments in southern coastal Bangladesh, researchers teamed up with farming communities to compare the full suite of conservation agriculture to SAT practices against CT and farmer's own practices.
The research found that in these coastal environments, both conservation agriculture and SAT practices have the potential to increase cereal yields and energy productivity while reducing yield-scaled emissions, thereby enabling farmers even in challenging coastal environments to produce more while reducing energy use and mitigating greenhouse gas emissions.
However, in consideration of farmers' aversion to the elimination of tillage in rice, the research suggests that adaptations in CA practices and seasonal tillage prior to rice may be a more practical fit for rice-maize systems managed by smallholders reluctant to eliminate tillage for rice in coastal Bangladesh.
This research gives implications for future research and development efforts to take into consideration farmers' preferences or the trade-offs resulting from significant change to conservation agriculture management in otherwise fully tilled systems. It is also vital to integrate development efforts that focus not only on agronomic management, but also on building supportive value chains to improve availability and affordability of the inputs and farm machinery required to successfully establish crops with such practices.
Read the full study: Adapted Conservation Agriculture Practices Can Increase Energy Productivity and Lower Yield-Scaled Greenhouse Gas Emissions in Coastal Bangladesh
Cover photo: Long-term conservation agriculture in Rajshahi, Bangladesh. (Credit: CIMMYT/Sam Storr)