On November 13, 2020, researchers from the International Maize and Wheat Improvement Center (CIMMYT) and the Bangladesh Wheat and Maize Research Institute (BWMRI) held a virtual meeting to update Bangladesh's Minister for Agriculture Md Abdur Razzaque on their organizations' ongoing research activities regarding the development of sustainable, cereal-based farming systems.
The purpose of this event was to inform influential stakeholders of the implications of the impending transition to One CGIAR for collaborative research activities in Bangladesh and how CIMMYT will continue its support to the its partners in the country, including the government and other CGIAR centers. The event was chaired by CIMMYT's Director General Martin Kropff, who called-in from CIMMYT's headquarters in Mexico, and Razzaque, who attended the event as a special guest. Around 21 participants from various government offices including the Department of Agricultural Extension (DAE) and the Bangladesh Agricultural Research Council (BARC) were in attendance.
Speaking at the event, Razzaque thanked CIMMYT for its support in increasing maize and wheat production in Bangladesh — as the main source of germplasm for these two crops — which has been crucial for assuring food and income security and helping the country reach towards the Sustainable Development Goals. He expressed his gratitude for CIMMYT's help in mitigating the threats posed by pests and diseases, and supporting climate information services which have enabled farmers to avoid crop losses in mung bean, and he requested that CIMMYT to intensify its research on cropping systems, heat- and disease-tolerant wheat varieties, and the introduction of technologies and farming practices to sustainably increase production and reduce wheat imports.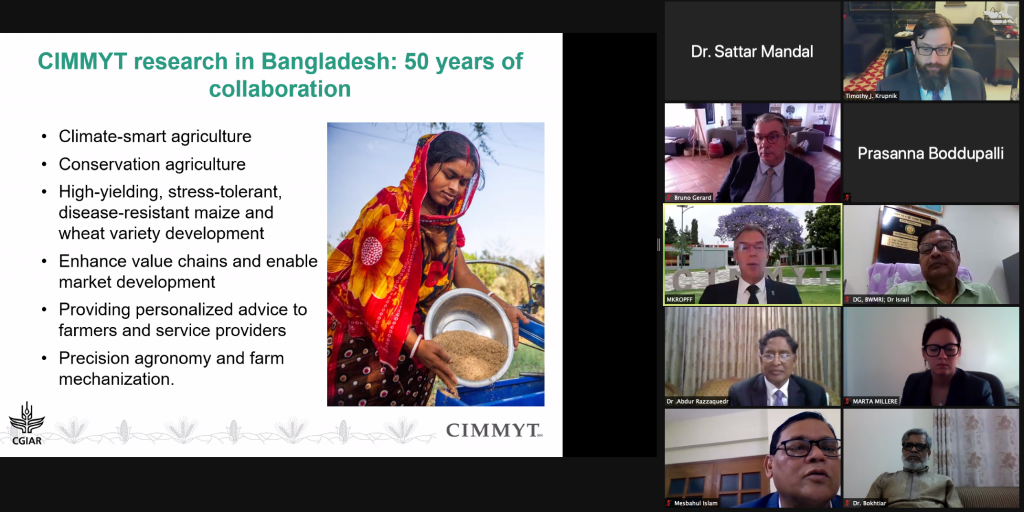 Timothy J. Krupnik, CIMMYT's country representative for Bangladesh, guided participants through the history of CIMMYT's engagement in Bangladesh from the 1960s to the present and outlined the organization's plan for future collaboration with the government. In addition developing wheat blast-resistant varieties, exchanging germplasm and seed multiplication programs for disease-resistant varieties, Krupnik described collaborative efforts to fight back against fall armyworm, research in systems agronomy to boost crop intensity and the use of advanced simulation models and remote sensing to assist in increasing production while reducing farm drudgery, expensive inputs, water and fuel use, and mitigating greenhouse gas emissions.
He also highlighted efforts to create a skilled work force, pointing to CIMMYT's collaboration with the Bangladesh Agricultural Research Institute (BARI) on appropriate agricultural mechanization and USAID-supported work with over 50 machinery manufacturers across the country.
"This historical legacy, alongside world-class scientists and committed staff, germplasm collection, global impact in farmer's fields, next generation research and global network of partners have made CIMMYT unique," explained Kropff during his closing remarks, which focused on the organization's research and collaboration on climate-smart and conservation agriculture, high-yielding, stress- and disease-tolerant maize and wheat variety development, value chain enhancement, market development, precision agronomy and farm mechanization in Bangladesh.
He expressed his gratitude towards the Government of Bangladesh for supporting CIMMYT as an international public organization in the country, thus enabling it to continue delivering impact, and for recognizing the benefits of the transition to a more integrated network of international research centers through One CGIAR, under which CIMMYT and other centers will strengthen their support to the government to help Bangladesh achieve zero hunger.