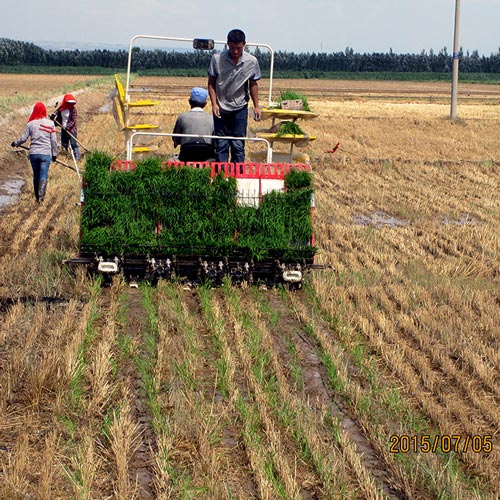 As part of CIMMYT's ongoing collaboration with the Ningxia Academy of Agriculture and Forestry Sciences and the building of an innovation platform there, we have refurbished our site and undertaken a number of trials that reflect the concepts of sustainable intensification, which increases food production from existing farmland while minimizing pressure on the environment.
The site at Litong just outside the city of Wuzhong in Ningxia Province has been modified and now boasts a paved parking area, all-weather access roads and field paths, and an array of signage that explains CIMMYT's activities and the history of conservation agriculture undertaken by CIMMYT-China in this part of the country.
Zero-till rice transplanting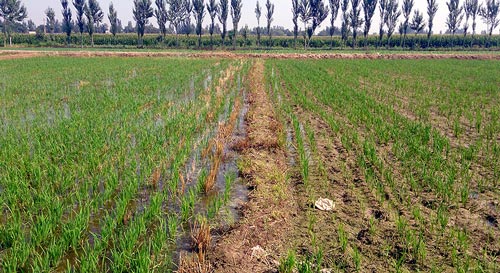 CIMMYT recently tested a zero-tillage (ZT) rice transplanting operation with a 9 row transplanter from Jiangsu province. The idea came from viewing a short video taken some years ago of a conventional transplanter being used under ZT conditions in Bangladesh. In Ningxia, recently harvested wheat fields were irrigated and rice seedlings were planted into standing wheat stubble without any further modification to the planter. In contrast, rice was conventionally transplanted in an adjacent field, which required two days of field preparation including inversion plowing, leveling and puddling at an extra cost of USD $375 per hectare.
Zero-till rice transplanting not only saves time, labor and fuel, but also minimizes soil disturbance, maximizes residue retention, and mitigates moisture and nutrient loss. Results from these trials will demonstrate the effectiveness of transplanting rice into ZT winter wheat standing stubble.
Relay and intercropping
Monocropping farming systems are predominant in Ningxia, with the same crop planted year after year. The region has very cold winters and short summers, but with the use of short season varieties and relay cropping, double-cropping and crop rotations can be realized in the region. Double-cropping is a form of sequential cropping in which two crops are grown in sequence within a year on a piece of land by seeding or transplanting one before or after harvesting the other.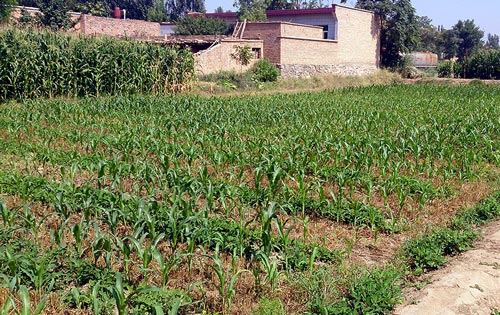 To that end, five maize cultivars were relay-planted into winter wheat on 17 June, around two weeks before harvest; the plot was previously intercropped with 24 peanut varieties. The advanced winter wheat lines were harvested in late June and yielded quite well for the region. We expect to harvest the maize from late September to early October 2015.
Zero-till and early maturing grain crops are key to double-cropping in the region; however, the current wheat variety – Ningdong 11 – is late in maturing. Next year, the earlier maturing Ningdong 10 will be used, with emphasis on residue retention and increased stubble height during harvest, before seeding maize directly and/or transplanting rice. However, the current Chinese-made Turbo Happy Seeders will need to be modified to cope with the rougher soil surfaces encountered under ZT to ensure better seeding depth control.