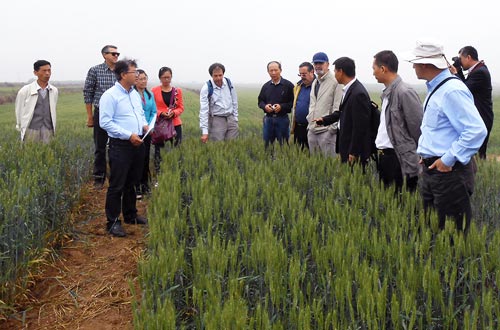 The past few weeks have been busy and interesting in China: preparing for the International Conservation Agriculture Forum in Yinchuan and work travels to Beijing, Yangling (Shaanxi province), and Xuchang (Henan province) are a sure way to keep oneself occupied.
Strengthening partnerships in Beijing
I travelled to Beijing during 2-4 May to discuss future cooperation between the University of Southern Queensland (USQ) and the China Agricultural University (CAU) at a meeting with Jan Thomas, USQ vice-chancellor, and K.E. Bingsheng, CAU president, accompanied by the USQ delegation and CAU senior professors. What does this have to do with CIMMYT? Part of my mandate in China is to forge new partnerships, especially with universities seeking to expand internationally. This requires putting on the CIMMYT uniform to demonstrate presence and reinforce linkages with old and new colleagues. As a result, we hope to see a memorandum of understanding and the facilitation of staff and student exchanges between these universities, Ningxia institutions, and CIMMYT.
Water-use efficiency in Yangling
The Northwest Agricultural and Forestry University in Yangling hosted the final review of the ACIAR "More effective water use by rainfed wheat in China and Australia" project led by Tony Condon (Commonwealth Scientific and Industrial Research Organisation, CSIRO), in which the Ningxia Academy of Agriculture and Forestry Sciences is a partner (led by Yuan Hanmin). The project aims to improve and stabilize farmer returns from growing wheat in dry, rainfed environments in northwest China through development of higher-yielding wheat germplasm that uses water and soil resources more effectively. I spent 6-10 May first hearing about and seeing the extensive breeding work with Australian and Chinese lines, and later discussing the role of conservation agriculture and soil management in breeding with the reviewers and other participants, including Greg Rebetzke from CSIRO. During a Combined China-EU-Australia Workshop on Phenotyping for Abiotic Stress Tolerance and Water-Use Efficiency in Crop Breeding, which followed the review, Richard Richards (CSIRO) presented a very pertinent paper on "Opportunities to improve cereal root systems for greater productivity." His focus on below-ground processes provides considerable and significant support for conservation agriculture and associated management practices in improving root system functions.
Farm mechanization in Xuchang
The 30th anniversary of the Henan Haofeng Machinery Manufacturing Company in Xuchang, Henan province, provided an excellent opportunity to present conservation agriculture and small machinery requirements for developing countries to 4 academicians, about 10 high level officials from the Ministry of Science and Technology, Ministry of Agriculture, Henan Provincial Government, and many highly regarded Chinese mechanization scientists and extension workers.
During 16-18 May, the factory hosted two forums, one focused on combination of wheat agricultural machinery and agronomy, and another on scientific innovation and development of Chinese agricultural machinery. Although the language of the forums was Chinese, my presentation in English was understood by the senior people, some of whom later inquired about the new Chinese Turbo Happy Seeder developed by CIMMYT. The discussion on conservation agriculture per se was limited, but I was able to meet many old Chinese friends and strengthen new relationships for CIMMYT and the Global Conservation Agriculture Program.