During 19-23 March 2012, over 200 researchers, policy makers, donors, seed specialists, and NGO representatives from Africa and Australia gathered in Arusha, Tanzania, for the second SIMLESA (Sustainable Intensification of Maize-Legume Cropping Systems for Food Security in Eastern and Southern Africa) Annual Regional Planning and Review Meeting. Representation from the Australian Centre for International Agriculture Research (ACIAR), which generously supports the work, included nine members of the organization's Commission for International Agricultural Research.
Participants shared lessons from the last two years and discussed better ways to design and implement future activities. Ten sessions addressed issues including project implementation, Australian-African partnerships, program and partner progress and lessons, and communications and knowledge management.

A key message was that SIMLESA had consolidated and strengthened activities across all objectives, maximizing gains from integration, innovation, information, and technology diffusion for greater impacts on livelihoods and agroecosystems. It was noted that the use of integrated systems can foster productive intensification of agriculture and, indeed, the Innovation Platform Framework, supported by science and partnerships, can contribute to productive, sustainable and resilient maize-legume systems. For even greater impact, the program should rely on stronger leadership from agribusiness, while supporting the public sector's role, and ensure a farm-income focus to reduce poverty.
Another key message was to strengthen Australian-African partnerships through better delivery of research products, capacity building under any of ACIAR's four thematic areas, bridging research and extension, strengthening policy and socioeconomic research, and building individual and institutional capacity.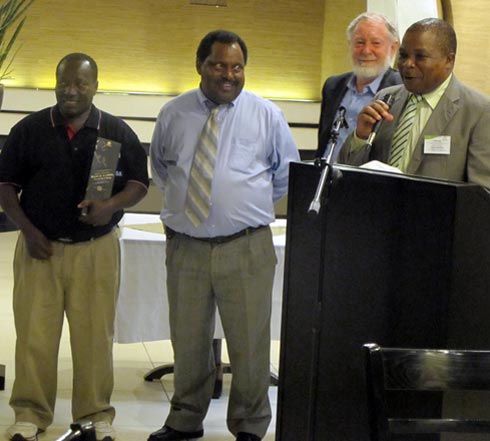 Speaking at the SIMLESA's second "birthday party," Joana Hewitt, chairperson of the ACIAR Commission for International Agricultural Research, reiterated the Australian government's commitment to long-term partnerships with African governments. Participants also heard of the new SIMLESA Program in Zimbabwe, focusing on crop-livestock interactions. During the dinner, Kenya and Mozambique were recognized for their efforts in promoting and strengthening local innovation platforms.
In addition to SIMLESA's program steering committee and the mid-term review team, the event drew representatives from USAID's Farmer-to-Farmer Program, from the International Development Research Centre (IDRC), the African Agriculture Technology Foundation (AATF), the International Livestock Research Institute (ILRI), and the Agricultural Research Council (ARC) of South Africa. SIMLESA is centered in five countries— Ethiopia, Kenya, Tanzania, Malawi, and Mozambique—with spillovers benefiting Uganda, Sudan, and Zambia. Representatives from all those countries interacted at the meeting.
A SIMLESA "village" and poster presentations allowed partner representatives and researchers to showcase achievements, and visits to Karatu and Mbulu—Tanzanian sites where SIMLESA is present— demonstrated how the project is transforming agriculture.