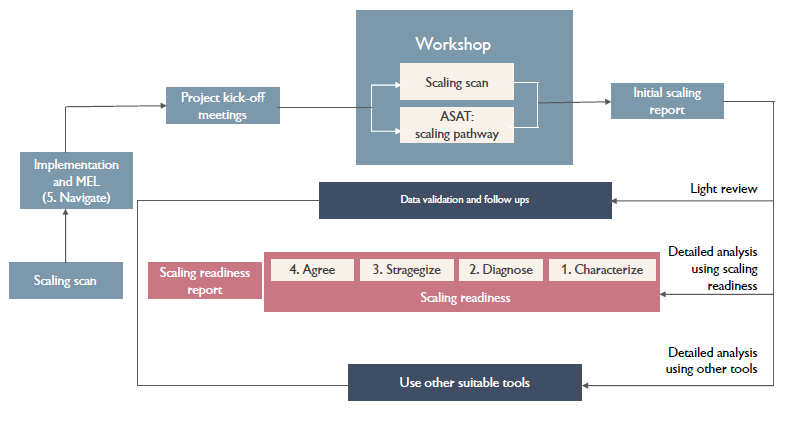 "Agricultural research for development is increasingly being held accountable to demonstrate that research goes beyond successful pilots," said Iain Wright, deputy director general of research and development at the International Livestock Research Institute (ILRI).
In a bid to scale impact of its research outputs, ILRI has recently undertaken a systematic review of the scaling tools and processes available to help guide and improve the organization's efforts.
The Scaling Scan has been incorporated into a new scaling framework for ILRI projects and for the CGIAR Research Program on Livestock (Livestock CRP). The Scaling scan, developed in 2017 by the International Maize and Wheat Improvement Center (CIMMYT) in collaboration with PPPLab at SNV, is one of three tools that have been identified as most suitable for the ILRI and CGIAR operational contexts.
"ILRI's scaling framework applies the Scaling Scan and the USAID Scaling Pathway methodology before diving deep using the RTB/Wageningen Scaling Readiness methodology," explained CIMMYT Scaling Coordinator Maria Boa. "It's exciting because it aligns some of the best available tools to scale impact with a systems view."
Designed for use by anyone involved in pro-poor and sustainable development programs looking to scale impact, the CIMMYT Scaling scan is found to be user-friendly and quick to help project implementation teams understand and define their scaling ambitions and asses their scaling environment. Though it is often applied as part of annual project review meetings, the tool can in fact be used at any stage of a project's lifecycle. This helps stakeholders understand the multiple dimensions of scaling and the significant role nontechnical factors play in a scaling mindset.
CIMMYT shared lessons on how the methodology can be applied in a workshop setting and the Livestock CRP team has already used these to organize two workshops around improving productivity and incomes in Uganda's pig value chain. The workshops, held in November 2019 and February 2020, brought together value chain actors, CRP researchers and project staff to better understand the multiple dimensions of scaling, develop realistic scaling goals, and identify key bottlenecks and opportunities using the Scaling Scan.
Read more on ILRI's website:
ILRI adopts new framework for scaling up livestock research for development