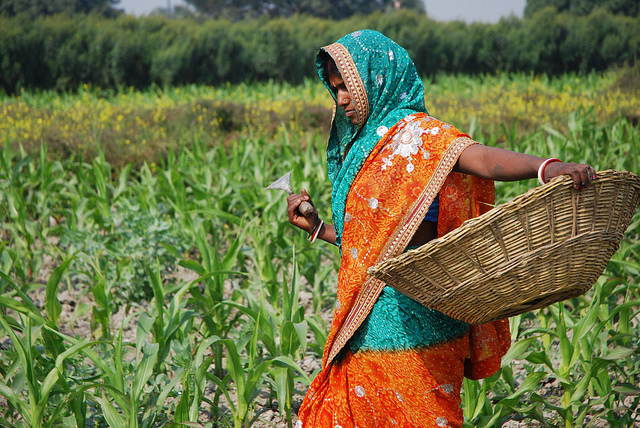 EL BATAN, Mexico (CIMMYT) — A new award recognizes contributions to the livelihoods and economic empowerment of women made by a former giant in the field of international gender research.
The inaugural Paula Kantor Award for Excellence in Field Research, to be given to a young female researcher of Indian origin, aims to recognize outstanding achievements in the field of gender and empowerment of women and girls in India.
Kantor, a gender and development specialist working with the International Maize and Wheat Improvement Center (CIMMYT), died tragically on May 13 at age 46, in the aftermath of a Taliban attack on a hotel in Kabul, Afghanistan.
She formerly worked as senior rural development specialist at the International Center for Research on Women (ICRW). The non-profit organization initiated the award to acknowledge Kantor's 20 years of experience in executing policy research and programmatic work related to integrating gender into agriculture and rural development.
"Dr Kantor's work was largely driven by her desire and passion to improve lives in the global south, especially those of women and girls," ICRW said in a statement issued to solicit nominations.
"She was a prolific researcher who participated in and worked with several initiatives to better the lives and improve livelihoods for women in conflict-prone and terrorist-affected areas."
The award will be presented to the winner at the ICRW's 40th anniversary celebrations in New Delhi, India in January. In subsequent years, the award will be open to researchers of all origins and honor research throughout the developing world, the statement said, adding that nominations must be received by December 7.
At the time of her death, she was working on a new CIMMYT research project focused on understanding the role of gender in the livelihoods of people in major wheat-growing areas of Afghanistan, Ethiopia and Pakistan.
"Paula's death was a massive blow to the entire development community," said Martin Kropff, director general at CIMMYT. "Through her work she was helping to lift up a segment of the global population facing major threats to food security and gender equality. This award serves to recognize the major role she was playing to help empower men and women to determine their own future."
Although women play a crucial role in farming and food production, they often face greater constraints in agricultural production than men. Rural women are less likely than men to own land or livestock, adopt new technologies, access credit, financial services, or receive education or extension advice, according to the U.N. Food and Agriculture Organization (FAO).
Globally, if women had the same access to agricultural production resources as men, they could increase crop yields by up to 30 percent, which would raise total agricultural output in developing countries by as much as 4 percent, reducing the number of hungry people by up to 150 million or 17 percent, FAO statistics show.
For more information on how to nominate candidates for the award, please visit the ICRW website