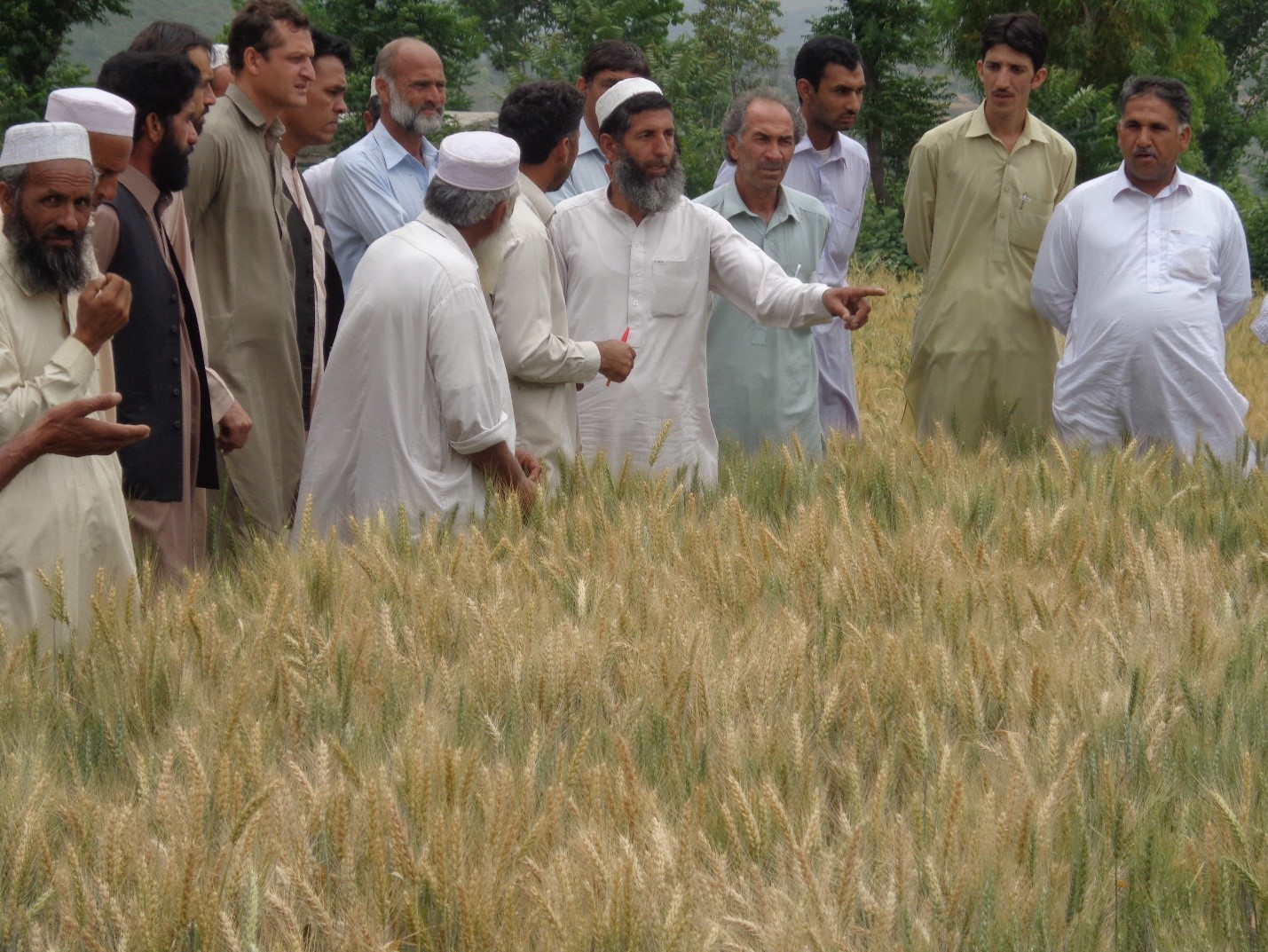 EL BATAN, Mexico (CIMMYT) — A new paper by scientists from the International Maize and Wheat Improvement Center (CIMMYT) highlight important risks to farmers' yields in Pakistan due to climate change and call for current climate adaptation policies across South Asia to be revised in response.
Rice and wheat are the principal calorie sources for over a billion people in South Asia. Both of these crops are extremely sensitive to climate and agronomic management conditions under which they are grown.
Which is why climate change – projected to increase heat stress and variability across the region – is a huge threat to farmers growing these crops.
And while the influence of climatic conditions on crop growth have been widely studied, empirical evidence of the link between climate variability and yield risk in farmers' fields is comparatively scarce.
Using data from 240 farm households, the paper "Climate variability and yield risk in South Asia's rice–wheat systems: emerging evidence from Pakistan" responds to this gap and isolates the effects of agronomic management from climatic variability on rice and wheat yield risks in eight of Pakistan's twelve agroecological zones. The authors' results highlight important risks to farmers' ability to obtain reliable yield levels for both crops, finding season-long and terminal heat stress have a negative effect on rice and wheat yields, with heat being particularly damaging to wheat.
The study also finds farmers have limited capacity to adapt to respond to climactic changes within a crop season, concluding that current climate change adaptation policies must be reviewed to increase resilience for Pakistan's and South Asia's cereal farmers, suggesting avenues for investment in improved crop research and development programs.
Read more about this study and more recent publications from CIMMYT researchers, below:
A direct comparison of remote sensing approaches for high-throughput phenotyping in plant breeding. 2016. Tattaris, M.; Reynolds, M.P.; Chapman, S. Frontiers in Plant Science 7: 113
Baseline simulation for global wheat production with CIMMYT mega-environment specific cultivars. 2016. Gbegbelegbe, S.D.; Cammarano, D.; Asseng, S.; Robertson, R.; Chung, U.; Adam, M.; Abdalla, O.; Payne, T.S.; Reynolds, M.P.; Sonder, K.; Shiferaw, B.; Nelson, G. Field Crops Research. Online First.
Climate variability and yield risk in South Asia's rice–wheat systems: emerging evidence from Pakistan. 2016. Muhammad Arshad; Amjath-Babu, T.S.; Krupnik, T.J.; Aravindakshan, S.; Abbas, A.; Kachele, H.; Muller, K. Paddy Water Environment. Online First.
Genome wide association mapping of stripe rust resistance in Afghan wheat landraces. 2016. Manickavelu, A.; Joukhadar, R.; Jighly, A.; Caixia Lan; Huerta-Espino, J.; Ahmad Shah Stanikzai; Kilian, A.; Singh, R.P.; Ban, T. Plant Science 252: 222-229.