The use of small-scale mechanization in smallholder farming systems in South Asia has increased significantly in recent years. This development is a positive step towards agricultural transformation in the region. Small-scale mechanization is now seen as a viable option to address labor scarcity and offset the impact of male outmigration in rural areas, as well as other shortages that undermine agricultural productivity.
However, most existing farm mechanization technologies are either gender blind or gender neutral. This is often to the detriment of women farmers, who are increasingly taking on additional agricultural work in the absence of male laborers. Minimizing this gender disparity among smallholders has been a key concern for policymakers, but there is little empirical literature available on gender and farm mechanization.
A new study by researchers at the International Maize and Wheat Improvement Center (CIMMYT) addresses this gap, using data from six districts in the highlands of Nepal to assess the impact of the gender of household heads on the adoption of mini-tillers — small machinery used to prepare and cultivate land before planting.
Their findings reveal that, when it comes to mini-tiller adoption, there is a significant gender gap. Compared to male-headed households, explain the authors, the rate of adoption is significantly lower among female-headed households. Moreover, they add, when male- and female-headed households have similar observed attributes, the mini-tiller adoption rate among the food insecure female-headed households is higher than in the food secure group.
The authors argue that this gender-differentiated mini-tiller adoption rate can be minimized in the first instance by increasing market access. Their findings suggest that farm mechanization policies and programs targeted specifically to female-headed households can also help reduce this adoption gap in Nepal and similar hill production agroecologies in South Asia, which will enhance the farm yield and profitability throughout the region.
Read the full article in Technology in Society:
Gender differentiated small-scale farm mechanization in Nepal hills: An application of exogenous switching treatment regression.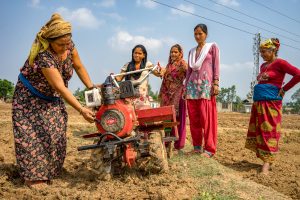 See more recent publications from CIMMYT researchers: