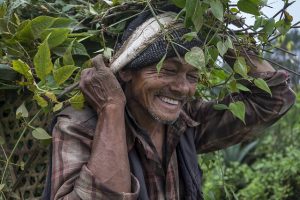 NEW YORK (CIMMYT) – Food and agriculture have the potential to be major drivers in helping the international community achieve the U.N. Sustainable Development Goals (SDGs) by 2030, but are currently underutilized, said experts at a side event during the high-level political forum on sustainable development held this month in New York City.
Some 70 percent of the world's poor live in rural areas where agriculture provides the main source of family income, directly impacting the food security, nutrition and livelihoods of millions, said delegates the Agriculture and Food Day to Implement the Sustainable Development Goals, hosted by the International Agri-Food Network on July 13.
Although agriculture is up to three times more effective than other sectors in boosting incomes of the world's poorest, it only receives 4 percent of global aid, according to Michael Grant, deputy permanent representative of Canada to the U.N.
The session was organized to draw attention to the many challenges that still exist to prevent the realization of SDG2 "Zero Hunger" – which establishes a framework to end hunger, achieve food security, improve nutrition and promote sustainable agriculture – and consequently several other SDGs. Agriculture is deeply connected to all SDGs that aim to eradicate poverty and promote prosperity, a topic that was discussed by the high-level political forum on sustainable development July 10-19, as the international community took stock of achievements at the two-year mark.
"700 million people continue to live in extreme poverty," said Peter Thomson, president of the U.N. General Assembly. "We must support global movements that work towards SDG2 so that come 2030, nobody is left behind in hunger or poverty," he added.
"Despite advances, stunting in children has risen over 20 percent since 1990 in Africa," said Yemi Akinbamijo, executive director of the Forum for Agricultural Research in Africa. Adding that malnutrition results in an 11 percent loss in GDP each year.
Additionally, the sector is the second largest emitter of global greenhouse gas emissions and the largest driver of deforestation, making agriculture one of the top contributors to climate change and biodiversity loss. At the same time, youth globally are turning away from agriculture, just as the world needs to set its sights on doubling food production over the next three decades.
"The United States needs to fill 60,000 agriculture-related jobs, but universities are only suppling about 60 percent of that demand," said Jaine Chisholm Caunt, director general of the Grain and Feed trade Association.
How the development community addresses these challenges in our agri-food systems will have a significant impact on the success or failure of other SDGs, including those targeting resource management, ending poverty and malnutrition, building resilient infrastructure and empowering women and girls, argued the delegates.
David Nielson, co-chair of the Global Forum for Rural Advisory Services, cited former wheat breeder and Nobel Peace Prize laureate Norman Borlaug's philosophy of knowledge sharing as a critical solution. Often the solution to agricultural development doesn't lie in new technology, but can be as simple as sharing appropriate knowledge that works and is useful to farmers on their land, he said.
However, critical changes in the way farming communities access land and other resources – currently only 1 percent of women and 9 percent of men own land in Africa – must be made at the policy level so that these solutions can be successful in permanently bringing people out of poverty in the long-term, he added.
"When Kenya's dairy industry became liberalized, my husband and I were able to build our own processing plant," said Margaret Munene, co-founder and general manager of Palmhouse Dairies Limited Kenya, a dairy processing plant that has grown into a grassroots foundation of "Kenyans helping Kenyans."
"The processing plant provided a market to farmers," said Munene. "Before working there many women didn't have bank accounts in their own names. We worked with microcredit organizations to improve their grazing units, buy better cows and other inputs. We also provided training to improve milk processing, to integrate dairy farming with other crops and other skills that improve income."
Delegates at the conference also called for different sectors to work together and approach different aspects of the food security puzzle from a holistic perspective. Akinbamijo credited much of Africa's food and nutrition challenges to the poor integration of science and production systems, with the latest research often failing to translate into the market.
"Governments and other public institutions must work better with the private sector," added Rocco Renaldi, secretary general, International Food & Beverage Alliance. "Drawing on the expertise of non-state actors can help create novel solutions to agriculture's challenges."
Finally, ensuring these solutions don't come at the expense of the planet is critical if we are to preserve resources for agriculture, said James Hansen, flagship leader with the CGIAR research program on Climate Change, Agriculture and Food Security.
"Farming communities can successfully develop without damaging the environment," said Maria Beatriz Giraudo, a fifth-generation farmer from Argentina and advocate of no-till farming, an agricultural practice that retains soil moisture, builds up nutrients and improves biodiversity.
The International Maize and Wheat Improvement Center (CIMMYT) supports the SDG agenda to create a new global partnership based on solidarity, cooperation and mutual accountability to eradicate extreme poverty by 2030 and deliver on the promise of sustainable development. See how CIMMYT contributes to 10 of the 17 SDG goals in the Strategic Plan 2017-2022.