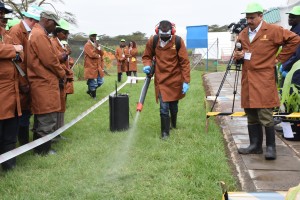 NAIROBI — Since maize lethal necrosis (MLN) was first reported in Kenya in 2011, CIMMYT and its partners, including Kenya Agricultural and Livestock Research Organization (KALRO), have been intensively engaged in breeding for resistance to the disease, which was later confirmed to be present in D.R. Congo, Ethiopia, Rwanda, Tanzania and Uganda.
KALRO and CIMMYT invited public and private sector partners in eastern Africa to a MLN field day at the screening facility at KALRO-Naivasha on 20 January 2016. KALRO Director General Eliud Kireger officially opened the field day, which was attended by about 70 participants from national agricultural research organizations, multinational, regional and national seed companies, national plant protection agencies, international institutions, the United States Agency for International Development (USAID) and CIMMYT.
The field day demonstrated 21,074 maize germplasm entries from 16 institutions, including public and private sector partners. Several promising inbred lines and pre-commercial hybrids with tolerance/ resistance to MLN were on display in the field blocks. These included MLN tolerant/resistant hybrids that are currently undergoing national performance trials (NPTs) in eastern Africa.
Kireger expressed his appreciation for the work being done at the facility and pointed out, "Last year there were very few germplasm entries offering promise against MLN at the screening site. Today we have seen materials that have potential to be released in the next two years or less."
"Within the next few years, we can reach out to the farmers in eastern Africa with seed of MLN resistant varieties. We can now confidently tell farmers and the ministries of agriculture that there is a strong ray of hope," he added.
Using molecular marker assisted breeding, CIMMYT is currently working on more than 25 elite inbred lines that are susceptible to MLN but are parental lines of several prominent commercial maize hybrids in sub-Saharan Africa.
"Our vision of replacing a large set of commercial MLN-susceptible varieties with MLN-resistant hybrids is well on track. Within three or four years we hope to have at least 20 to 25 MLN-resistant hybrids released, scaled up and delivered to farmers in eastern Africa with the help of our seed company partners," stated B.M. Prasanna, Director of CIMMYT's Global Maize Program and the CGIAR Research Program MAIZE.
Collaborative work at the MLN facility will continue to help partners identify MLN-resistant germplasm, including inbred lines and hybrids. "The work being done at the MLN screening facility is critical in successfully responding to the MLN epidemic in eastern Africa," said L.M. Suresh , CIMMYT maize pathologist and manager of the MLN screening facility.
Participants also visited a seed treatment trial, where seed care treatments from Syngenta and Bayer are being evaluated for their effectiveness on a selected set of six hybrids. "Today we have not only seen excellent work on breeding for MLN resistance, but also very good research work being done on seed treatments. This is very important for seed companies," said Maarten van Ginkel, consultant breeder, SeedCo. "From the trials we have seen today, we are assured that in the near future we will have MLN resistance introgressed in all our hybrids, enabling seed companies to improve the quality of seed delivered to the market."