A new small-scale agricultural machinery leasing scheme became operational in Amhara region, Ethiopia, in December 2019. The initiative offers farmers and group of farmers the opportunity to buy agricultural machineries with only 15-20% advance payment and the rest to be paid during a three-year period. Three farmers participated in the pilot phase of the project.
This initiative, led by the International Maize and Wheat Improvement Center (CIMMYT) and the German Development Agency (GIZ), is one more step to expand small-scale agricultural mechanization in Ethiopia. CIMMYT and GIZ have explored this area of work since 2015, in collaboration with government and private partners.
Subsistence modes of production, shortage of quality agricultural inputs and farm machinery services are some of the impediments to expand agricultural productivity and enhance food security in Ethiopia.
Small-scale agricultural mechanization, in the Ethiopian context, improves the quality of field operations. For example, farmers are benefiting from row planting, optimal plant population, more precise seed and fertilizer placement, efficient utilization of soil moisture during planting window. The timing of operations is also very important — delays in planting could have a serious negative impact on yield, and harvesting and threshing must be done at a time when there is no labor shortages. Small-scale mechanization drastically saves time and labor compared to conventional crop establishment systems, and reduces yield loss at the time of harvesting and threshing.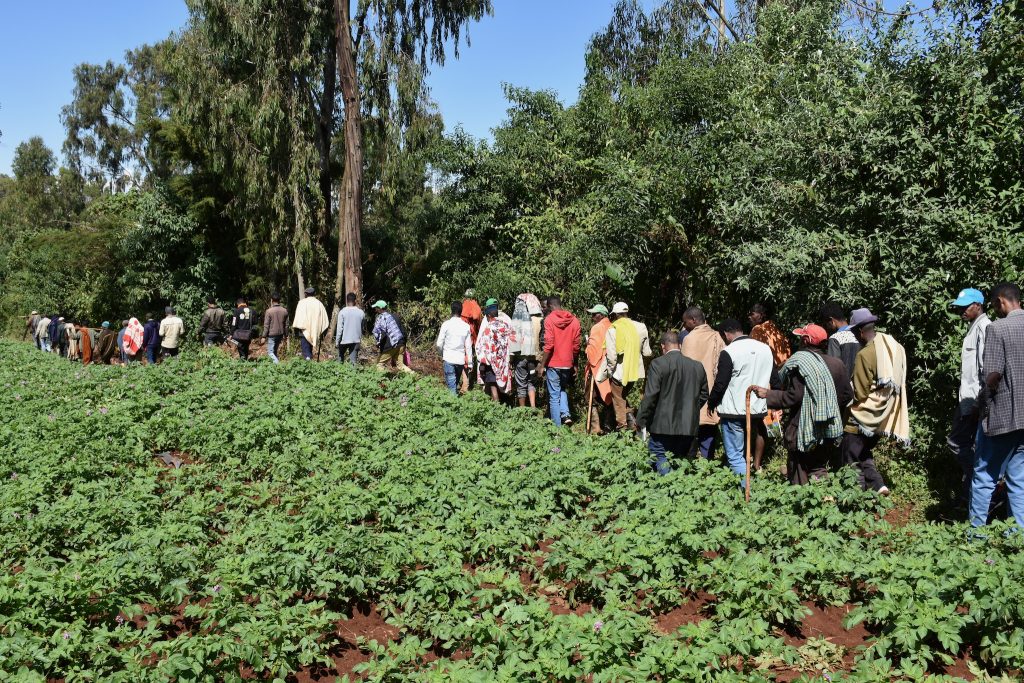 Despite these advantages, the adoption rate has been too low. A survey conducted by IFPRI and Ethiopia's Central Statistical Agency in 2015 shows that only 9% of farmers in Ethiopia use machine power to plough their land, harvest their output, or thresh their crops. A significant number of farmers continues to use conventional farming systems, using animal and human labor.
Ephrem Tadesse, small-scale mechanization project agribusiness specialist with CIMMYT, said that most of the land holdings in Ethiopia are small and fragmented, and thus not suitable for large agricultural machineries.
CIMMYT and its partners introduced the two-wheel tractor and tested it in different parts of the country. One of the challenges has been the issue of access to finance to buy tractors and their accessories, because of their relatively high costs for individual farmers to buy with their own cash, noted Ephrem.
CIMMYT and GIZ have been working with selected microfinance institutes to pilot a machinery leasing scheme for small-scale agricultural mechanization. For several years, they have partnered with Waliya Capital Goods Finance Business Share in the Amhara region and with Oromia Capital Goods Lease Finance Business Share Company in the Oromia region. In December 2019, three farmers in the Machakel district of the Amhara region were the first ones to receive their machines through this scheme.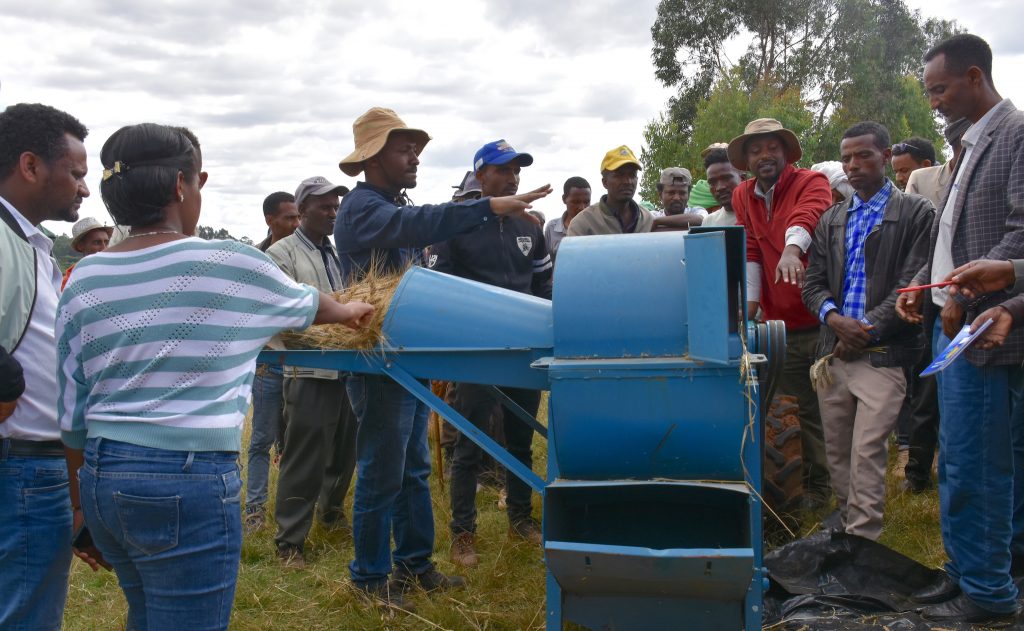 Tesfaw Workneh is the father of one of the beneficiaries. "This is great opportunity for farmers like my son to access small-scale agricultural machinery," said Tesfaw. His son only paid 30,000 Ethiopian birr, about $1,000 — that is 20% of the total cost to own the different agricultural implements. Now, he is able to provide service to other farmers and get income, he explained.
Several types of machinery are being considered for this leasing scheme, using the two wheel-tractor as the source of power: planters, harvesters/reapers, threshers/shellers, trailers and water pumps.
For farmers like Alemayew Ewnetu, this kind of machinery is a novelty that makes farming easier. "Today, my eyes have seen miracles. This is my first time seeing such machineries doing everything in a few minutes. We have always relayed on ourselves and the animals. Now I am considering selling some of my animals to buy the implements," said Alemayew.
Demelsah Ynew, Deputy Director of Waliya Capital Goods Finance Business Share, noted that his company was established six years ago to provide services in the manufacturing sector. However, after a discussion with CIMMYT and GIZ, the company agreed to extend its services to the agriculture sector. When revising our role, he noted, we considered the limitations farmers have in adopting technologies and the vast opportunity presented in the agricultural sector. Demelsah explained that to benefit from the leasing scheme, farmers will have to fulfill a few minimal criteria, including being residents of the area and saving 15-20% of the total cost.