Farmers confront a daunting range of options for potentially achieving high crop yields in India's western Indo-Gangetic Plains, where rice and wheat crops are planted in rotation to meet high demand for dietary food staples.
Since 1965, rotational crop planting has been deployed in the area to intensify production in a limited growing area, initially yielding positive food security results. Over time, agricultural practices have led to troubling consequences for the landscape, leading to unreliable or lower yields for farmers.
Now, new scientific research into "layering" climate smart agriculture techniques shows promise, demonstrating the potential for crop adaptability to climate change. Experiments reveal the possibilities for high productivity, benefits for water and energy supplies resulting in a smaller environmental footprint.
Throughout Southeast Asia, but particularly in the Indo-Gangetic Plains area, natural resources are three to five times more stressed due to agricultural intensification, urbanization, population growth, increasing climate change risks, and land degradation difficulties.
"Land is degraded in the region because over the past 50 years crop production increased quickly leading to inefficient use and mismanagement of resources," said M.L. Jat, a Principal Scientist with the International Maize and Wheat Improvement Center (CIMMYT), who works with a team of scientists on sustainable intensification and climate smart agriculture.
The scientists conducted a study to determine the most effective methods to grow rice and wheat in constrained conditions where horizontal expansion of crop growing areas is no longer a viable option for increasing yields.
Before embarking on their research, scientists were already aware that due to overpopulation, to meet rising food demand in the Indo-Gangetic Plains area, the only option for farmers is to increase yields on land already under agricultural production. Land shortages are exacerbated by reduced availability of water and energy.
By 2050, variability in growing conditions due to climate change is projected to lower crop yields by 10 to 40 percent and total crop failure will become more common.
Additionally, over the same time period, more than half the current wheat growing area in the Indo-Gangetic Plains will likely become unsuitable for production due to heat stress. Over pumping of ground water for rice production is simultaneously depleting the water table.
"Adaptation to climate change is no longer an option, but essential for minimizing crop losses that will occur as a result of the adverse impact of climate change," Jat said, adding that the key to future food security is to use agricultural technologies that promote sustainable intensification and adapt to emerging climatic variability.
"Farmers face an enormous challenge – to be successful they must now rely on sustainable intensification management practices and adapt to emerging climate variability while playing a role in reducing greenhouse gas emissions and sequestering carbon to keep global warming in check," he said.
The key will be to boost the use climate smart agriculture techniques, which have the potential to address these challenges, maintain environmental equilibrium and produce high crop yields simultaneously.
The strategy opens the door to sustainably increase agricultural productivity and farmer income, adapt to and develop the capacity to resist climate change, and reduce or eliminate greenhouse gas emissions.
After experimental fieldwork, the scientists learned that strategically combining climate smart agricultural technologies already used selectively as a result of years of CIMMYT-designed trials in the region are most likely to lead to high crop yields and food security.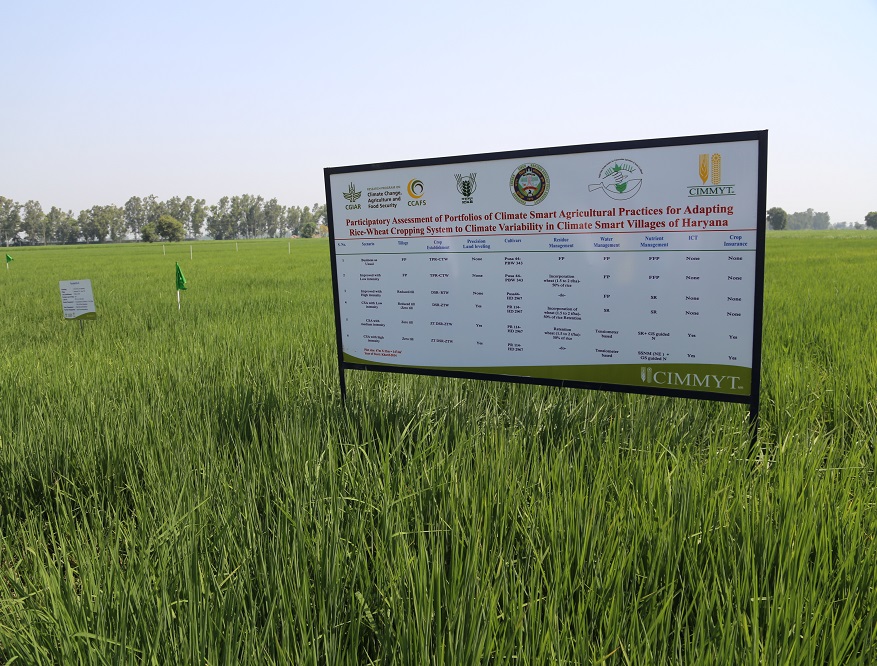 WINNING TECHNIQUES
Their findings are reported in a new research paper published in Agricultural Water Management journal.
Currently, farmers are using such climate smart water and energy saving techniques as direct seeded rice, zero tillage, laser land leveling, alternate wetting and drying, weather forecast based irrigation, precision nutrient management. Other climate smart techniques include retention of crop residues on the fields to store carbon and prevent emissions and unhealthy smog levels that result from residue burning.
"Climate smart agriculture practices in isolation may not fulfill their full potential in adapting to climate risks and mitigating greenhouse gas emissions in rice-wheat production systems," Jat said.
"However, layering of these practices and services in optimal combinations may help to adapt and build resilience under diverse production systems and ecologies to ensure future food security."
The scientists studied six scenarios in three different climate smart villages in India's sub-tropical state of Haryana in the Indo-Gangetic Plains.
The first scenario was based solely on observing the normal practices of a farmer, the second and third scenarios were layered with different technologies used for tillage, crop establishment, residue and nutrient management, and designated as "improved farmers' practices."
The other three scenarios were based on climate smart agriculture practices combined with the available range of technologies deployed to enhance tillage, crop establishment, laser land leveling; residue, water and nutrient management; improved crop varieties, information and communication technology and crop insurance.
Scientists set out to determine the best combination of practices and found that layering of climate smart agriculture practices improved rice-wheat system productivity from 6 to 19 percent depending on techniques used.
Layering also led to savings of more than 20 percent irrigation water. Global warming potential was reduced by 40 percent.
"The research leaves us feeling optimistic that the work we've been conducting throughout South Asia is leading to strong results," Jat said. "Our aim now is to continue to work through various real life scenarios to see how far we can go in sustainably intensifying the entire region so that food supply can keep apace with population growth under emerging climate change challenges."
The project was supported by the CGIAR Research Program on Wheat (WHEAT) and the CGIAR Research Program on Climate Change, Agriculture and Food Security (CCAFS).