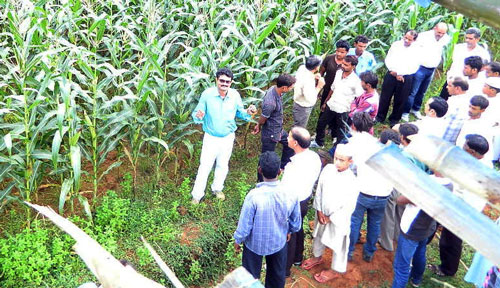 By S.P. Poonia/CIMMYT
A CIMMYT project working in the rural districts of Jharkhand, India, is encouraging farmers to grow maize and use conservation agriculture practices to adapt to decreased rainfall and a changing climate. CIMMYT's Sustainable Intensification of Smallholder Maize-Livestock Farming Systems in Hill Areas of South Asia project is funded by the International Fund for Agricultural Development.
The project is working with scientists from Krishi Vigyan Kendras research and extension centers (KVKs), Birsa Agricultural University, the state agricultural department and farmers to promote maize as a viable alternative to rice in stress-prone and rain-dependent districts of Jharkhand. The rural farming population is vulnerable to rainfall fluctuations and drought is recurrent in Jharkhand. Almost 90 percent of the cultivated area is monocropped (mostly with rice), and only 9 percent of the cropped area is irrigated.
The local non-governmental organization Vikash Bharti Farm Science Centre and CIMMYT organized Maize Day on 29 August in Gumla district. The event brought together 400 farmers, state agricultural department scientists, district officials and extension agents to highlight the benefits of cultivating maize, using conservation agriculture to enhance productivity. They also discussed the need for better policies. "Quality protein maize (QPM) is nutritionally superior to normal maize and provides additional dietary benefits to the tribal farmers who consume maize. It's also a nutritious feed for poultry," said A.K. Singh, KVKs zonal director for the Indian Council of Agricultural Research.
In Basuwa village in Gumla district, farmers cultivated more than 80 hectares of the QPM hybrid HQPM 1 for the first time this year and have committed to increase maize cultivation to 323 hectares next year. "Earlier, farmers in my village were interested in growing only rain-fed rice because it's their staple food," said Joni Uraon, head of the Basuwa village council. "But now they are very happy with maize because it is giving them higher profits." Farmers also asked for stronger market linkages to ensure competitive prices for their produce. Panai Uraon, the Gumla district government collector, welcomed the efforts of scientists and farmers to promote maize cultivation and announced additional funds will be allocated to the Basuwa village council for agricultural development activities and to supplement local irrigation systems. Ken Sayre, who has extensive knowledge of Turkey and the region, conducted the course. He also travelled to three key research institutes in Ankara, Eskisehir and Konya prior to the workshop to see the experimental fields and discuss how to reduce variability in the fields and enhance the precision of experiments.