By Raj Kumar Jat/CIMMYT
Nine Afghan farmers, including four women, recently learned about conservation agriculture in Pusa, Bihar, India.
Their visit to the Borlaug Institute for South Asia (BISA) on 18 January focused on advances in conservation agriculture (CA)-based management, improved wheat varieties and climate change variability coping strategies. The visit was part of an agribusiness study tour organized by the U.S. Department of Commerce. Representatives of the Government of Bihar met with the farmers at BISA-Pusa to hear their reactions to the latest technological developments. The delegation was led by Mohamed Ali and facilitated by Vijay Prakash, project director of the Agriculture Technology Management Agency (ATMA), Department of Agriculture, Government of Bihar.
Raj Kumar Jat, cropping systems agronomist for BISA, gave an overview of BISA-CIMMYT research-for-development activities and strategies for the region to improve crop productivity and farm profitability. He explained that BISA develops and promotes CA-based best practices for maize- and wheatbased cropping systems that directly benefit farmers in the region. BISA collaborates with the State Agricultural University, the Indian Council of Agricultural Research, different CIMMYT programs such as the Cereal Systems Initiative for South Asia (CSISA) and the CGIAR Research Program on Climate Change, Agriculture and Food Security (CCAFS).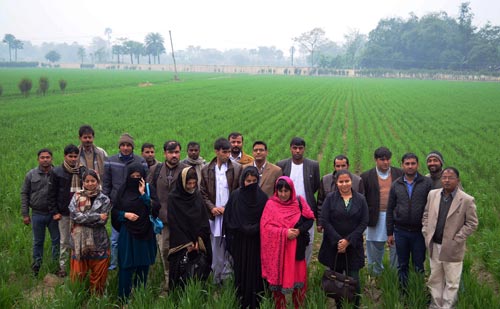 The delegation viewed agricultural machinery, strategic research trials and demonstration plots of wheat, maize, mustard and chickpea, which were planted on permanent raised beds using zero-tillage in laser-leveled fields. Jat explained different CA technologies and the comparative advantages of zero tillage, permanent raised bed planting and laser land leveling over conventional practices.
Farmers in the region face high labor costs and low labor availability, increasing energy prices and frequent climate variability, which require climate-resilient, lowcost alternatives to improve farm profitability. Jat said CA-based management practices can reduce production costs and improve resource-use efficiency, productivity and profitability. Planting different field crops on permanent raised beds using zero tillage reduces tillage and irrigation costs, improves water and nutrient-use efficiency and produces higher yields. He added that crop residue retention reduces weed population and improves soil fertility.
Inclusion of laser land leveling in conservation agriculture also saves water, promotes a uniform crop stand and improves nutrient-use efficiency and crop yields. Zero tillage seeding advances the sowing of different crops by one week, though the use of improved varieties and quality seed are equally important.