By M.L. Jat and Tripti Agarwal /CIMMYT
Wheat agronomists in India learned about precision-conservation agriculture and received the tools to continue their education at a workshop in November.
Nearly 40 participants attended "Precision-Conservation Agriculture for Improving Wheat Productivity in South Asia," which was organized by CIMMYT, the Directorate of Wheat Research (DWR) and the International Plant Nutrition Institute – South Asia Program (IPNI), with support from the German Federal Ministry for Economic Cooperation and Development (BMZ). The workshop was held 26 to 27 November at the DWR in Karnal, India.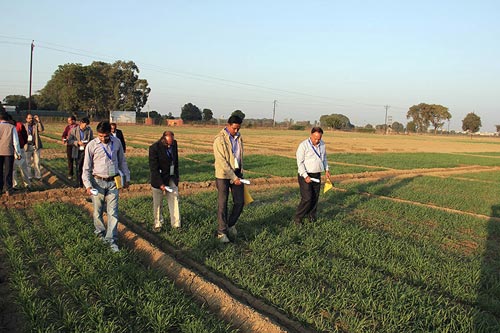 Attendees represented nine of the All India Coordinated Research Centres on Wheat and Barley Improvement (AICRCW&BI) located in different state agricultural universities as well as CIMMYT, IPNI, three Indian Council of Agricultural Research (ICAR) institutes, the State Department of Agriculture in Karnal and the Krishi Vigyan Kendra (KVK). The goal of the workshop was to train scientists in blending precision and conservation agriculture, an important strategic initiative of the CGIAR Research Program on Wheat (WHEAT), said M.L. Jat, senior cropping systems agronomist for CIMMYT.
The event aimed to raise awareness about Nutrient Expert, a software tool that helps determine fertilizer requirements, and GreenSeeker, an optical sensor that measures Normalized Difference Vegetation Index (NDVI), an indicator of crop development and health. In 2009, IPNI and CIMMYT started working with the Nutrient Expert Decision support tool in close collaboration with national agricultural research and extension systems. The tool gained wide acceptance after private organization and corporations began providing it to farmers.
Targeting widespread adoption of both technologies, each coordinated research center received a GreenSeeker tool and Nutrient Expert software. Participants were engaged and motivated to learn about and implement the tools in farmers' fields. Kaushik Majumdar, director of IPNI in South Asia, applauded the workshop collaboration and continuous efforts on implementing site-specific nutrient management. Etienne Duveiller, director of research for CIMMYT-South Asia, urged a multidisciplinary approach to address yield potential in germplasm and agronomy.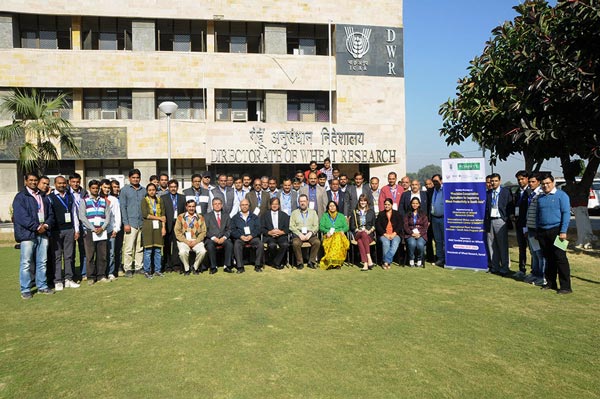 Partners should expand their innovation and training efforts and construct an action plan to reach farmers, said DWR Project Director Indu Sharma. She also proposed discussion of technology adoption and said training scientists is one way to move forward on agricultural issues. She cited a report on farmers who said they obtained 7 to 9 ton per hectare grain yield with higher nutrient applications.
In addition, she mentioned the need to bridge the production gaps of 15 to 20 percent in high productive zones and up to 35 percent in low productive zones through best-bet agronomic management practices. Regarding training, she emphasized the dissemination of knowledge. "Learning from the best farmers who are harvesting with higher productivity is required to ensure sustainable development," she said. Participants said they appreciated the knowledge they gained during the workshop. CIMMYT, DWR and IPNI extended their support to participating institutes for future precision conservation agriculture endeavors.