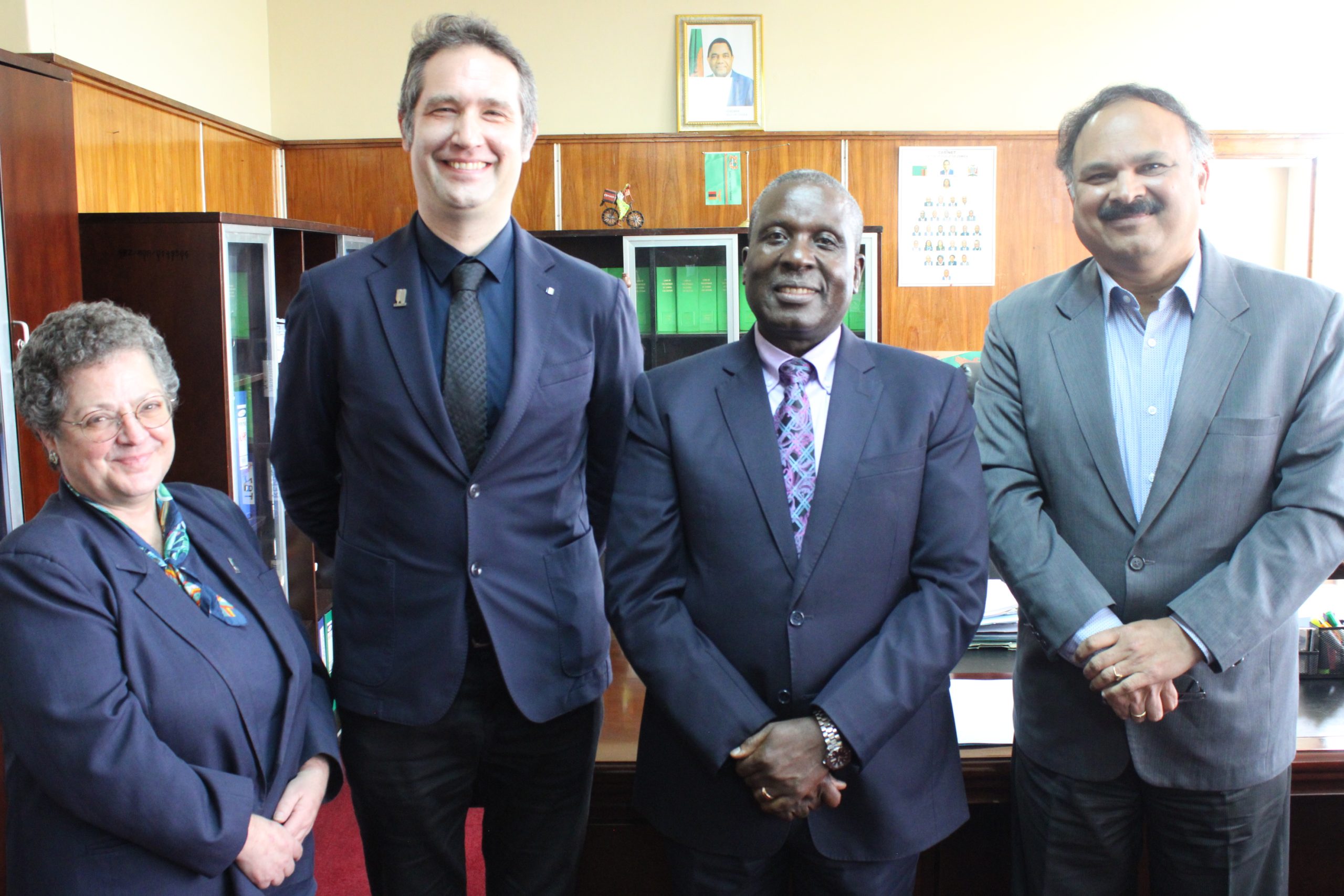 Senior government officials in Zambia have embraced the rollout of the International Maize and Wheat Improvement Center's (CIMMYT's) new innovations which target smallholder farmers and agriculture-based value chain actors in the country.
On January 17, 2023, CIMMYT Director General Bram Govaerts met with Minister of Agriculture Reuben Mtolo Phiri. The Minister reassured Govaerts that the investments made by CIMMYT in the country had the Government's full support.
Earlier this year, a delegation led by Cary Fowler, the US Special envoy for Global Food Security met the Minister and his team at the Government complex in Lusaka, Zambia's capital, to deliberate on a variety of agriculture development issues concerning the country.
Govaerts' visit came off the back of the new Accelerated Innovation Delivery Initiative (AID-I), a CIMMYT-led project funded by the United Stated Agency for International Development (USAID). The project seeks to scale up promising innovations that could transform the maize and legume value chains within the southern African region, with a focus on Zambia, Malawi and Tanzania.
"As the Government of Zambia, we intend to create a private sector driven economy for which agriculture plays a critical role. Having progressive partners like CIMMYT helps us achieve this cause and this new program is received with open arms," said Phiri.
The aims of the AID-I project include strengthening seed systems, the promotion and adoption of stress-tolerant maize and legume varieties, demonstration of good agriculture practices that respond to the effects of climate change and addressing systemic constraints in maize and legume value chains.
Through AID-I, CIMMYT experts are working with over 20 global, regional, national and local partners including the Alliance for a Green Revolution in Africa (AGRA), Catholic Relief Services (TLC), Total Land Care (TLC), the International Water Management Institution (IMWI) and World Vegetable Center.
Also attending the meeting was AID-I Technical Lead and CIMMYT Scientist Hambulo Ngoma who discussed some of the latest project activities.
"As this project focuses on accelerated delivery, we have set up more than 40 demonstrations in eastern Zambia with the intention of showcasing stress-tolerant varieties for maize and legume under conservation agriculture. In addition, we are showcasing other good agriculture practices such as strip cropping which not only enhances intensified crop production but is a biological control for fall armyworm," Ngoma said.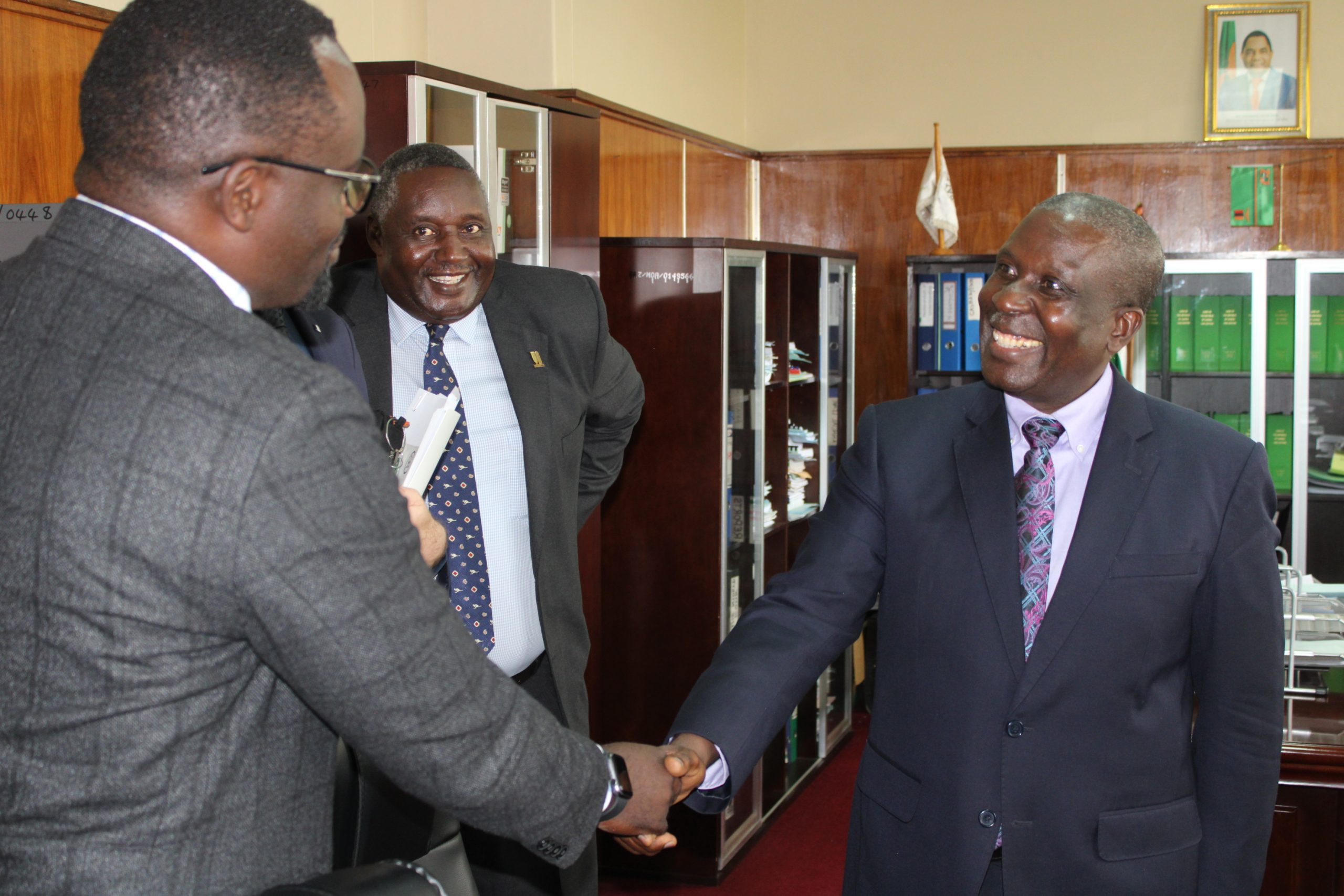 The Minister appreciated the rationale of the project and indicated that participatory variety selection for farmers was crucial if they were going to maximize their yields and returns from farming.
Phiri further emphasized that CIMMYT and partners' investment in legume value chain strengthening came at a welcome time as upscaling soya bean production was a key priority in the Government's strategic plan for agricultural development because of its export-ready market within the region.
"Markets such as Zimbabwe, Mozambique and Tanzania can readily take up the soya we produce, and we are looking to export legumes such as soya and groundnuts to East Africa. This project therefore fits very well within our strategic road map," Phiri said.
The demonstration plots set up by CIMMYT experts will help farmers grow the right varieties for their agro ecologies and have greater response capabilities to the export market opportunities the Government is facilitating.
The Minister also indicated that he hoped CIMMYT would assist in strengthening the country's capacity to deal with fall armyworm. CIMMYT Global Maize Program Director B.M. Prasanna reassured Phiri that through the Zambian Agriculture research Institute (ZARI), CIMMYT had already released three fall armyworm-tolerant varieties. He also discussed how the AID-I project would be instrumental in scaling up their uptake, especially amongst smallholder farmers who have minimal disposable income to buy enough pesticides to control the pest.
Concluding the meeting, Govaerts spoke of CIMMYT's commitment to supporting Zambia achieve its food security and agricultural export goals.
"As CIMMYT, we want you to recognize us as a listening partner. We are of the conviction that we can only combat climate change and achieve shared prosperity through the strength of convening power, where we leverage on each other's strength."
As the project is focused on scaling existing promising technologies and innovations, rapid transformative results are on the horizon for the people of Zambia.