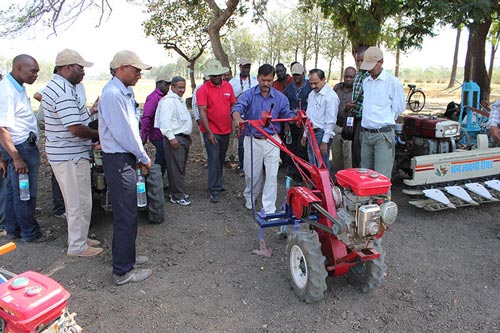 From 29 April to 10 May, 16 agricultural engineers, agronomists, machinery importers, and machinery manufacturers from Ethiopia, Kenya, Tanzania, and Zimbabwe took part in a study tour in India organized by CIMMYT, the Indian Council of Agricultural Research (ICAR), the Australian Centre for International Agricultural Research (ACIAR), and the Australian International Food Security Centre (AIFSC). The tour was organized as part of the "Farm Mechanization and Conservation Agriculture for Sustainable Intensification" (FACASI) project to identify opportunities for exchange of technologies and expertise between India and Africa and strengthen South-South collaborations in the area of farm mechanization. The project is funded by AIFSC and managed by ACIAR.
India is the world's largest producer of pulses, and the second largest producer of wheat, rice, potatoes, and groundnuts. But would India's agricultural performance be that high if the number of tractors in the country was divided by six and the number of draught animals by three? Such a reduction in farm power would bring Indian agriculture close to the current situation of Kenya and Tanzania. In India, most agricultural operations are mechanized, including planting, harvesting, threshing, shelling, and transportation to the market; in Africa, these are generally accomplished manually. Bringing African agriculture closer to the situation in India is the goal of the FACASI project. This tour was designed as the first step in the construction of an enduring trilateral partnership between Africa, India, and Australia, consolidated by CIMMYT, to facilitate exchange of research and development results in the area of farm mechanization.
During his opening speech, S. Ayyapan, ICAR director general, stressed the importance of farm mechanization for agricultural intensification, pointed at the commonalities between the circumstances of Indian and African smallholders, and invited the group to develop concrete country-specific proposals regarding possible partnerships with India. The participants then spent five days at the Central Institute of Agricultural Engineering (CIAE) in Bhopal, Madhya Pradesh state, where they were exposed to various low-cost gender-friendly technologies for post-harvest operations and weeding; sowing, fertilizing, spraying, and harvesting technologies adapted to animal traction; two-wheel and four-wheel tractors; as well as conservation agriculture based technologies. Through calibration exercises and other field activities, participants gained hands-on experience with these machines. The group also visited the Central Farm Machinery Training and Testing Institute in Budni.
The second part of the study tour took place in the states of Punjab and Haryana, where the group interacted with scientists from the Punjab Agricultural University (PAU) and the Borlaug Institute for South Asia (BISA), and was exposed to various Indian innovations including laser land levelers operated by two-wheel tractors, relay direct seeders, multi-crop planters, crop threshers, and rotary weeders. They also participated in a discussion session organized by a farmer cooperative society at Noorpur-Bet focusing on institutional innovations encouraging farmer access to mechanization, and interacted intensively with Indian agribusinesses such as National Agro-Industry, Dashmesh Mechanical Engineering, Amar Agro Industries, and All India Machinery Manufacturers Association.
The study tour was concluded by a visit of the Central Soil and Salinity Research Institute (CSSRI) in Karnal to observe the role of conservation agriculture in reclaiming degraded land, and a visit to the Indian Wheat Research Centre in Karnal.
The lessons learnt in India will be put in practice in Ethiopia, Kenya, Tanzania, and Zimbabwe through the FACASI project. The study tour has generated several ideas for the development of new machines by African engineers and created contacts between Indian manufacturers and African machinery importers which may materialize into business opportunities.