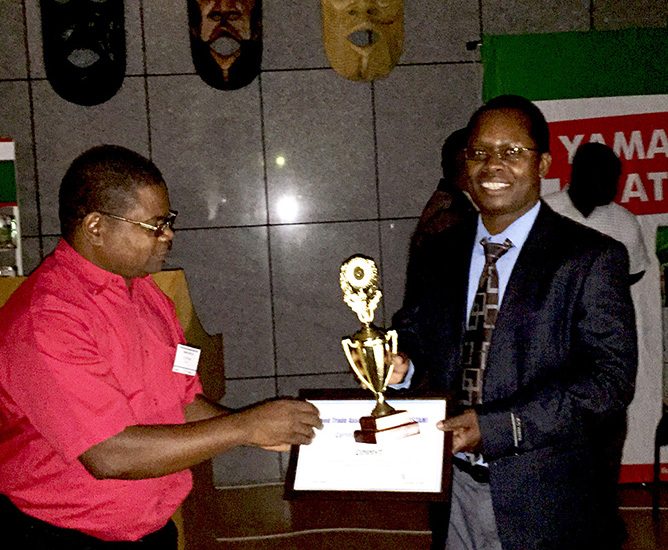 CIMMYT recently received an award in recognition of its efforts and contributions towards developing and strengthening Malawi's maize seed system. Kennedy Lweya, Seed Business Development Specialist for East and Southern Africa, received the award on behalf of CIMMYT, during the Seed Trade Association of Malawi Congress and Expo––the first of its kind––held on 22–23 October 2015 at the Bingu International Conference Centre in Lilongwe.
Many of these accomplishments have been achieved through the Drought Tolerant Maize for Africa (DTMA) project, which has helped farmers withstand the effects of a drought that continues to affect millions of smallholders who depend on maize as their staple food.
Upon receiving the award, Lweya noted, "This signifies recognition of tremendous work undertaken by CIMMYT scientists globally and in Malawi, in particular, to improve maize systems. More importantly, the award is an endorsement of the value that public-private partnerships bring in improving livelihoods and food security in the developing world."
CIMMYT has worked closely with public and private sector partners to develop improved drought tolerant (DT) maize. So far, 18 improved varieties have been released, 15 of which are maize hybrids that give farmers, on average, 49% more yield compared to varieties already on the market.
This collaboration has helped seed production in Malawi, particularly of certified DT maize seed, take an upward trajectory led by small- and medium-size seed companies. With CIMMYT support, these companies have been able to access––free of charge––the best improved germplasm, commercialize the varieties, enhance their seed production capacity, and accelerate farmers' adoption of the varieties.
"As an emerging private seed enterprise, we have benefited immensely through increased maize seed sales, from our collaboration with CIMMYT and the national research program, mainly by accessing improved maize germplasm, technical support, and various capacity building efforts," said Innocent Jumbe, Operations Director at Peacock Seed Company.
Farmers in Malawi are currently leading in the adoption of DT maize varieties, with approximately 1.2 million households growing DT maize. The adoption rate is at 61%––the highest among the 13 DTMA countries. This progress has been due largely to favorable government policies that have made access to improved varieties much easier and more affordable.
The role of the DTMA project was highly appreciated in the Congress, with a greater recognition of strong partnerships that have helped to scale up DT varieties, particularly through the Feed the Future Malawi Improved Seed Systems and Technologies (MISST) project. This project is being implemented by a consortium of four CGIAR centers – CIMMYT (maize), ICRISAT (legumes), IITA (aflasafe technology), and CIP (orange-fleshed sweet potato) to sustainably reduce poverty and hunger in the Feed the Future zones of influence in Malawi. In addition, CIMMYT's other novel and innovative products, including pro-vitamin A and quality protein maize, which were showcased in the expo, have set a high standard for maize breeding in Malawi.