The devastating disease wheat blast is a threat to crop production in many South Asian countries. In Bangladesh, it was first identified in seven southern and southwestern districts in 2016, and later spread to 27 others causing significant damage. The International Maize and Wheat Improvement Center (CIMMYT) is working with the Bangladesh Wheat and Maize Research Institute (BWMRI) and other national partners to conduct research and extension activities to mitigate the ongoing threat.
From March 1-10, 2023, a group of 46 wheat researchers, government extension agents, and policy makers from ten countries — Bangladesh, Brazil, China, Ethiopia, India, Japan, Mexico, Nepal, Sweden, and Zambia — gathered in Jashore, Bangladesh to learn about and exchange experiences regarding various wheat diseases, particularly wheat blast. Following the COVID-19 pandemic, this was the first in-person international wheat blast training held in Bangladesh. It focused on the practical application of key and tricky elements of disease surveillance and management strategies, such as resistance breeding and integrated disease management.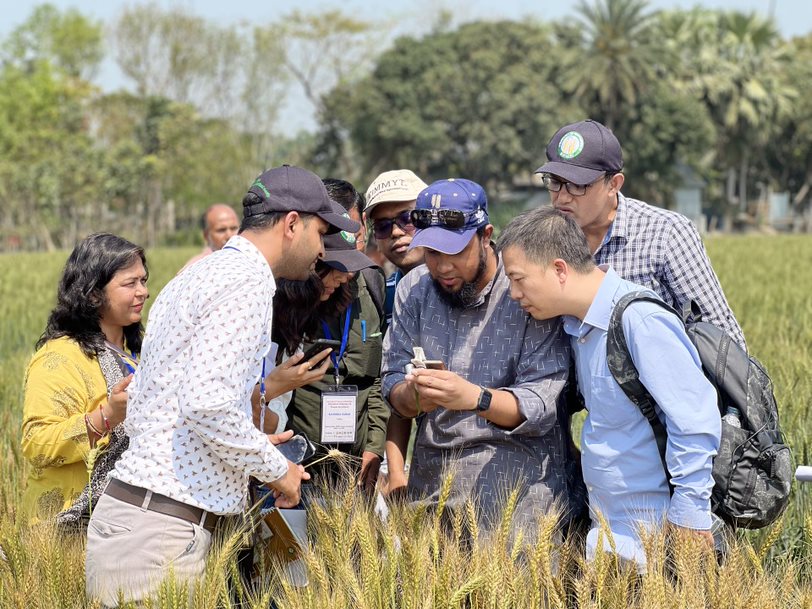 "This is an excellent training program," said Shaikh Mohammad Bokhtiar, executive chairman of the Bangladesh Agriculture Research Council (BARC), during the opening session.  "Participants will learn how to reduce the severity of the blast disease, develop and expand blast resistant varieties to farmers, increase production, and reduce imports."
This sentiment was echoed by Golam Faruq, director general of BWMRI. "This program helps in the identification of blast-resistant lines from across the globe," he said. "From this training, participants will learn to manage the devastating blast disease in their own countries and include these learnings into their national programs."
Hands-on training
The training was divided into three sections: lectures by national and international scientists; laboratory and field experiment visits; and trips to farmers' fields. Through the lecture series, participants learned about a variety of topics including disease identification, molecular detection, host-pathogen interaction, epidemiology and integrated disease management.
Hands-on activities were linked to working on the Precision Phenotyping Platform (PPP), which involves the characterization of more than 4,000 wheat germplasm and releasing several resistant varieties in countries vulnerable to wheat blast. Participants practiced taking heading notes, identifying field disease symptoms, tagging, and scoring disease. They conducted disease surveillance in farmers' fields in Meherpur and Faridpur districts — both of which are extremely prone to wheat blast — observing the disease, collecting samples and GPS coordinates, and completing surveillance forms.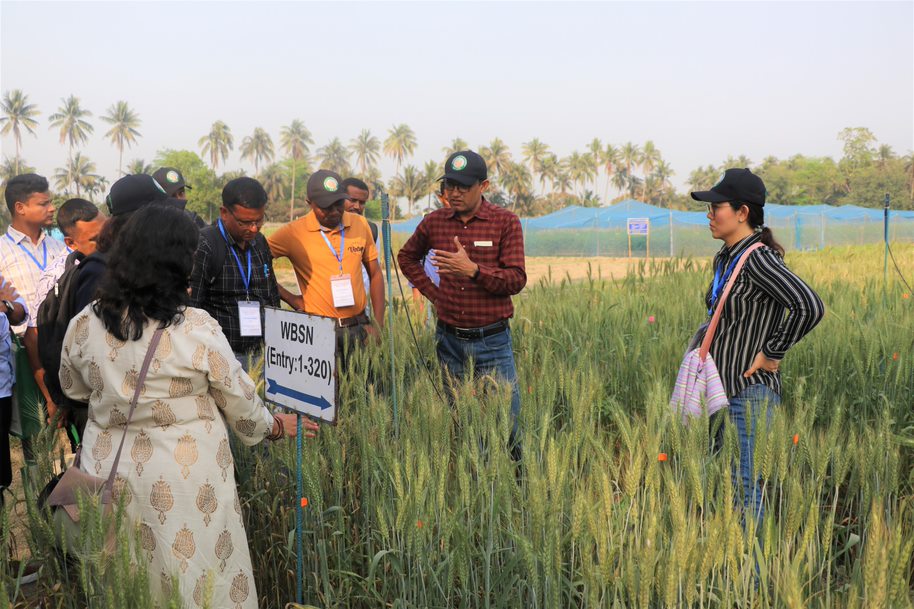 Participants learned how to use cutting-edge technology to recognize blast lesions in leaves using field microscopes. They went to a pre-installed spore trapping system in a farmer's field to learn about the equipment and steps for collecting spore samples, observing them under a compound microscope, and counting spores. They also visited the certified seed production fields of Shawdesh Seed, a local company which has played an important role in promoting wheat blast resistant varieties BARI Gom 33 and BWMRI Gom 3 regionally, and Bangabandhu Sheikh Mujibur Rahman Agricultural University (BSMRAU) in Gazipur to see current wheat blast research in action.
Blast-resistance in Bangladesh
"I am so happy to see the excellent infrastructure and work ethics of staff that has made possible good science and impactful research come out of the PPP," said Aakash Chawade, associate professor in Plant Breeding at the Swedish University of Agricultural Sciences. "Rapid development of blast-resistant varieties and their dissemination will help Bangladesh mitigate the effects of wheat blast, not only inside the country but by supporting neighboring ones as well."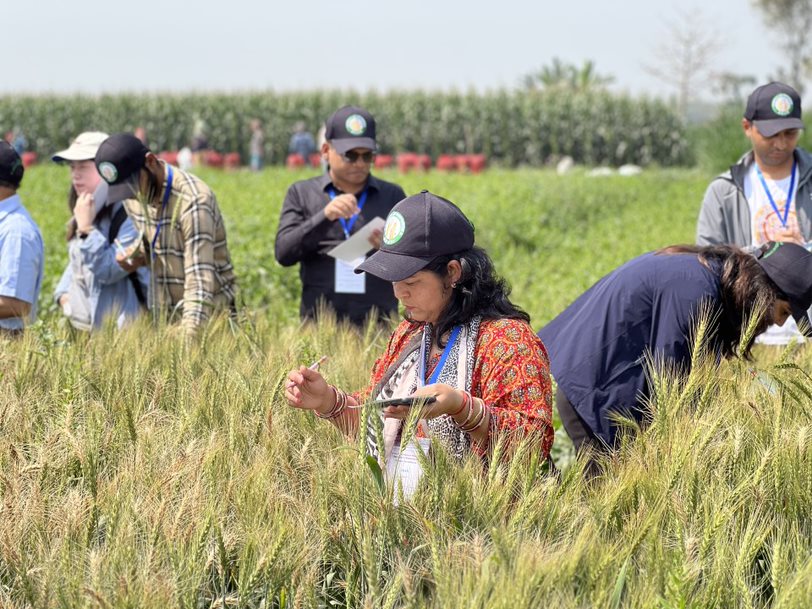 "Besides the biotic and abiotic challenges faced in wheat production, climate change and the Russia-Ukraine crisis are further creating limitations to wheat production and marketing," said Pawan Kumar Singh, head of Wheat Pathology at CIMMYT and lead organizer of the training. "Due to the development of blast-resistant wheat varieties and its commercial production under integrated disease management practices, the domestic production of wheat in Bangladesh has increased and there is increased interest from farmers in wheat."
Dave Hodson, a principal scientist at CIMMYT and one of the training's resource speakers, added: "This is a remarkable success that researchers developed two blast resistant varieties in Bangladesh urgently. It was only achievable because of the correct measures taken by the researchers and support of Government policies."
However, there are still some barriers to widespread adoption of these varieties. As such, in parallel to other activities, a team from Bangladesh Agricultural University (BAU) joined the field trip to meet local farmers and conduct research into the socio-economic factors influencing the adoption and scaling of relevant wheat varieties.