More than 200 staff came together to celebrate the winners of CGIAR's first-ever Inclusive Workplace Awards on September 15 at a special online ceremony that rolled out the red carpet from Peru to Penang.
In early June, a call for nominations went out across CGIAR for the Inclusive Role Model, Inclusive Leader, and Inclusive Team Awards, each with clearly stated selection criteria.
When the nomination period closed in early July, more than 150 staff had submitted nominations – indicating the value of CGIAR's collective work towards creating even more inclusive workplaces.
"It's our very own GDI Oscars," said co-host Fiona Bourdin-Farrell, CGIAR's Global Director of People and Culture, setting the celebratory tone in the first few minutes of the event.
"The Inclusive Workplace Awards allow us to recognize the stars among us who have demonstrated in words and deed their personal commitment to advancing gender, equity and inclusion in our workplaces."
Inclusive Team Award
The final award of the day, the Inclusive Team Award, went to the CIMMYT Women in Crop Science Team for proactively adopting better ways of working to create an inclusive and respectful team culture.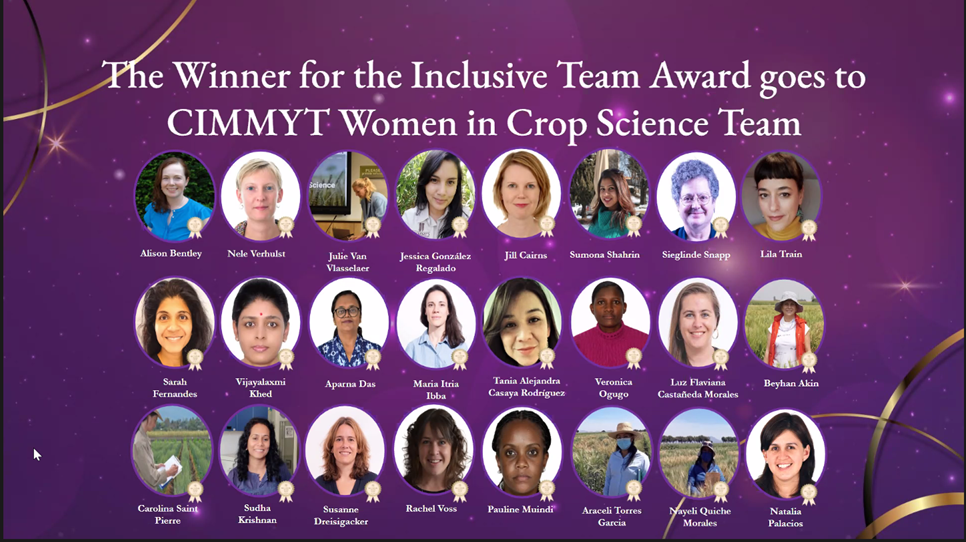 Accepting the award on behalf of the team, Alison Bently, Director of CIMMYT's Global Wheat Program, said that the Women in Crop Science Team grew out of the significant underrepresentation of women in crop science.
"We established the group to identify and try to collectively address some of the causes of underrepresentation," she said. "And importantly," she added "to develop tangible actions broadly covering operational equality, recruitment and retention, and raising awareness and visibility."
Winding up her acceptance remarks, Alison said: "I think it's important to say that there's much work that remains to be done. But the CIMMYT Women in Crop Science Team is committed to working with and supporting colleagues here at CIMMYT, across the CG[IAR], and in the international community to build a more inclusive and diverse community."
Read the original article: CGIAR's "GDI Oscars" celebrate the stars behind advancing Gender, Diversity and Inclusion in our workplaces