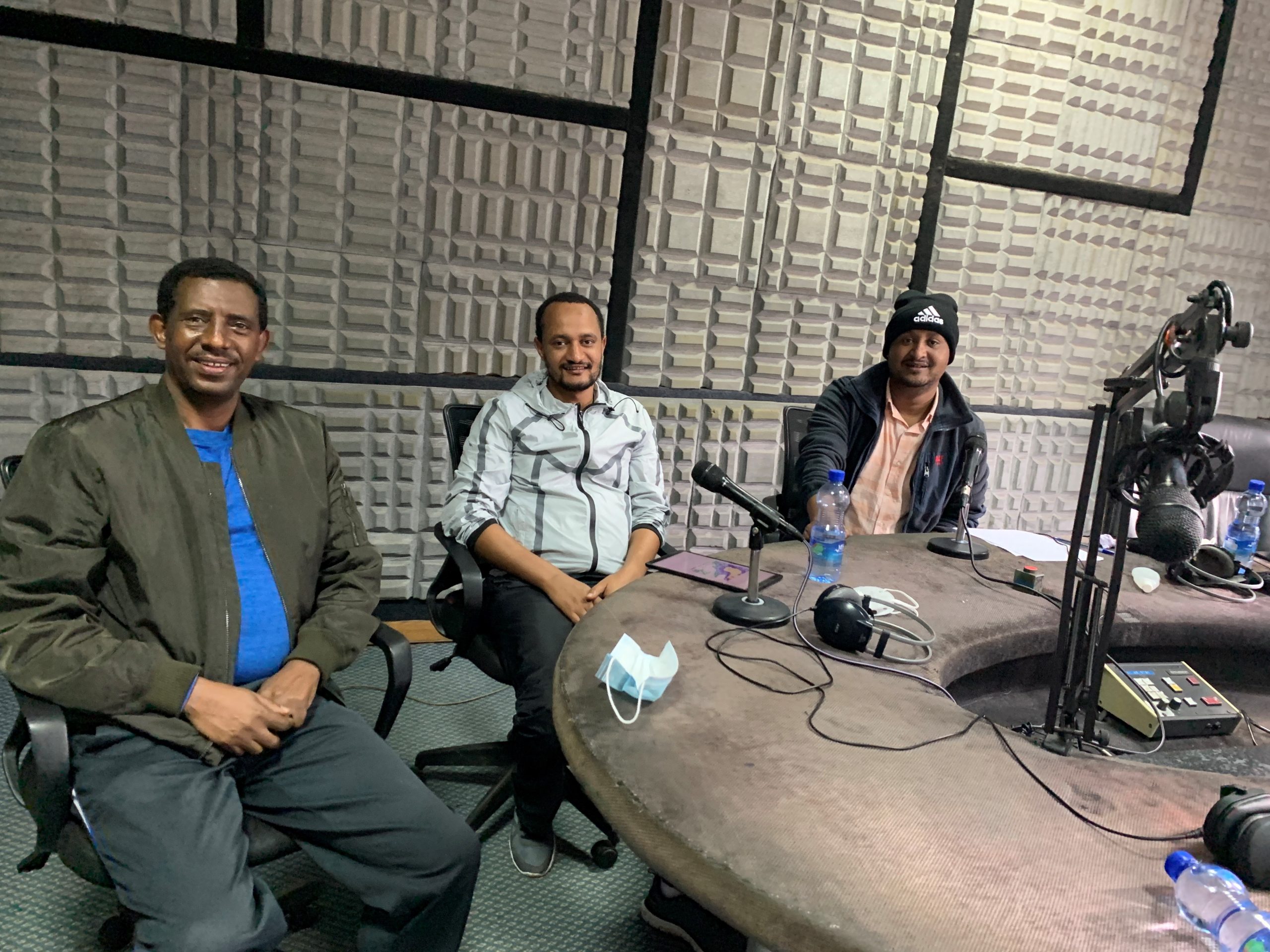 The continuing increase in the number of farming families has led to a growing emphasis on approaches on how to reach more people at a time. Among others, individual, group and mass-media approaches to agricultural extension and advisory services have been used concurrently.
This year, the global COVID-19 pandemic presented yet another challenge to the agriculture sector due to travel restrictions and limited face-to-face interactions. This has obstructed capacity building for farmers as well as development agents to deliver seasonal and intra-seasonal agroclimate advisories for farmers to support farm decisions.
Realizing the importance of mass media in extension, the International Maize and Wheat Improvement Center (CIMMYT) in collaboration with the Ministry of Agriculture, the Ethiopian Institute of Agricultural Research (EIAR) and Climate Change, Agriculture and Food Security (CCAFS)-EA used live show radio program on Sunday mornings to provide climate advisories on the 2020 Kiremt (main cropping) season to farmers and extension workers on a two-weekly basis between June and November. The live show also allows listeners to call in and ask questions and provide feedback. Besides the climate agro-advisories, COVID-19 alerts and precautionary measures were provided to the radio audience.
Extremely low climate induced risk perception
CIMMYT-CASCAID II project baseline assessment indicates that the rural communities in the project intervention areas have an extremely low climate induced risk perception and are also quite resistant to change. The areas are also highly prone to recurring droughts. Erratic rainfall distribution and dry spells are common. Large areas of barren and uncultivable land, water shortage, poor soil quality, soil erosion due to high run off rate are adversely affecting the farming systems. Research shows that simple adaptation actions such as watershed management, changing planting dates and crop varieties could greatly reduce the climate variability and change impacts. However, communities being poorly linked to scientists and policy makers lack information about climate change adaptation options and government schemes related to the same. There are also challenges of communicating scientific research in simplified ways that are appropriate to local stakeholder needs.
In recent years, the use of improved technologies has been increasing due to the progressive national agricultural development policy and strategy that is in place coupled with advisories provided to help farmers to make timely and appropriate farm level decisions and practices.
Agroclimate advisory – the fourth production factor
The provision of agroclimate advisory is considered as the fourth production factor after labor, land, and capital and critical to the agricultural sector as climate and its associated adverse effects can negatively affect agricultural activities and productivities. Thus, ensuring the accessibility of relevant time sensitive forecast based advisory information to farming communities helps improve productivity and yields higher returns.
The advice will also assist smallholder farmers to manage climate risks through informed decisions such as identifying optimum planting time/sowing windows, planting density at the start of the rainy season, while at the same time managing fertilizer application. Moreover, it also benefits farmer decisions and practices on soil water, weeds, diseases, and pest management throughout the growing season. By monitoring weather and crop growth during the season, the same forecast information can assist in predicting crop yields well in advance of crop maturity and to allow farmers to decide whether to sell the product immediately after harvest or store it until it commands better prices later in the year.
Radio for disseminating agroclimate information
In Ethiopia, the use of ICT for the accumulation and dissemination of agroclimate information and other agricultural updates is still low. Radio transmission covers a large percentage of the country with most of the households own a radio. This makes the use of radio programs one of the most cost-effective channels for conveying weather forecast information and agricultural knowledge to rural communities which ultimately facilitate informed decision-making and adoption of new technologies and practices.
In collaboration with its partners, the CIMMYT-CASCADE II project through Fana FM radio implemented a six-month (June-November 2020) live radio program providing seasonal advisories at the start of the main season in June using seasonal forecast from the National Meteorology Agency which was downscaled to Woreda/Kebele level by EIAR, CCAFS-EA and CIMMYT. This was followed by a biweekly or monthly Wereda specific agro-climate advisories which focus on fertilizer application, weeding, crop protection, soil and water management and climate extremes such as flood and droughts.
The program also included experts from the Ministry of Agriculture, EIAR, and CGIAR Centers to provide professional explanations and updates from the perspective of in situational readiness to support issues coming from the radio audience. The program created an opportunity for the federal government to prepare in time on some activities like importing agricultural inputs such as pesticides and fungicides to control the outbreak of pests and diseases (e.g., desert locust infestation and wheat rust outbreak). The platform also provided an opportunity to reach to millions of farmers to convey COVID-19 prevention messages such as physical distancing, use of masks, handwashing and other precautions that need to be taken while working in groups.