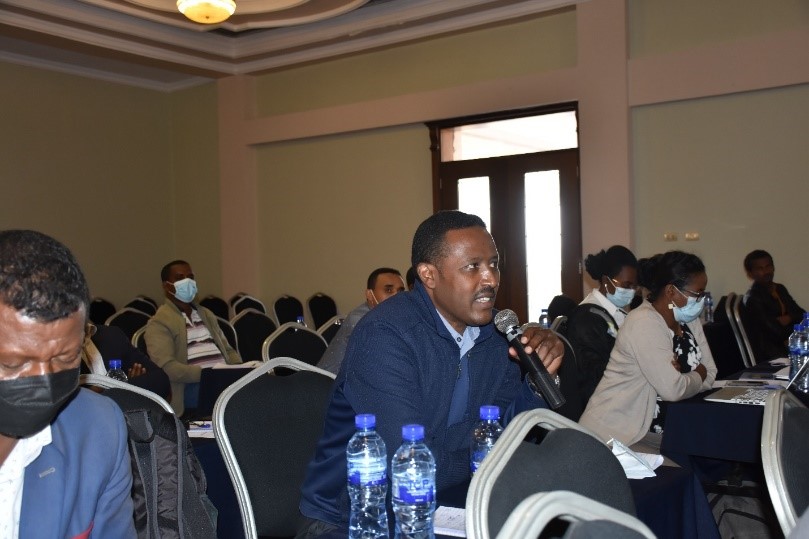 Despite an increase in the total area used for growing wheat in Ethiopia, the share of durum wheat, the wheat used for pasta, has decreased substantially across the country. Smallholder farmers grow durum wheat on marginal lands for their own use but are not benefitting financially from cultivating the crop.
To understand factors contributing to low area coverage of durum wheat and identify opportunities for reinvigoration and improved marketing, the International Maize and Wheat Improvement Center (CIMMYT) hosted a workshop for stakeholders from the entire durum wheat value chain.
"New breeding technologies have great promise for expanding the area of durum wheat production," said Moti Jaleta, agricultural economist at CIMMYT, "but this achievement remains primarily dependent on the market's ability to purchase grains at a higher price to stimulate farmer adoption. The market in Ethiopia is not favoring durum wheat, so suppliers and extension workers must promote it very well."
Rising consumption of durum wheat products such as pasta and macaroni is causing higher dependency on wheat imports. Reducing this reliance requires addressing the challenges facing Ethiopia's durum wheat farmers in variety development and release, seed supply, crop management, level of productivity, market opportunities, and extension systems.
Kindie Tesfaye, scientist and crop modeler at CIMMYT, explained, "There is a need to improve the durum wheat seed system and extension service, enhance the development of new varieties with desired grain quality and create market linkages to meet the increasing durum wheat demand from the rapidly growing urban population and expanding agro-industrial parks."
The potential of digital
As Ethiopia's agricultural systems are highly dependent on rainfall, digital interventions can serve as key decision support tools to manage climate risk and bolster the adaptive capacity and productivity of smallholder farmers. CIMMYT collaborates with value chain-based digital agro-advisory services through the Digital Agricultural Advisory Services (DAAS) project, which runs multiple projects in Ethiopia to advance the use of digital tools in farming.
Taye Tadesse, director of crop research at the Ethiopian Institute of Agricultural Research, emphasized that the introduction of production technology should be participatory and customer-oriented to achieve the intended outcomes. Ensuring that technology is accessible is vital for strengthening the value chain system, he said.
Agreed actions from the workshop included focusing attention on the bodies responsible for the expansion of infrastructure and raising wheat farmers' awareness of the value-adding tools available to them through training.
"We must ensure that farmers are the biggest decision-makers," Tasfaye said.