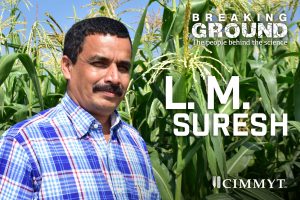 EL BATAN, Mexico (CIMMYT) – Maize lethal necrosis (MLN) disease is putting maize production at risk in eastern Africa, escalating food insecurity in the region.
First reported in Kenya in 2011, it has subsequently spread rapidly to neighboring countries and has now been confirmed in six eastern African countries, including the Democratic Republic of Congo, Ethiopia, Rwanda, Tanzania and Uganda.
The disease, caused by a combination of the maize chlorotic mottle virus (MCMV) and sugarcane mosaic virus (SCMV), causes irreversible damage that kills maize plants before they can grow and yield grain. If a maize field is infected early in the cropping cycle, total yield losses may occur.
Scientist L.M. Suresh of the International Maize and Wheat Improvement Center (CIMMYT) plays a central role in efforts to keep the disease in check. He contributes significantly to the screening of maize germplasm against MLN/MCMV, and to the identification of maize hybrids with tolerance/resistance to the disease.
In 2013, CIMMYT and the Kenya Agricultural and Livestock Research Organization established an MLN screening facility in Naivasha, Kenya, northwest of the capital Nairobi. The center serves as a centralized platform for screening maize germplasm under artificial inoculation from CIMMYT as well as public and private sector partners.
Suresh joined CIMMYT in 2015 as maize pathologist for sub-Saharan Africa. He is also manager of the MLN screening facility. As almost all of the commercial maize varieties currently grown in eastern Africa are susceptible to MLN, it is crucial to identify and develop germplasm with tolerance/resistance to the disease.
His work involves identifying sources of resistance to MLN and its component viruses MCMV and SCMV, and he works closely with other scientists on the genetic basis of MLN resistance. In addition, he contributes to the identification of elite maize hybrids that offer tolerance/resistance to MLN.
The use of advanced phenotyping technology makes it possible to quickly make physical observations of the plants on a large scale without painstaking manual scoring.
Another major component of Suresh's work focuses on epidemiological factors related to MLN disease transmission, particularly seed transmission of MLN-causing viruses.
While focusing on MLN, he also works on other foliar – or leaf – diseases that are a threat to maize. As manager of the MLN screening facility, Suresh is responsible for the screening and indexing of about 84,000 rows of maize trials each year in three to four planting cycles at the Naivasha facility.
As of 2016, nearly 100,000 germplasm entries have been screened against MLN. To date, nine first generation MLN-tolerant elite maize hybrids have been released in East Africa. Several second-generation, CIMMYT-derived, MLN-resistant hybrids are currently being tested under national performance trials in Kenya, Tanzania and Uganda.
Born in Madasuru-Lingadahalli, a rural village in southern India, Suresh grew up on a farm where he worked in the fields during school holidays helping with weeding, picking areca nuts and harvesting.
In the 1970s and 1980s, his father was recognized by the State Department of Agriculture as a "progressive farmer" for undertaking various innovative approaches to increase rice paddy yields. However, the family continued to face several challenges, including low yielding varieties, diseases, pests, water scarcity and volatile prices.
To try and overcome some of these hardships, Suresh decided to further his education in agriculture.
"I believe that a deeper knowledge of science might offer alternatives, and that we should explore these options to help smallholder farmers like my father get better yields without increasing costs," Suresh said. "My family always supported me to pursue higher education in the field of agriculture."
Suresh earned undergraduate and master's degrees at the University of Agricultural Sciences in Bangalore. During that time, Professor and emeritus scientist Varagur Ganesan Malathi from the Indian Agricultural Research Institute was his mentor and guide, also supervising him while he completed his Ph.D. at Kuvempu University in Karnataka.
Before joining CIMMYT, Suresh worked for 19 years at seed companies, including 14 years for Monsanto in India, where he led a team of plant health scientists focusing on diseases in vegetables. Additionally, he supported teams working on maize and cotton to harmonize various disease screening protocols.
"Working in agriculture gives me the best opportunity to contribute to efforts to help smallholder farmers improve their livelihoods," Suresh said. "CIMMYT is a place full of scientific rigor and experts who work collaboratively with partners and thus bring impact. A major disease like MLN brings researchers from various organizations and institutions from different parts of the world together to accelerate efforts to not only understand the disease and establish effective surveillance, but also to engage stakeholders to commercially scale up disease-resistant hybrids developed by CIMMYT."
The MLN web information portal, to which Suresh contributes, provides comprehensive information on various initiatives to tackle the MLN challenge. This website and information management system was developed with the objective of providing a one-stop resource for all the relevant information on MLN to interested stakeholders.