Breaking Ground is a regular series featuring staff at CIMMYT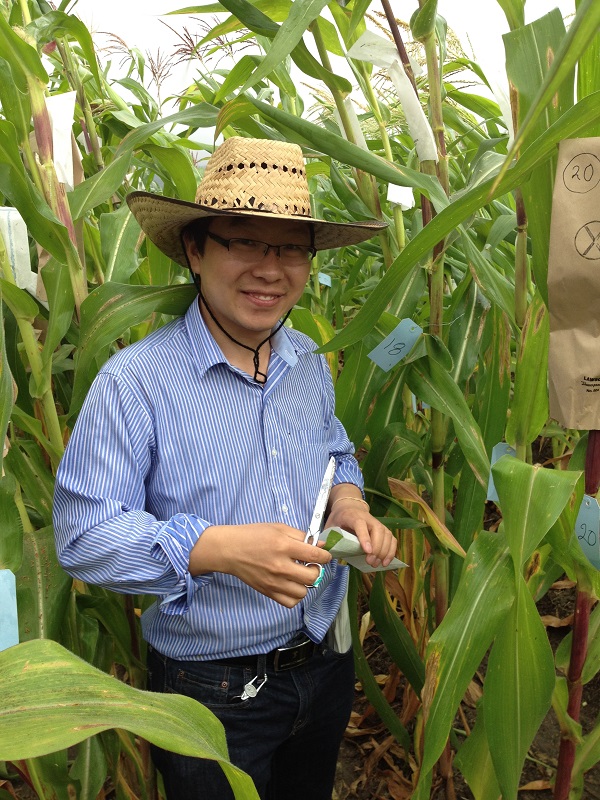 EL BATAN, Mexico (CIMMYT) – Maize has always been an integral part of Jiafa Chen's life.
Chen, a statistical and molecular geneticist at the International Maize and Wheat Improvement Center (CIMMYT), has helped identify new genetic resources that have the potential to be used to breed new maize varieties that withstand a variety of environmental and biological stresses. He has also played a significant role in the development of a recent partnership between CIMMYT and Henan Agricultural University (HAU) in China.
Born in Henan – a province in the fertile Yellow River Valley known for its maize and wheat production – Chen's family grew maize, which was a major source of income and led to his interest in breeding the crop as a means to help small farmers in China. He went on to study agriculture at HAU, where he focused on maize at a molecular level throughout undergraduate and graduate school, then came to CIMMYT as a postdoctoral researcher in 2013.
"Coming to CIMMYT was natural for me," Chen said. "CIMMYT's genebank – which holds over 28,000 maize accessions – offered a wide array of genetic resources that could help to breed varieties resistant to disease and abiotic stress which are large challenges in my country."
Over Chen's four years at CIMMYT headquarters near Mexico City, he has helped characterize CIMMYT's entire maize genebank using DArTseq, a genetic fingerprinting method that can be used to help identify new genes related to traits like tolerance to heat under climate change, or resistance to disease.  This research is being used to develop maize germplasm with new genetic variation for drought tolerance and resistance to tar spot complex disease.
"Conserving and utilizing biodiversity is crucial to ensure food security for future generations," Chen said. "For example, all modern maize varieties currently grown have narrow genetic diversity compared to CIMMYT's genebank, which holds some genetic diversity valuable to breed new varieties that suit future environments under climate change. CIMMYT and other genebanks, which contain numerous crop varieties, are our only resource that can offer the native diversity we need to achieve food security in the future."
Chen moved back to China this month to begin research at HAU as an assistant professor, where he will continue to focus on discovering new genes associated with resistance to different stresses. Chen was the first student from HAU to come to CIMMYT, and has served as a bridge between the institutions that officially launched a new joint Maize and Wheat Research Center during a signing ceremony last week.
The new center will focus on research and training, and will host four international senior scientists with expertise in genomics, informatics, physiology and crop management. It will be fully integrated into CIMMYT's global activities and CIMMYT's current collaboration in China with the Chinese Agricultural Academy of Sciences.
"I think through the new center, CIMMYT will offer HAU the opportunity to enhance agricultural systems in China, and will have a stronger impact at the farm level than ever before," Chen said. "I also think HAU will have more of an opportunity to be involved with more global agricultural research initiatives, and become a world-class university."