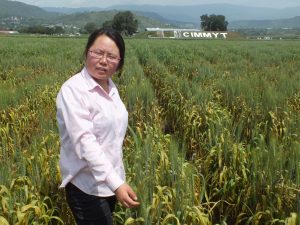 Breaking Ground is a regular series featuring staff at CIMMYT
EL BATAN, Mexico (CIMMYT) – Support for research into breeding crops resistant to wheat rust is essential to manage the spread of the deadly disease, which has caused billions of dollars of yield losses globally in recent years, said Caixia Lan, a wheat rust expert at the International Maize and Wheat Improvement Center (CIMMYT).
Rust disease has historically been a menace to wheat production worldwide. Although agricultural scientists manage the disease by breeding wheat varieties with rust resistant traits, the emergence of new races hinders progress and demands continued research, said the scientist.
With outbreaks of new strands reported in Europe, Africa and Central Asia, wheat rust presents an intensifying threat to the over 1 billion people in the developing world who rely on the crop as a source of food and for their livelihoods.
One of the most recent rust races, Ug99, was detected in 1998 and has since spread across 13 countries, alone causing crop losses of $3 billion in Africa, the Middle East and South Asia, said Lan.
Working with CIMMYT's Global Wheat Program Lan is identifying and mapping adult-plant resistance genes to different races of rust (leaf, stripe, and stem) in bread and durum wheat and transferring them into new varieties that help secure farmer's production.
Growing up in an area dependent on agriculture in rural China, Lan knows all too well the impact crop disease and natural disaster has on family food security and livelihoods. The struggles of smallholder farmers to feed and support their families motivated her to pursue a career in agriculture for development, but it was not until university that she became inspired by the improvements made to crop yield through genetic manipulation and breeding, she said.
After completing her doctoral degree at the Chinese Academy of Agricultural Sciences, and working as a wheat molecular breeding lecturer at Huazhong Agricultural University, Lan was named the Borlaug Global Rust Initiative Women in Technology Early Career Winner in 2011. Lan joined CIMMYT in a post-doctoral position and currently works as a scientist to improve wheat's resistance to rust.
Rust is a fungal disease that uses wheat plants as a host, sucking vital nutrients and sugars from the plant leaving it to wither and die. Without intervention, wheat rust spreads due to the release of billions of spores, which travel by wind to other plants, crops, regions or countries. Spores have the potential to start new infection, ravage crops and threaten global food security.
The science behind building genetic resistance takes two forms known as major (or race-specific) genes and adult-plant resistance based on minor genes. Major resistance genes protect the wheat plants from infection by specific strains of rust. While adult plant resistance, Lan's area of specialization, stunts the pathogen by reducing the infection frequency and limiting its nutrient intake from the host wheat plant. Some of the longer-lasting adult-plant resistance genes have been shown to provide protection against multiple diseases for decades and have not succumbed to a mutated strain of rust so far.
Replacing wheat crops for varieties bred with several rust-resistant genes acts as a safeguard for occasions when the pathogen mutates to overcome one resistant gene as the others continue the defense, Lan said.
Lan has identified a number of rust resistant genes in CIMMYT germplasm and developed molecular markers, which are fragments of DNA associated with a specific location in the genome. However, as new races of the disease emerge and old ones continue to spread, research identifying durable and multiple rust resistant genes and breeding them into crops is of high importance, she said.