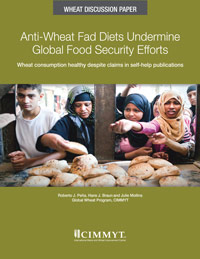 A recent review paper released by Britain's University of Warwick (Lillywhite and Sarrouy 2014) addresses two fundamental questions regarding wheat: "Are whole grain products good for health?"; and "What is behind the rise in popularity of gluten and wheat-free diets?"
The paper was commissioned by cereal-maker Weetabix to address reports in the news media that wheat products are the cause of health problems, resulting in an increasing number of consumers switching to low-carbohydrate grain- and wheat- free diets. For many health professionals this is a worrying trend because wheat not only supplies 20 percent of the world's food calories and protein, but has important benefits beyond nutrition, the authors state.
The Warwick paper provides a scientific assessment of the benefits of whole grain consumption, information that the authors note seems to have been lost in media headlines and the reporting of "pseudo-science."
The paper concludes that whole grain products are good for human health, apart from the 1 percent of the population who suffer from celiac disease and another 1 percent who suffer from sensitivity to wheat (Lillywhite and Sarrouy 2014). Eating wholegrain wheat products is positive, improves health and can help maintain a healthy body weight, the authors report.
Scientific evidence regarding wheat- and carbohydrate-free diets is thin and selectively used, they state, and a low cereal and carbohydrate diet "may cost more but deliver less."
Additionally, an economically viable industry has developed around so-called "free-from" diets and may be persuading consumers to switch from staple foods to specialist foods created especially for those who need to avoid gluten, a protein found in wheat and other grains, they add.
This Wheat Discussion Paper serves as a foundation upon which the authors hope further discussion will develop. It aims to highlight unsubstantiated nutritional claims about wheat and shine a spotlight on the important role of wheat and fiber in human diets. It also seeks to encourage conversation about how non-scientific claims about wheat could affect poor consumers and global food security.