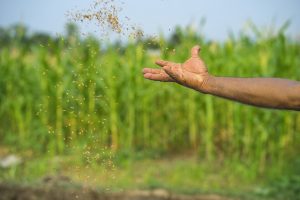 EL BATAN, Mexico (CIMMYT) – Data and predictive analytics can help seeds reach their full yield by providing farmers with information and management advice, said DuPont Pioneer President Paul Schickler.
Although seed varieties possess greater genetic potential than ever before, farmers are failing to achieve maximum yield because they lack the knowledge to farm certain varieties of maize and wheat in certain locations, said Schickler who will speak at a conference to mark the 50th anniversary of the International Maize and Wheat Improvement Center (CIMMYT) next week.
To help farmers bridge this gap, Schickler said DuPont Pioneer has abandoned learning best practices from field trials and now uses data modelling. Simulating combinations of seeds and  unique farming practices enables smoother delivery of better information and management advice, he said.
Targeted genome editing using engineered nucleases innovations, such as Clustered, Regularly Interspaced, Short Palindromic Repeat (CRISPR) technology, are also driving DuPont Pioneer's seed development to improve the productivity of climate- and disease-resistant crops, said Schickler.
He will deliver a talk during a session titled, "The critical role of innovation in agriculture" on Sept. 28 at the CIMMYT 50th anniversary conference which will be held from Sept. 27 to 29, 2016 in Mexico City.
He shared some views on agricultural innovation in the following interview.
Q: What is significant about CIMMYT?
There's no denying it – we have all benefitted from CIMMYT's scientific research and heart for innovation. Since its beginnings, CIMMYT has played a revolutionary role in global agriculture — fostering maize and wheat productivity while improving rural livelihoods and boosting farmer productivity. And, they have excelled at bringing a collaborative focus to agriculture.
As I reflect on the past 50 years of CIMMYT, I also think of one of the world's great humanitarians and innovators – former Global Wheat Program director and Nobel laureate Noman Borlaug. Through science, he has been credited with saving 1 billion people from starvation.
At DuPont Pioneer, we have a strong appreciation for the contributions of Borlaug and CIMMYT. We have collaborated throughout its 50-year history and we look forward to 50 more.
Q: How does your area of specialization address challenges facing agriculture?
At DuPont Pioneer, we develop and supply advanced plant genetics and services to farmers to increase agricultural production and feed a growing world population. We collaborate with farmers and organizations, including CIMMYT, in more than 90 countries to apply the best of global science to develop uniquely local solutions. One thing has become abundantly clear – we can only help farmers be successful when we recognize their right to choose the best seeds, agronomic practices and tools for their operations. The "right" practices for farmers differ by geography, environment, market situation and more.
As president of DuPont Pioneer, I am immersed in issues pertaining to farmer and agricultural productivity, food and nutrition security, scientific research, product innovation and sustainability. Together with organizations like CIMMYT, we are making advancements in these areas while promoting community development and national security. Efforts to increase global food security may also support a decrease in civil unrest.
Q: What innovation do you see improving agriculture?
Innovation will continue to be critical on a global scale as we consider increasing yields and food production under the constraints of limited arable land, shrinking natural resources, and a growing population. To make sure enough healthy food is available, farmers need seeds that can thrive and are safe for people and the environment.
Every year, seed companies develop products with greater and greater genetic potential. But most customers fail to achieve the maximum yield potential of the seeds they plant. We need to help farmers bridge the gap between a product's potential yield and its "real-world," harvestable yield.