HARARE, Zimbabwe (CIMMYT) — Smallholder farmers in Zimbabwe's rural areas have grown maize for years both as a staple and as a resource to boost their economy.
However, Zimbabwean farmers rely predominately on rain-fed maize farming, making each planting season a gamble with nature as poor rainfall, pests and diseases constantly threaten this staple crop and farmer livelihoods.
As most smallholders tried to recover from the El Niño-induced drought in southern Africa, affecting 40 million people during the 2015-2016 farming season, according to the Food and Agriculture Organization (FAO) of the United Nations, nothing could have prepared them for the sudden invasion of the fall armyworm in September 2016 that caused irreversible damage on their maize crop.
"We first noticed it in December 2016," said Elizabeth Chikono, a smallholder farmer from Mashonaland Central Province, whose maize crop was heavily infested by the fall armyworm. "We tried to control it through spraying with different pesticides, but to no avail. I had hoped to harvest 10 tons per hectare of maize, but only managed to harvest three tons."
The fall armyworm has since caused significant damage on over 280,000 hectares of maize in Malawi, Namibia, South Africa, Zambia and Zimbabwe, and can cause up to 70 percent crop loss, or total loss in some cases if unmanaged, says FAO. The level of damage witnessed in the fields is likely to affect maize harvests across the region, which is expected to create more than 200 million food-insecure people who depend on maize for food, said Chimimba Phiri, head of FAO southern Africa sub-regional office.
It has so far been impossible to eradicate the pest, which is known to migrate quickly and breed quite fast, with an entire life cycle between 35 and 61 days.
Zimbabwe established a fall armyworm working group in July this year to bring all stakeholders together and find solutions to manage the impacts of the pest in the country.
Forty-five people representing government ministries, non-governmental organizations, private seed and chemical companies, agricultural research institutions, donors and academic institutions, recently resolved at a meeting to advocate a countrywide response as part of a regional program of integrated management of the fall armyworm. The group recommended strengthening awareness campaigns, building stakeholders' capacity in the fight against the fall armyworm, raising funds, strengthening research and development as well as screening of germplasm.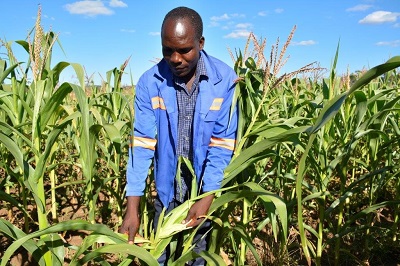 These recommendations have culminated in a new strategy to undertake national assessments to determine the impact of the pest on crop yields and how to manage it.
The FAO is also working to equip southern African countries with the tools to asses and improve understanding of the fall armyworm's threat to the region.
"The International Maize and Wheat Improvement Center (CIMMYT) will pull its germplasm resources as well as modern breeding platforms to produce maize varieties that are tolerant to fall armyworm," said Cosmos Magorokosho, CIMMYT country representative for Zimbabwe. Similar efforts have been used by CIMMYT in the past to tackle the effects of Maize Lethal Necrosis in eastern Africa.
However, breeding for fall armyworm resistant elite maize hybrids adapted to sub-Saharan Africa is a lengthy process and would require intensive germplasm screening, working with public and private sector institutions.
To reduce the numbers of fall armyworms and their impact on agricultural production in Zimbabwe, a multi-pronged approach is required that ensures fast registration of appropriate chemicals, strategies to avoid chemical resistance, surveillance and early warning, monitoring, cultural management and breeding.
Acting head of plant protection at the government of Zimbabwe's Department of Research and Specialist Services, Shingirayi Nyamutukwa, said the government had started training field extension staff on proper selection and handling of chemicals as well as raising awareness among the staff and smallholder farmers. Experiments were also underway to determine the best fall armyworm control methods. Nyamutukwa said all of Zimbabwe's 10 provinces had been affected by the caterpillar. He said that no single method or product has been found to completely eradicate the fall armyworm.
Breeding for fall armyworm resistant elite maize hybrids adapted to sub-Saharan Africa was cited as an option but would require intensive germplasm screening, working with public and private sector institutions. Brazil, for example, spends an estimated US$600 million annually to control the fall armyworm.