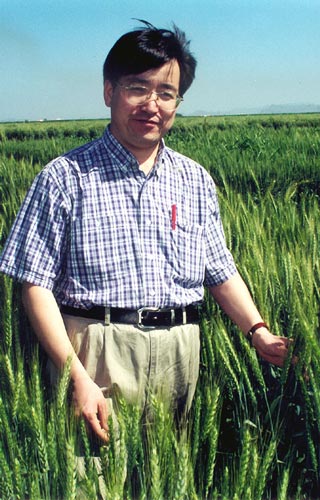 During his visit to the Chinese Academy of Agricultural Sciences (CAAS) in China, Director General Thomas Lumpkin took the opportunity to make a very special announcement – the promotion of Zhonghu He to CIMMYT Distinguished Scientist. He now joins an illustrious group of past and present CIMMYT Distinguished Scientists: Mujeeb Kazi, Sanjaya Rajaram, Surinder K. Vasal, Ravi Singh, Jose Crossa, and Hugo Córdova.
He first joined CIMMYT as a post-doctoral scientist from 1990-92, before coming back to lead the China office when it first opened in 1997. In the subsequent 15 years He used his connections with CAAS to successfully establish a CIMMYT-CAAS wheat improvement program that is now highly recognized in China and worldwide for its significant achievements in varietal development, quality testing technology, molecular marker development and application, and training. In addition, He has authored 219 refereed journal articles in the last eight years alone, including publications in Crop Science, Euphytica, Journal of Cereal Science, and Journal of Theoretical and Applied Genetics.
Upon receiving the news of his promotion, He said: "Becoming a Distinguished Scientist was beyond my dreams ten years ago. It is a great honor, not only for me but also for my program and my fellow scientists and support staff. I am very grateful for the support and encouragement received from our colleagues at CIMMYT and CAAS, and thanks also to our collaborators in China and worldwide."
Congratulations He and good luck in your new appointment.