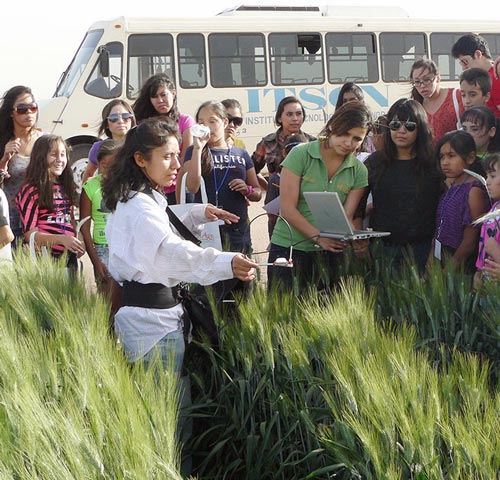 Wheat research is an intriguing story to many. CIMMYT's Global Wheat Program (GWP) keeps germplasm flowing worldwide, and more than 100 wheat researchers and 40 junior scientists and graduate students attend its annual wheat improvement course. The program hosted students from around the world in 2013, introducing them to the program's critically important work.
Visit to wheat research station at Ciudad Obregón
The GWP hosted a visit from 10 to 11 April for 50 children, ages 8 to 12, who are part of the PERAJ program at the Instituto Tecnológico de Sonora (ITSON). The university's "adopt a friend" program encourages students to tutor children from public primary schools in Ciudad Obregon. The CIMMYT visit originated from the daughter-mother link of Carolina Rivera Amado, a Ph.D. student in the MasAgro program, and Alma Amado Quintana, the PERAJ coordinator at ITSON. Alma Amado said the program creates relationships between the tutors and their "adopted" students to support education and strengthen the professional and personal development of ITSON students. The children and their tutors were intrigued by the diversity of wheat. They learned the source of their favorite wheat tortillas and discovered the work scientists do to increase wheat productivity. The experience allowed Mathew Reynolds and colleagues Araceli Torres, Carolina Rivera, Arnauld Thiry and Perla Chávez to explain how plants grow and for Amor Yahyaoui to explain how scientists ensure the production of healthy plants.
Yokohama City University (YCU) students visit CIMMYT headquarters
Seven undergraduate students came to CIMMYT's headquarters from Japan's Yokohama City University (YCU) from 6 to 7 August to tour facilities and interact with wheat and maize scientists. The overall objective of the visit was to expose the students to international agricultural research on crop improvement and to give them an opportunity to meet worldleaders in research helping to feed the world. Through the efforts of Tomohiro Ban, a former CIMMYT scientist who is a lead researcher at the Kihara Institute for Biological Research (KIBR) and his working relationship with wheat scientist Ravi Singh, young undergraduates from Japan visit CIMMYT almost every year. CIMMYT scientists who interacted with the group included Singh, Jose Juan Caballero, Sehgal Deepmala, Bibiana Espinosa, Velu Govindan, Julio Huerta, Masahiro Kishii, Aleksandre Loladze, Monica Mezzalama, Henry Ngugi, Tom Payne, Pawan Singh, Sukhwinder Singh, Prashant Vikram, He Xinyao and Amor Yahyaoui. The students were introduced to CIMMYT's global maize and wheat research programs as well as training activities in the fields of breeding and genetics, pathology, biotechnology, seeds of discovery and bio-fortification research. The visit to the new Bioscience Complex showed the students the steps in wheat variety development from DNA analysis to field plot techniques. "I learned about the importance of connecting biotechnology and breeding," said Yuki Kajita, a student participating in the visit. "I had a very good time at CIMMYT. I hope to come again someday as a researcher."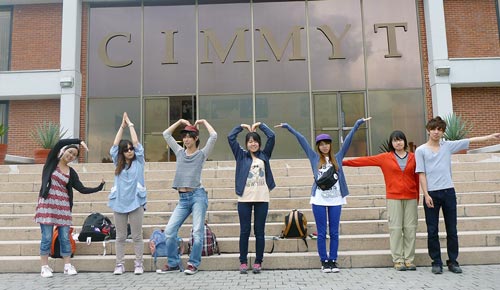 Tokyo university students visit CIMMYT
Tokyo University of Agriculture also organized a visit to CIMMYT headquarters. On 12 August, a group of 12 students visited as part of their tour abroad to agricultural research institutions and to learn about agricultural activities of smallholder farmers in Mexico. The students toured the gene bank and learned about seed selection and treatment as part of CIMMYT's international nursery activities. They also visited wheat and maize demonstration plots and were encouraged to consider CIMMYT as they continue with their post-graduate research. The group was headed by Mariko Kawaminami, agronomist and professor at the University of Chapingo. This tour is organized and hosted by the University of Chapingo every year as part of its international academic exchange activities.
Afghanistan capacity development supported by Japanese Institutions
Representatives from several institutions working on the Development of Wheat Breeding Materials for Sustainable Food Production (SATREPS) project visited CIMMYT on 28 February to encourage support for young Afghan scientists and capacity development of young Japanese researchers and students. SATREPS aims to train Afghan scientists in the development of wheat breeding materials for sustainable food production through partnerships with Afghanistan, Japan and Mexico. Japanese institutions involved in the project include KIBR, Yokohama City University, the Science and Technology Agency (JST) and the Japan International Cooperation Agency (JICA). The project also sponsored two Afghan scientists to join the CIMMYT Global Wheat Program wheat improvement course in Ciudad Obregón from March to May. Lead scientists in breeding, physiology, pathology and biotechnology helped participants to acquire practical experience in wheat breeding. Zahery Eid Mohammad and Ahmadi S. Hasibullah completed the training and are registered for master's studies at Yokohama City University. CIMMYT will continue to strengthen the Japan-Mexico collaboration by training young Afghan scientists and encouraging young Japanese students to get involved in agricultural research.