By Karen Willenbrecht/CIMMYT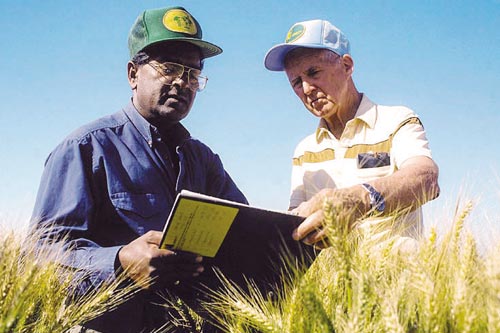 Two additional trainees — one from Afghanistan and one from Ethiopia — had the opportunity to participate in CIMMYT's Basic Wheat Improvement Course this year, thanks to the generous donation of US$ 20,000 by Dr. Sanjaya Rajaram, former director of CIMMYT's Global Wheat Program (GWP) and winner of the 2014 World Food Prize.
"Training is something very close to my heart, and I would like to see more donors supporting this important function at CIMMYT," he said during a 3 July visit to CIMMYT headquarters.    When he presented the check to CIMMYT last fall, Rajaram said he "hoped it would serve as an example to other people who believe in training."
Rajaram started his CIMMYT career as a post-doctoral fellow, working alongside Dr. Norman Borlaug.  He then went on to lead the bread wheat breeding team from 1973- 1995 and develop wheat varieties   among the most widely-grown  worldwide. He served as director of the GWP from 1996 to 2002.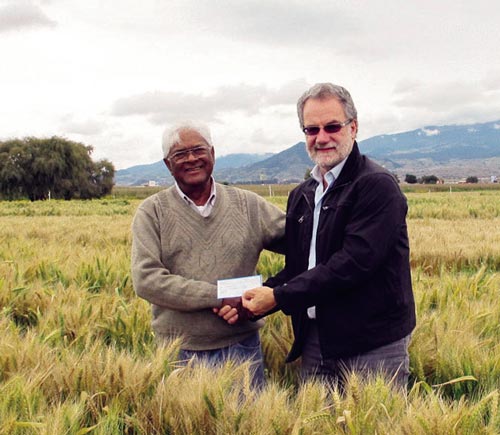 In his four decades at CIMMYT, Rajaram trained more than 400 wheat scientists. "He influenced so many trainees who lead wheat breeding in their home countries, and many became national research leaders," said current GWP Director Hans-Joachim Braun.
Find out how Dr. Rajaram has influenced top CIMMYT scientists in our new video series, which debuted this week on YouTube. Dr. Ravi Singh, a wheat breeder, talks about his mentor in the first video.