The agricultural research network in Afghanistan has been increasing in size and strength ever since reconstruction activities in the country began. Major disciplines such as crop improvement and agronomy have been developing new crop varieties and production management techniques that help Afghan farmers increase their harvests. Agricultural statistics and, in particular, the statistical analysis of crop research results are areas that have yet to see major infrastructure establishment or capacity building. Research data generated every year need to be properly analyzed and interpreted in order to formulate technical recommendations.
CIMMYT-Afghanistan organized a two-day training course on "Statistical Analysis in Agricultural Research" on June 25-26, 2012, at the CIMMYT office in Kabul under the ACIAR-sponsored project "Sustainable Wheat and Maize Production in Afghanistan." The course was conducted by Dr. Girish Chandra Mishra, Professor of Agricultural Statistics, Institute of Agricultural Sciences, Banaras Hindu University, Varanasi, India. It was attended by eight researchers from ARIA (Agricultural Research Institute of Afghanistan), two from FAO (Food and Agriculture Organization), and one from JDA (Joint Development Associates), an NGO engaged in agricultural research and extension in northern Afghanistan.
The course was inaugurated by Mr. Abdul Latif Rasekh, Acting Director of ARIA, who expressed satisfaction with its timeliness, given that data generated by ARIA research stations need to be analyzed for formulating valid recommendations. Dr. Rajiv Sharma, CIMMYT-Afghanistan CLO, recalled that at the first ARIA-CIMMYT wheat workshop, the need for such training was highlighted by most wheat researchers. He also talked about the need to apply relevant statistical principles not only in data analysis but also when designing experiments.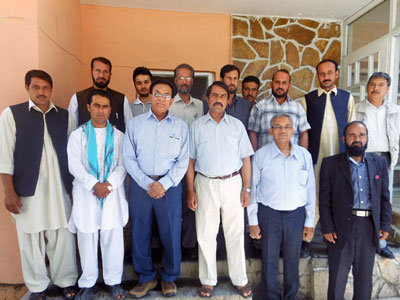 Dr. Mishra began the course by reviewing basic statistical concepts and discussing the statistical tools and concepts needed to design and analyze field experiments that would lead to scientifically valid interpretations. He went on to describe how to choose experimental designs, lay out field experiments, and analyze and interpret the results. He had the participants do useful exercises as well as analyze data for hands-on experience. All the participants were keenly interested and excited to have the opportunity to analyze and interpret data from their own experiments. The general feeling at the end of the two-day event was that it should have lasted at least a week. Upon presenting certificates to course participants, Mr. Qasem Obaidi, ARIA Director, thanked Dr. Mishra and CIMMYT for the capacity building effort and expressed his wish that a follow-up course be held to help consolidate the gains and enable Afghan researchers to learn more about experimental design and analysis.