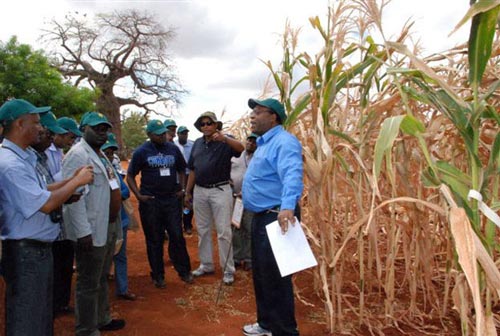 Thirty-six senior maize breeders from fifteen African countries participated in a course in Nairobi, Kenya, from 1 to 4 October 2012. The course attracted participants from national agricultural research systems, private seed companies, and universities collaborating within the Drought Tolerant Maize for Africa (
DTMA
) Initiative, Improved Maize for African Soils (IMAS) Project, Sustainable Intensification of Maize- Legume Systems for Food Security in Eastern and Southern Africa (
SIMLESA
) initiative, Sustainable Intensification of Maize-Legume Systems for the Eastern Province of Zambia (SIMLEZA), Water Efficient Maize for Africa (
WEMA
), and a
USAID
-funded project on heat stress in maize.
Throughout the course, breeders were introduced to new germplasm, recent advances in maize breeding for biotic and abiotic stresses, breeding informatics tools (e.g. IMIS-Fieldbook and IB-Fieldbook developed by the Generation Challenge Program), approaches to improving quality of phenotyping, molecular breeding tools, and the use of doubled haploid technologies in maize breeding. They also visited fields in Kiboko to assess breeding nurseries and yield trials and to interact with CIMMYT breeders.
The course participants had the opportunity to attend presentations by a private-sector representative. Walter Trevisan from WEMA/ Monsanto covered the origin of maize and importance of the heterotic pools in maize breeding around the world. "We learn from the partnership that we can work as a team and, most of the time, reach goals ahead of time," said Trevisan, stating that he is looking forward to the future projects such as WEMA II. "We really enjoy working with CIMMYT and the national agricultural research systems," he added.
According to Ntji Coulibaly from Mali, training for breeders helps to build capacity within African countries. "Mali has only five seed companies serving the country, thus it is imperative to build the skill base in breeding," he explained. Coulibaly then praised CIMMYT for its leadership role in breeding in Africa: "It has raised the bar for private institutions to improve and develop better products in the region." Bhola Verma from ZAMSEED, a private seed company operating in Zambia, also appreciated the training initiative. "We need to train more people," he said, reiterating the importance of training the next generation of breeders to ensure the continent does not lag behind. Zubeda Mduruma, Tanzanian maize breeder from Aminata Quality Seed, was excited about -her newly gained knowledge on doubled haploid breeding technology. "It is very handy and will shorten our time for breeding," said Mduruma. Doubled haploid technology enables breeders to save time and labor costs associated with conventional breeding, while allowing them to get varieties benefiting farmers within a shorter period of time.
Simon Gichuki, Kenya Agriculture Research Institute (KARI) Biotechnology Program coordinator, urged participants to explore and use the technological tools, and to train breeders working with them. Gichuki said that the key challenges facing African agriculture include diseases, pests, and climate change. "We feel that we can contribute to mitigating these [challenges] by engaging in science," said Gichuki, adding that this could be achieved by ensuring that breeders regularly update their knowledge. "In crop science things move very fast," he explained. Sylvester Oikeh, WEMA project manager at the African Agricultural Technology Foundation, urged participants to embrace mentorship and share their knowledge and skills with young breeders. Oikeh also appreciated the opportunity to see what DTMA is doing in relation to WEMA's breeding work.
Shehu Ado from the Institute for Agricultural Research, Samaru, Nigeria, said the training would benefit his students. "I will encourage my students to apply it in their own work," said Ado about Fieldbook, "my students are going to gain a lot as analysis will be simplified." Thokozile Ndlela, Zimbabwean Ministry of Agriculture, expressed her excitement about the developments made in Fieldbook, as well as the new advancements in maize breeding.
The course facilitators were drawn from CIMMYT, Generation Challenge Program, and Monsanto. The course was coordinated by Cosmos Magorokosho and Stephen Mugo, CIMMYT maize breeders from Zimbabwe and Kenya, respectively.