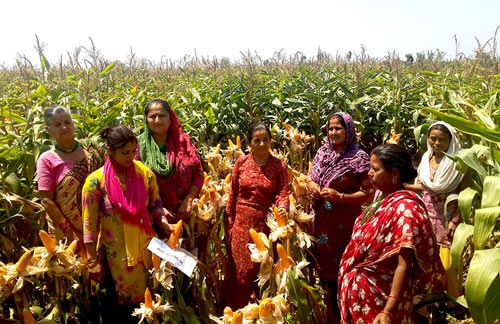 The Bangladesh Agricultural Research Institute (BARI), Bangladesh's ACI Seeds, India's Bihar Agricultural University, Sabor, and the University of Agricultural Sciences, Raichur, Ajeet Seeds, and Nepal's Hariyali Community Seeds and Sean Seeds are the first proud institutions/companies to receive a license for the deployment of heat tolerant maize hybrids. B.M. Prasanna, Director of CIMMYT's Global Maize Program, formally presented the product licensing certificates to the heads/representatives of these organizations during the Heat Tolerant Maize for Asia (HTMA) project's 3rd Annual Progress Review and Planning Meeting held from 10-12 August 2015 in Hyderabad, India. Other project partners, including national program and seed companies from Pakistan, Nepal and Bangladesh, have shared their choice of hybrids, and asked to submit them for formal licencing. The hybrids were developed under the HTMA project funded by United States Agency for International Development (USAID) under the Feed the Future (FTF) initiative, a public-private alliance that targets resource-poor people of South Asia who face weather extremes and climate-change effects.Women farmers at a HTMA hybrid demonstration at Dumarawana village, Bara District, Nepal.
At the event's inaugural session, Nora Lapitan, Senior Science Advisor, Bureau for Food Security, USAID, gave an update on the FTF initiative and highlighted its priorities, which include reducing poverty and malnutrition in children in target countries through accelerated inclusive agricultural growth and a high-quality diet. This was followed by an overview by B.M. Prasanna of the new CGIAR research program on Maize Agri-food system, its focus and priorities and the importance of stress-resilient maize in food security and livelihoods, especially in climate-change vulnerable regions, such as the Asian tropics.
The inaugural session was followed by technical sessions, during which Raman Babu, CIMMYT molecular maize breeder, M.T. Vinayan, CIMMYT maize stress specialist for South Asia, A.R. Sadananda, CIMMYT maize seed system specialist, and CIMMYT socioeconomist Christian Boeber presented their latest research results.
Mohammad Jalal Uddin, BARI Director of Research, receiving a licence for HTMA hybrid deployment from Prasanna.P.H. Zaidi, HTMA project leader and senior maize physiologist at CIMMYT, described the progress achieved at the end of the project's third year. Representatives from public and private sector partners presented the results of the HTMA trials conducted at their locations, and shared a list of top-ranking, best-bet heat-tolerant maize hybrids to take forward for large-scale testing and deployment. Collaborators from Pakistan's Maize and Millet Research Institute (MMRI) and Bhutan's Maize Program could not participate in the meeting but their progress reports were presented by K. Seetharam and Zaidi, respectively. It is quite impressive that within the first three years of the project, each partner has identified promising and unique maize hybrids suitable for their target markets/agro-ecologies.
Participants visited a demonstration of elite HTMA hybrids and their parents, where they observed the performance of their selected hybrids under Indian conditions. They were able to see the hybrids and their parents side by side, assess their performance and request seed of parental lines.
The project is also involved in capacity building, including providing support to a total of nine M.Sc./Ph.D. students, as well as workshops and in-country training courses in Nepal, Bangladesh and India, where over 100 researchers have been trained on developing stress resilient maize. In a special session dedicated to student research projects, four HTMA students, including Mahender Tripathi from Nepal, Ashraful Alam from Bangladesh and Akula Dinesh and C.N. Ranganath from India, presented their research projects.
The project's progress was critically reviewed by the project steering committee (PSC) headed by Prasanna, who expressed great satisfaction with its overall progress and acheivements. Speaking for USAID, Lapitan said they are highly impressed with the progress of the HTMA project and consider it a model project. Other PSC members also expressed their satisfaction and agreed that the HTMA team deserves special appreciation for remarkable achievements within a period of just three years.
The HTMA project meeting was attended by program leaders, scientists and representatives from collaborating institutions in South Asia, including BARI, Nepal's National Maize Research Program (NMRP) and two of India's state agriculture universities. Seed companies operating in the region, including Pioneer Hi-bred, Kaveri Seeds and Ajeet Seeds from India, and Sean Seeds and Hariyali Community Seeds from Nepal, and international institutions such as Purdue University, USAID and CIMMYT also participated in the event.