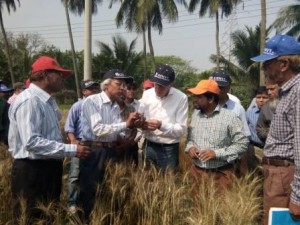 DHAKA, Bangladesh (CIMMYT) — On a recent visit to Bangladesh, Martin Kropff , director general of the International Maize and Wheat Improvement Center (CIMMYT) held discussions with partners and government officials on combating wheat blast disease and other aspects of maintaining food security in the country.
Meetings were held with Bangladesh's agriculture minister and member of Parliament Begum Matia Chowdhury and Secretary of Agriculture Mohammad Moinuddin Abdullah, where CIMMYT's activities in Bangladesh were also discussed. Wheat blast is one of the most feared and intractable wheat diseases.
A new, severe outbreak of the disease in Bangladesh validated the prediction of the spread of the disease beyond its origins in Latin America to Africa and South Asia. The spread of wheat blast could be devastating to South Asia, which is home to 300 million undernourished people and whose inhabitants consume over 100 million tons of wheat each year.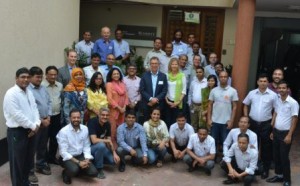 During a two day field visit, Kropff saw the impacts of wheat blast in the Bangladesh Agricultural Research Institute's (BARI) research station in Jessore and farmers' fields. He also spent the visit meeting Bangladeshi farmers, observing mechanization scaling efforts and visiting a range of CIMMYT varietal and agronomic research trials and demonstrations funded by the U.S. Agency for International Development and the Australian Centre for International Agricultural Research in Jessore and Dinajpur districts.  In addition he held discussions with scientists from BARI and visited the organization's headquarters in Gazipur and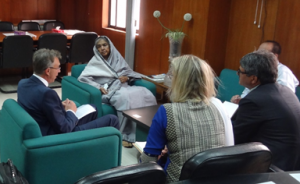 the Wheat Research Centre in Dinajpur district. Kropff also learned how irrigation management advisory with satellite technology is being developed with BARI, the Bangladesh Agricultural Research Council (BARC) and other core partners to release mobile applications for farming.
Kropff also held discussions with partners, including BARI Director General Rafiqul Islam Mondal and Abul Kalam Azad, executive director of BARC. Mondal lauded CIMMYT for its continuous support of BARI's promotion of maize and wheat for food security in Bangladesh.