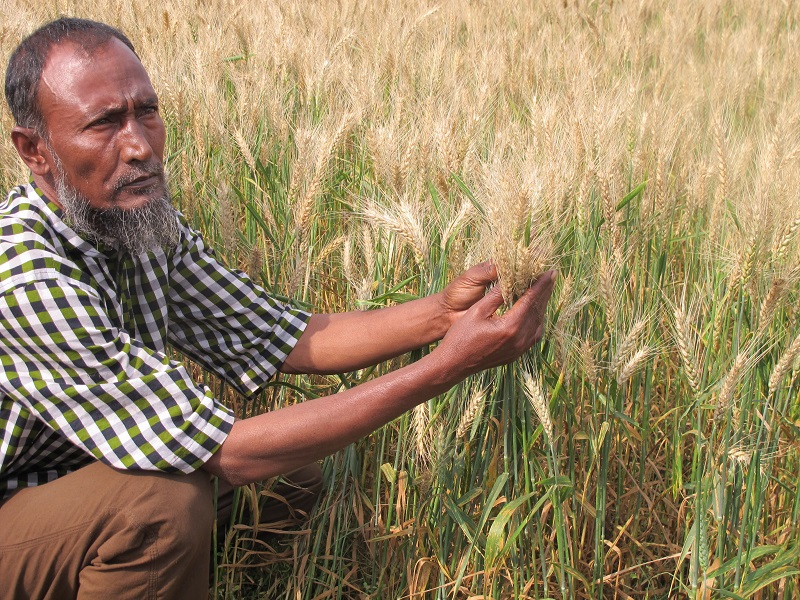 DINAJPUR, Bangladesh (CIMMYT) — Responding to a 2016 outbreak of the deadly and little-understood crop disease "wheat blast" in Bangladesh, 40 wheat pathologists, breeders and agronomists from Bangladesh, India and Nepal have gathered to hone their skills through surveillance exercises in farmers' fields and molecular analysis of the causal fungus in laboratories of the Bangladesh Agricultural Research Institute (BARI) at Gazipur.
Entitled "Taking action to mitigate the threat of wheat blast in South Asia: Disease surveillance and monitoring skills training," the 13-day program was launched on 4 February at BARI's Wheat Research Center (WRC), Bangladesh Agriculture Research Institute (BARI), Dinajpur, in collaboration with the International Maize and Wheat Improvement Center (CIMMYT), the CGIAR research program on wheat, the Delivering Genetic Gain in Wheat (DGGW) project led by Cornell University, and Kansas State University (KSU).
The 2016 Bangladesh outbreak was the first time wheat blast has appeared in South Asia. The disease struck 15,000 hectares in 7 southwestern and southern districts of Bangladesh, with crop losses averaging 25-30 percent and reaching 100 percent in some cases.
In response the Bangladesh Ministry of Agriculture formed a task force through the Bangladesh Agricultural Research Council (BARC) to help develop and distribute resistant cultivars and pursue integrated agronomic control measures. A factsheet distributed to wheat farmers is raising awareness about the disease and particularly its identification and management.
Caused by the fungus Magnaporthe oryzae pathotype Triticum (MoT) and first discovered in Paraná State, Brazil, in the mid-1980s, wheat blast constitutes a major constraint to wheat production in South America. The sudden appearance of a highly virulent MoT strain in Bangladesh presents a serious threat for food and income security in South Asia, home to 300 million undernourished people and whose inhabitants consume over 100 million tons of wheat each year.
Experts from CIMMYT, Cornell University and Kansas State University, along with scientists from BARI and Bangladesh Agricultural University (BAU), are serving as instructors and facilitators.
"This training will increase the capacity of Bangladesh and neighboring country scientists, thereby strengthening research on wheat blast and monitoring disease through intensive surveillance," said the Additional Secretary (Research), Ministry of Agriculture Md. Fazle Wahid Khondaker, chief guest in the inaugural session. Arun K. Joshi, CIMMYT-India country representative, T.P. Tiwari, CIMMYT-Bangladesh country representative, Prof. Dr. Bahadur Meah from BAU, Mymensingh, and Additional Director, Department of Agricultural Extension, and Md. Julfikar Haider were present as special guests. Dr. N.C.D. Barma, WRC, BARI chaired the session, and BARI Director General Dr. Abul Kalam Azad took part.
The training program is funded by BARI, CIMMYT, DGGW, the United States Agency for International Development (USAID) and the Bill & Melinda Gates Foundation through the CIMMYT-led Cereal Systems Initiative for South Asia (CSISA) and CSISA- Mechanization projects, as well as the Australian Center for International Agricultural Research (ACIAR). The DGGW project is funded by the Bill & Melinda Gates Foundation and the United Kingdom's Department for International Development (DFID) through UK Aid.