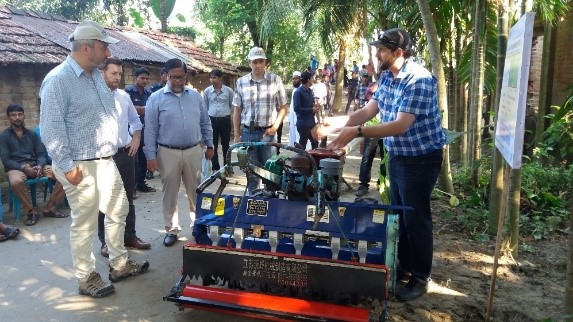 JESSORE, Bangladesh (CIMMYT) — USAID's Deputy Administrator Gary Lindon visited Bangladesh in November 2016 to learn how the International Maize and Wheat Improvement Center (CIMMYT) engages with partners to help smallholder farmers uptake sustainable agriculture practices, as well as to observe the private sector's role in producing farm machinery that is faster, more environmentally friendly and affordable for smallholder farmers.
One example of sustainable, smallholder-friendly machinery being promoted by CIMMYT with national partners is the two-wheeled mechanical reaper, a tool that's proven to save farmers time and money, and helps them cope with increasing labor scarcity in Bangladesh — a trend that has continued to rise as Bangladesh develops economically and more people leave rural areas for off-farm employment, according to Timothy Krupnik, systems agronomist at CIMMYT.
"Mechanical harvesting also allows farmers to more quickly clear the field and sow the next crop, which has yield advantages for planting crops like wheat," said Krupnik.
Lindon also met with service providers — entrepreneurial farmers turned businessmen — who have purchased the two-wheeled mechanical reapers and are now offering their harvesting services to smallholder farmers at an affordable fee.
"The local service provision business model is key to unlocking agricultural and entrepreneurial capacity in rural Bangladesh," said Kevin Robbins, director of programs at International Development Enterprises, one of CIMMYT's partners in Bangladesh. "We've seen just over 1,000 local service providers provide agricultural machinery services to over 40,000 farmers — catalyzing a level of impact that would not have been possible if we had promoted a traditional model where every farmer buys his or her own machine."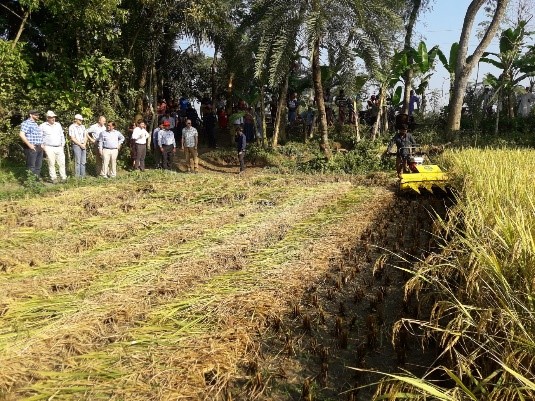 Shafiqul Islam, CIMMYT's Jessore hub coordinator, also explained that through mechanical harvesting, farmers save $48 per hectare, while service providers earn approximately $31 per hectare.
"In Bangladesh, private sector companies are working hard to promote agricultural machinery that develops the sector," said Mohammad Jamil, managing director at Metal Pvt. Ltd., a leading private company in Bangladesh that sells reapers. "We want to do more business — the kind of business that changes the lives of farmers through increasing the sales of appropriate agricultural machinery. There's a strong incentive for us to endorse the adoption of new technologies, which in turn increases food production, boosts farmer income and supports our economy. It's a win-win business model and a sustainable way to develop our country."
The team later visited lentil and maize fields that had been seeded directly with seeders, affordable machines that can attach directly to two-wheeled tractors, which are increasingly being used by farmers in Bangladesh. Farmers attending the USAID field visit commented that through the use of two-wheel tractor attachable seeders they can save $60 per hectare by avoiding recurring tillage and manual seeding costs.
"This machine also helps farmers to sow seeds on time, as recommended by agronomists, because direct sowing saves farmers' 7-10 days compared to full tillage and manual sowing systems," explained Islam.
CIMMYT launched the Cereal Systems Initiative for South Asia (CSISA) program in 2009 to promote durable change at scale in South Asia's cereal-based cropping systems. Through this program, CIMMYT is operating rural "innovation hubs" in Bangladesh, India and Nepal to increase the adoption of various resource-conserving and climate-resilient technologies, and to improve farmer access to market information and enterprise development. Learn more about CSISA's impact here.