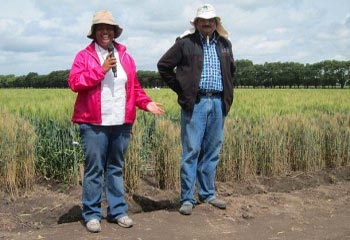 EL BATAN, Mexico (CIMMYT) — Suchismita Mondal was inspired by the humble flour tortilla to take up a career as an international wheat breeder.
Mondal's original intention was to focus on plant genetics, so she moved from India, where she earned her undergraduate degree at Banaras Hindu University, to the United States to attend Texas A&M University.
Once there, her studies were focused on the application of genetics in breeding for wheat germplasm that would lead to improved tortilla quality, under the guidance of Dr. Dirk Hays, her master's degree advisor.
"Being involved in the project, developing crosses and evaluating germplasm was my initial point of interest in breeding," Mondal said, adding that she was also inspired by a conversation she had with Nobel Peace Prize laureate Norman Borlaug, who was teaching at the university.
Borlaug is known as the father of the Green Revolution due to the semi-dwarf wheat varieties he developed at the International Maize and Wheat Improvement Center (CIMMYT), which are credited with saving more than 1 billion lives in India, Pakistan and other parts of the developing world.
"Learning about the direct impact of a breeder's work in the farmers' fields and lives of millions of people was also a significant motivation, not only to become a breeder, but also to work at CIMMYT," said Mondal.
Later, for her doctoral degree, she went on to research the function of genetic controls for heat-stress resilience in winter wheat.
Following her graduation in 2011, she realized her ambition and began working at CIMMYT. Since then, Mondal has developed her career at CIMMYT — working with distinguished scientist Ravi Singh — where she is now an associate scientist in the bread wheat breeding program and develops high-yielding heat and drought tolerant germplasm.
Her work in the Cereal Systems Initiative for South Asia (CSISA) project has led to the identification of early-maturing, high-yielding, heat-tolerant lines with 10- to 15-percent superior yields in the heat-stressed environments of South Asia, two of which were released in India while various others are at different stages of testing.
"Strive hard, stay motivated," she advises her successors, the upcoming generation of women scientists.