DIETARY DEPENDENCE ON MAIZE PUTS SOME PEOPLE AT RISK FOR MALNUTRITION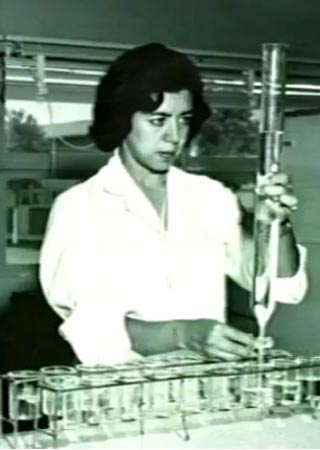 For International Women's Day I would like to honor Dr. Evangelina Villegas, one of CIMMYT's original "superwomen," not only for the breakthroughs she made in her field, but for the positive impact she made on the world.
Villegas was born in Mexico City in 1924 and earned a Bachelor of Science degree in chemistry and biology at the National Polytechnic Institute at a time when higher education for women was still a novelty.
In 1950, she began her career as a chemist and researcher at Mexico's National Institute of Nutrition and at the Special Studies Office, an initiative funded by the Rockefeller Foundation and the Mexican Secretary of Agriculture and Livestock (SAGARPA) that would later become the International Maize and Wheat Improvement Center (CIMMYT).
She returned to the center in 1967 after having earned a Master of Science degree in cereal technology from Kansas State University and a 1967 doctoral degree in cereal chemistry and breeding from North Dakota State University.
Villegas was both a maize and wheat superwoman, working in both the industrial wheat quality and maize nutritional and protein quality labs.
While in charge of the lab investigating protein quality she formed a fruitful partnership with Surinder Vasal, a CIMMYT maize breeder, in an attempt to develop a variety of maize with higher levels of two key amino acids.
A staple food in many developing countries, maize is deficient in the amino acids lysine and tryptophan, which are key protein building blocks. This means that people whose diets depend heavily on maize, without access to more varied food, are at risk for malnutrition.
After countless hours in the laboratory testing samples, sometimes up to 25,000 a year, their hard work culminated in the creation of quality protein maize (QPM). Grain of QPM features enhanced levels of lysine and tryptophan and the kernels have the texture and flavor that consumers like.
As an ingredient in pig and poultry feeds, QPM has been shown to enhance animal growth and health. QPM has shown to be particularly effective in improving the nutritional status of young children.
A 2002 study in Ethiopia found that children fed a QPM diet had a 15 percent increase in the rate of weight growth over those who consumed conventional maize, and a 2005 study found that QPM consumption in children led to a growth rate in height 15 percent greater than children fed conventional maize. Villegas and Vasal thus created a product that offers better nutrition for millions of consumers.
They received the World Food Prize in 2000 for their work developing QPM, making Villegas the first woman to receive the prestigious award. She was also named "Woman of the Year" in Mexico that year for her accomplishments.
In addition to her work improving lives and livelihoods around the world, Villegas changed the lives of many local "bird boys," young men hired by CIMMYT to prevent birds from eating experimental crops, by helping to create a scholarship fund that allowed many of them to complete their education and go on to accomplish great things.
Without "Eva," the world would be a hungrier and poorer place, and her hard work and dedication should be remembered by all.
Any views expressed in this article are those of the author and not of the International Maize and Wheat Improvement Center