AWARENESS-RAISING ON ISSUES AFFECTING AGRICULTURE, FOOD AND CULINARY ARTS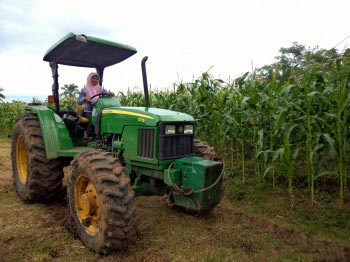 International Women's Day on March 8, offers an opportunity to recognize the achievements of women worldwide. This year, CIMMYT asked readers to submit stories about women they admire for their selfless dedication to either maize or wheat. In the following story, Amanda Niode writes about her Super Woman of Maize, Asriani Anie Annisa Hasan of the Gorontalo Corn Information Center and Food Security Agency.
Asriani Anie Annisa Hasan is my maize superwoman.
Anie is a beautiful and warm-hearted woman, who is currently head of the Dissemination and Information Division at the Gorontalo Corn Information Center and Food Security Agency.
Gorontalo is a province located on the island of Sulawesi in Indonesia on the Wallacea, borderline islands situated between the Asian and Australian bio-geographical regions characterized by great biodiversity of flora and fauna.
Anie is not known as an official who works behind her desk. She is very much involved in the cornfields and the livelihoods of farmers, taking pictures of newly harvested cornfields, driving a truck, or sitting on the floor chatting with corn farmers.
She informs farmers about native corn varieties found in Gorontalo, including those on the brink of extinction such as momala, motorokiki, bonia/badia and pulut (binthe pulo).
Additionally, Anie is very active on social media networks and always explains her corn-related activities in a fun way, One of her Facebook posts features two decorated corn cobs saying: "Corns fall in love today. Love maize."
In another post, she wrote: "Sunday morning is usually laundry time, but now I should be chummy with the corn field."
She is always on the forefront on any major corn-related activity, including the International Maize Conference, which was held in Gorontalo in 2012, and attended by corn experts from all over the world.
She works very hard to assist the Omar Niode Foundation, an organization working to raise public awareness about issues affecting agriculture, food and culinary arts. This work included attending an exhibition of Gorontalo local corns in Jakarta, Indonesia's capital.
Anie Annisa, is a passionate maize superwoman.