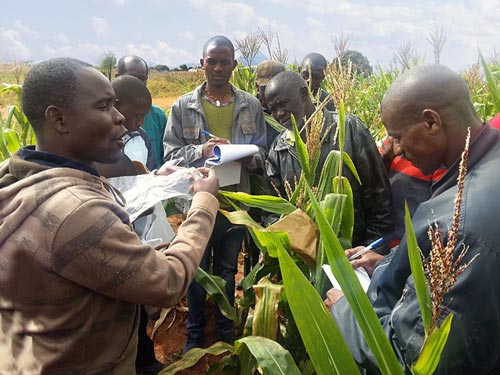 Forty participants from various agricultural research stations, private seed companies, and communitybased seed production schemes attended a training course for maize technicians during 8–12 July in Chimoio, Mozambique.
The objective of the course was to update maize technical staff on seed production and implementation of on-station and on-farm trials. The training included practical sessions as well as theoretical lectures on seed production, breeding for biotic and abiotic stresses, and trial lay-out using the alpha lattice design.
The course was organized under the auspices of Drought Tolerant Maize for Africa (DTMA), Sustainable Intensification of Maize-Legume Systems for the Eastern and Southern Africa (SIMLESA), and USAID Mozambique in collaboration with the Instituto de Investigação Agrária de Moçambique (IIAM). During the course, SIMLESA representatives emphasized on-farm testing using the mother baby trial and the principles of conservation agriculture. USAID-Mozambique and DTMA focused on the importance of producing quality seed and scaling up seed to reach smallholder farmers.
Mozambique has recently released two drought tolerant maize hybrids and one early maturing open pollinated variety (OPV) under the DTMA project. With very few seed companies in the country, most of the seed in Mozambique is sourced from the informal seed sector. The training session came at a crucial stage, as several communities are ready to begin production of newly released OPVs. The course was coordinated by Peter Setimela and Cosmos Magorokosho from CIMMYT-Zimbabwe, and David Mariote and Pedro Fato from IIAM.