By P.H. Zaidi/CIMMYT
Nepali scientists learned about developing heat stress-resistant maize during a training event organized by Nepal's National Maize Research Program (NMRP) and CIMMYT on 16 January at the NMRP in Rampur, Chitwan, Nepal. The event was part of the Heat Tolerant Maize for Asia (HTMA) project supported by USAID under the Feed the Future initiative.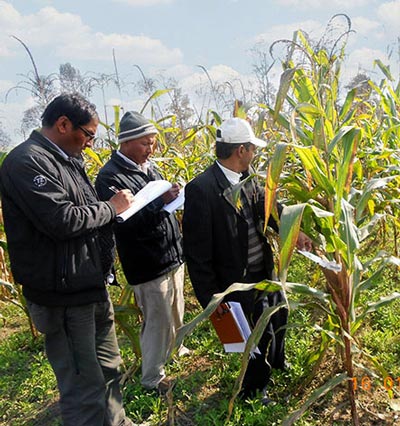 Nearly 30 participants attended the training, including maize breeders, agronomists and field technicians from the NMRP, the Regional Agricultural Research Station (RARS) in Nepalgunj and the Agricultural Research Station (ARS) in Surkhet. Keshab Babu Koirala, NMRP coordinator, gave an overview of maize research in the country and emphasized the effects of climate change on national production. Koirala noted the importance of developing stress-resilient maize varieties and hybrids for sustainable maize growth.
P.H. Zaidi, maize physiologist and project leader of HTMA, gave lectures on developing heat stress-resilient maize hybrids, including maize phenology and physiology, how maize responds to heat stress, technical details of precision phenotyping, selection criteria for heat stress breeding and development of heat-tolerant hybrids. Zaidi used a bilingual interaction model to encourage participation in both English and Hindi in the presentations and discussions.
In the afternoon, participants visited HTMA maize trials at the NMRP experimental farm, where participants were divided into groups to score the performance of more than 900 hybrids planted there. Participants were excited to see new, promising hybrids. Attendees also had the opportunity to interact with Zaidi, Koirala and each other. "It is exciting to see quite a few very promising hybrids from the HTMA project, which are well-adapted in Tarai, Nepal," said Tara Bahadur Ghimire, chief of ARS in Surkhet, Nepal. "If we select only 10 percent of the hybrids planted here, we will have a choice of about 100 to take forward. These hybrids will help us in switching from open-pollinated varieties to hybrids to boost maize production in our country and enhance its food security."

After the field visit, participants gave feedback on the training and handson exercises. In the training, the scientists and field technicians learned key aspects of abiotic stress breeding and developing heat stress-tolerant maize. In his closing remarks, Koirala thanked USAID and CIMMYT for supporting NMRP in capacity building. "This is an excellent approach, which benefitted many scientists in one go rather than inviting a few to CIMMYT-India," he said. "This needs to be replicated again in the near future so that scientists from maize research stations — other than those that are participating in the HTMA project — can get this opportunity."