Rural women in Nepal significantly contribute to food security, and when they are empowered, they can create avenues for agricultural growth. As seed producers are often disadvantaged in terms of accessing advanced agricultural knowledge and seed production skills, one opportunity for growth is strengthening the capacity of women seed producers.
"In more than 80% of households in Sindhupalchowk district, women have the final say on the selection of maize variety," said D.B. Bhandari, managing director of Hairyali Community Seed Company (HCSC). "This urged me to engage women in seed production of preferred maize varieties for the mid-hills."
HCSC, a partner company of the Nepal Seed and Fertilizer (NSAF) project implemented by the International Maize and Wheat Improvement Center (CIMMYT), is working to improve the business literacy of rural women to support their involvement in seed production and marketing of maize, wheat and rice seeds in Sindhupalchowk district, Bagmati province, Nepal.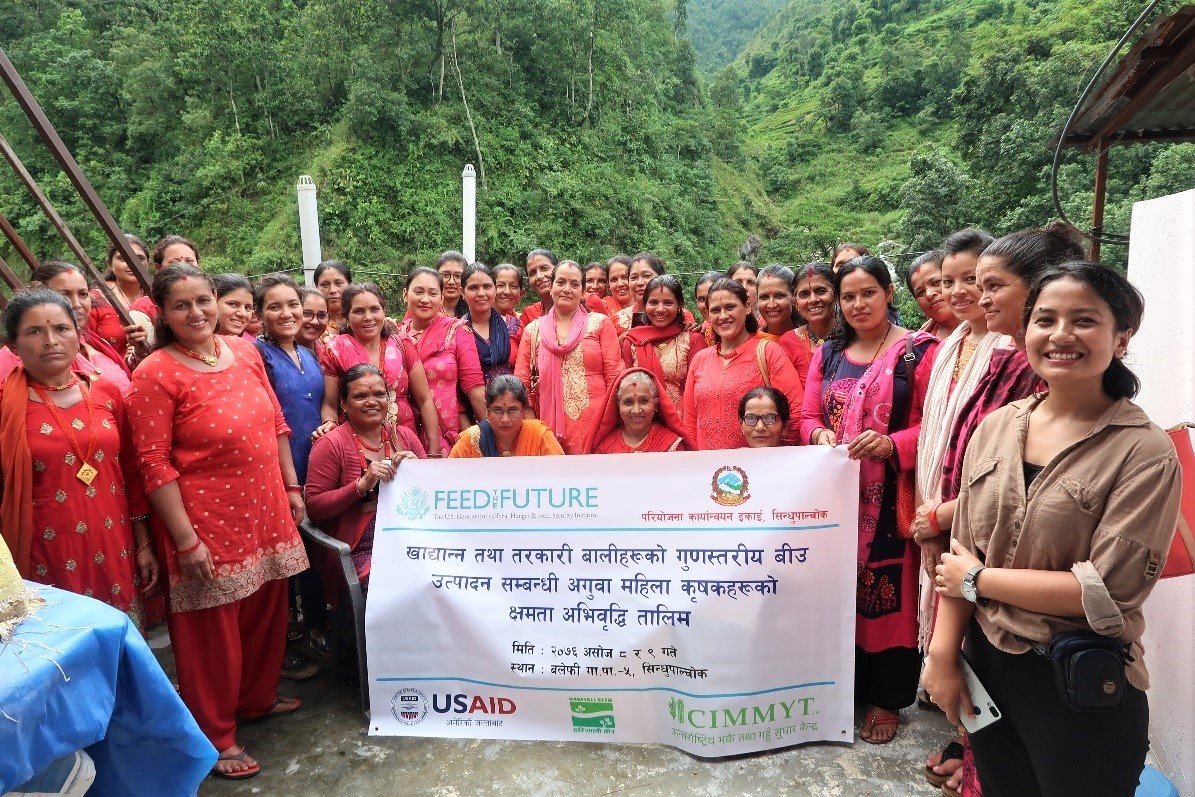 A path to empowerment and income
Access to agricultural inputs such as seed and fertilizer is challenging in Thulosirubari village due to its rural location and absence of agrodealers or nearby markets. Progressive farmers Parbati Gautam and Kamala Gautam, who grew up in the village in a family that has cultivated maize for generations and now grow maize, rice, millet and vegetables, found a solution. They decided to establish a cooperative —Thulosirubari Mahila Krishi Sahakari Sanstha — that not only eases the supply of seed for farmers in their village but also engages in seed production. The cooperative has 45 female members so far.
In coordination with HCSC and the Government of Nepal's Prime Minister Agriculture Modernization Project (PMAMP), orientation programs and women-only trainings were designed and organized by the NSAF project so farmers could boost their seed production efficiency and profitability at the grassroots level. The partnership between CIMMYT, HCSC and PMAMP provided technical and financial support to these groups, improved their entrepreneurship skills and business literacy, and created marketing linkages between the farmers and buyers. Thirty-five women were trained in the use of good agricultural practices in quality seed production and marketing of hybrid maize, rice and tomato seeds. HCSC supported the women with male and female lines of hybrid maize — Khumal hybrid-2 — to produce first generation seeds and build their skills on estimating ratios for sowing seeds, balanced fertilizer application, weeding, rouging and detasseling.
"I am so happy to learn about the importance of having different male and female lines and how to maintain their quality for crossing to produce first generation of hybrid maize seeds," Kamala Gautam said.
After getting the required training and technical support, seven farmers from the cooperative, including Kamala and Parbati, collectively produced 1.1 mt of Khumal hybrid-2 with the value of $2,514, which was sold to HCSC in 2019. As the cooperative is a contract seed producer for HCSC, the women have market assurance and do not worry where and how to sell their seed.
"My husband and I are not educated," Parbati Gautam explained. "However, I was able to sell the hybrid maize seed then use the money to buy decent clothes and offer a better education to my two daughters and son."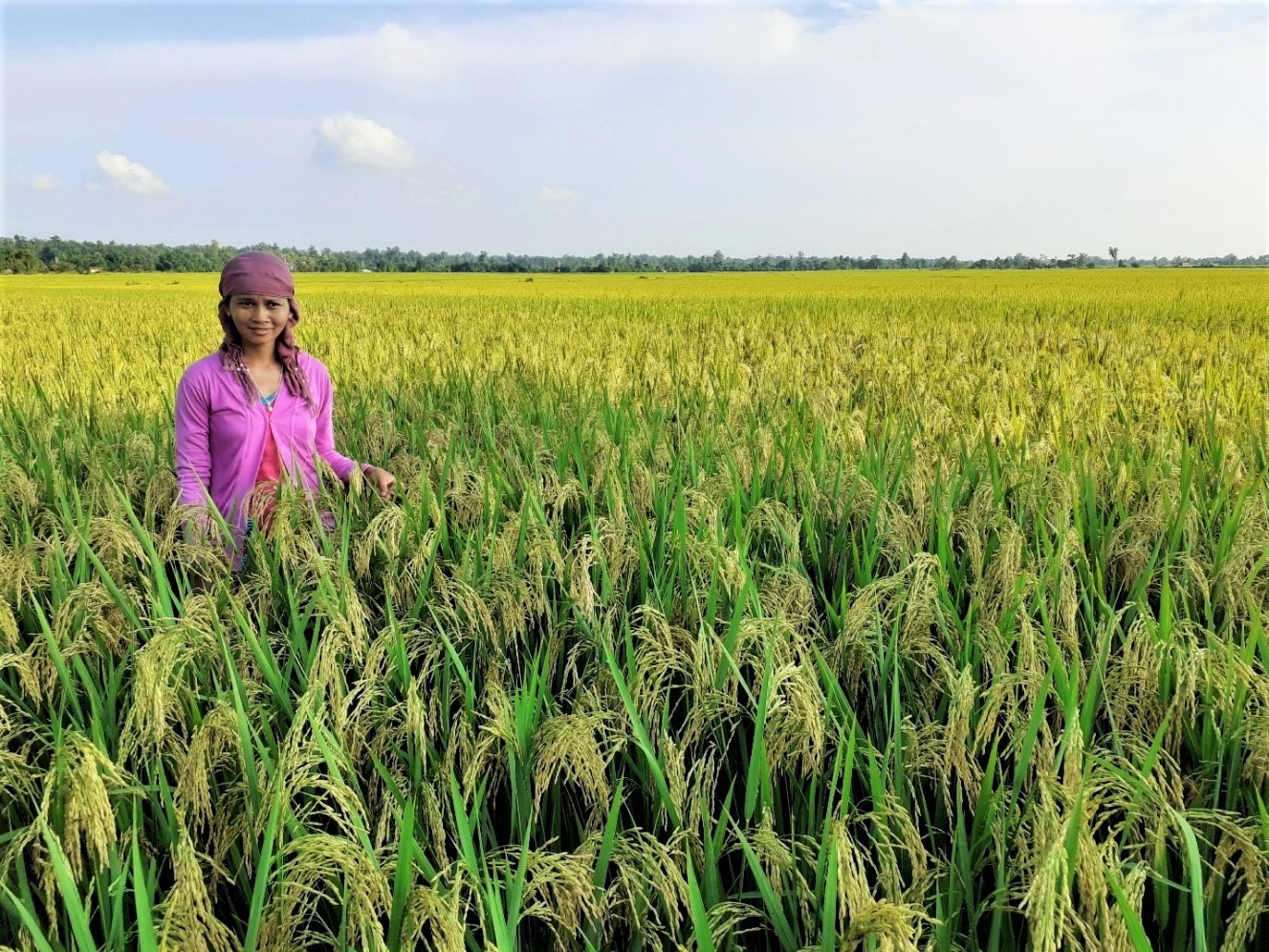 Women empowering women
Parbati Gautam has served as chairperson at the cooperative for eight years, where she has mentored other seed producers. Based on her experience, women who have access to information and seed production technologies tend to have better crop yields and make informed decisions to increase their incomes and livelihoods.
According to Bhandari, farmers' preferences are gradually shifting from local to hybrid varieties which offer better yields, early maturity and resilience to the effects of climate change. Parbati and Kamala Gautam confirm this, sharing that hybrid seed production provides 4-5 times more monetary value per kilogram of seed than that of grain.
"Although the cost of parent lines is expensive for seed production, improved farming technology ensures better quality seeds, higher yields and attractive farm business opportunities," Parbati Gautam explained.
Since 2017, NSAF project researchers have been working to establish linkages with partner seed companies for seed marketing. Altogether, about 300 mt of maize and rice seed was produced by women farmers engaged in the project with the value of $112,000, and 80 percent of this seed was sold to three private seed companies including HCSC. In 2019, the NSAF project team established partnerships with an additional three cooperatives in Banke, Dang and Sindhupalchowk districts, where over 800 women are members.
The project's engagement of women's seed producer groups is an example of an inclusive seed business model where farmers decide what to grow and how to sell. This intervention can be piloted in other parts of Nepal where women account for over 60 percent of the rural farming community. Targeted and sustained interventions to increase women's business agility, technical capacity in quality seed production, and market linkages will help boost productivity at household level and the country at large.