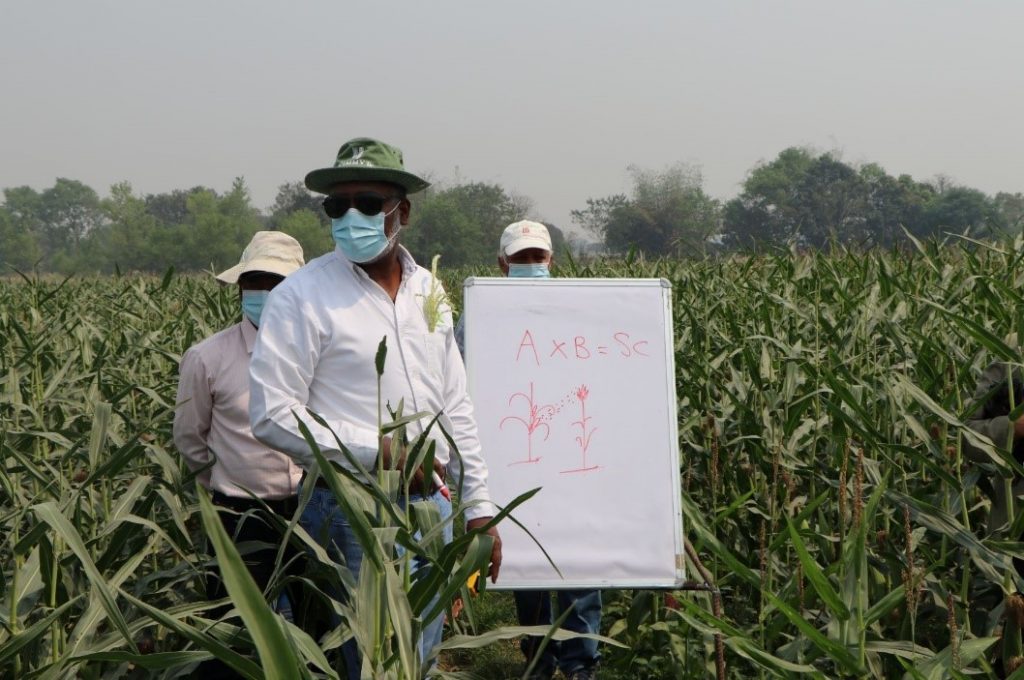 Recently, a group of 40 postgraduate students from Nepal's Agriculture and Forestry University (AFU) were able to learn first-hand about hybrid maize seed production in a field site managed by a partner seed company of the International Maize and Wheat Improvement Center (CIMMYT). Bringing in a whole new and rare experience altogether, the students got a glimpse of the progress and challenges of the seed industry as of today.
The field trip followed the development of a revised curriculum for AFU's Seed Science and Technology program, initiated in November 2019, which stresses the importance of creating linkages between university students and private seed companies. Through the USAID-supported Nepal Seed and Fertilizer (NSAF) project, CIMMYT is working towards enhancing partnerships between agricultural universities and the seed industry, and revisiting the curriculum has been the first stepping stone.
In collaboration with AFU and Lumbini Seed Company, CIMMYT organized an off-campus participatory learning experience to enrich students' understanding of hybrid seed production initiatives by the private sector and the opportunities that lie in the various business models of Nepalese seed companies. The initiative is part of a concerted effort by CIMMYT and its partners to alleviate the critical limitations of skilled manpower in the industry.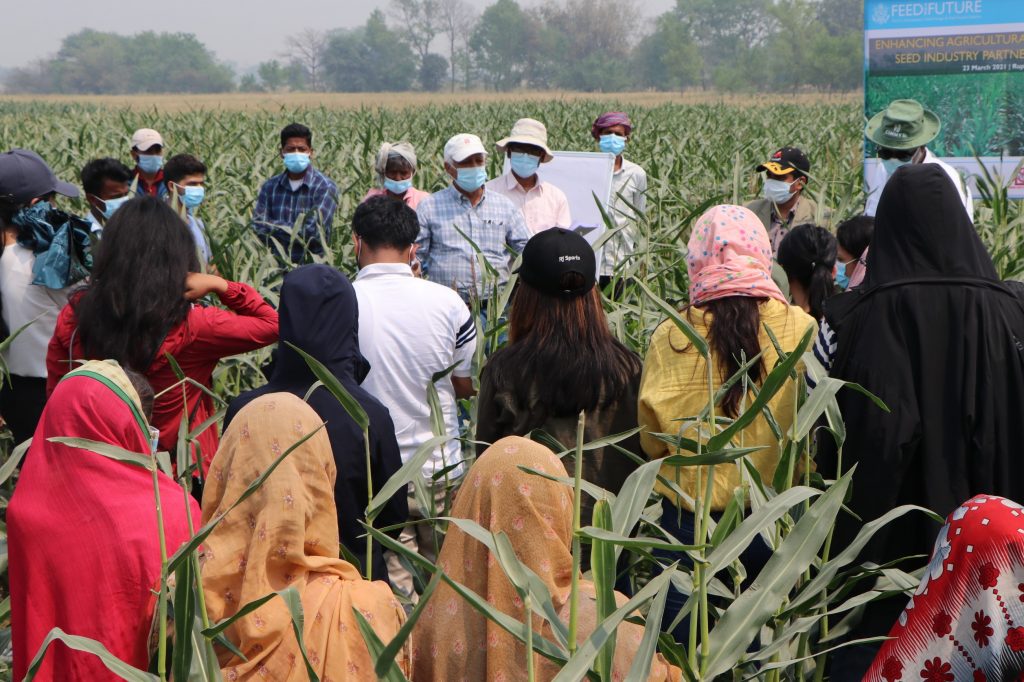 A deep dive into hybrid seed
The program began with an on-site briefing on the recent developments of hybrid seed production by the private sector.
"Nowadays, farmers are increasingly demanding hybrid seeds over open-pollinated varieties due to their higher yields," explained Subash Raj Upadhyaya, Managing Director of Lumbini Seed Company. This seed demand is almost entirely met via imports.
Since 2018, the company has been successful in producing and marketing hybrid maize seed such as Rampur Hybrid-10, a variety originally sourced from CIMMYT and released in Nepal by the National Maize Research Program with technical and financial support from the NSAF project. Going from one hectare to 25 hectares of hybrid maize seed production in the course of three years, Lumbini Seed Company has demonstrated the capability of local private seed companies building up the country's capacity in this area.
"The collaboration between public and private seed stakeholders is helping Nepal to realize hybrid seed self-reliance in the foreseeable future," explained AbduRahman Beshir, seed systems lead for the NSAF project at CIMMYT. "What is needed is competitive products augmented by quality seed production and effective marketing strategies."
Beshir described the important stages of seed production and the components of robust seed systems, while Hari Kumar Shrestha, a seed systems officer at CIMMYT, detailed the requirements for quality seed production and certification of hybrid seeds as per government guidelines in Nepal. Participating students were then able to practice detasseling and roughing off-type plants from a single row in a hybrid maize production field, under the guidance and supervision of the team from CIMMYT and the seed company.
This was followed by an interactive discussion with representatives from Lumbini about their activities, developments and limitations, and a tour of the company's seed processing, laboratory and storage for the group to observe the techniques used to produce, maintain and market quality seeds.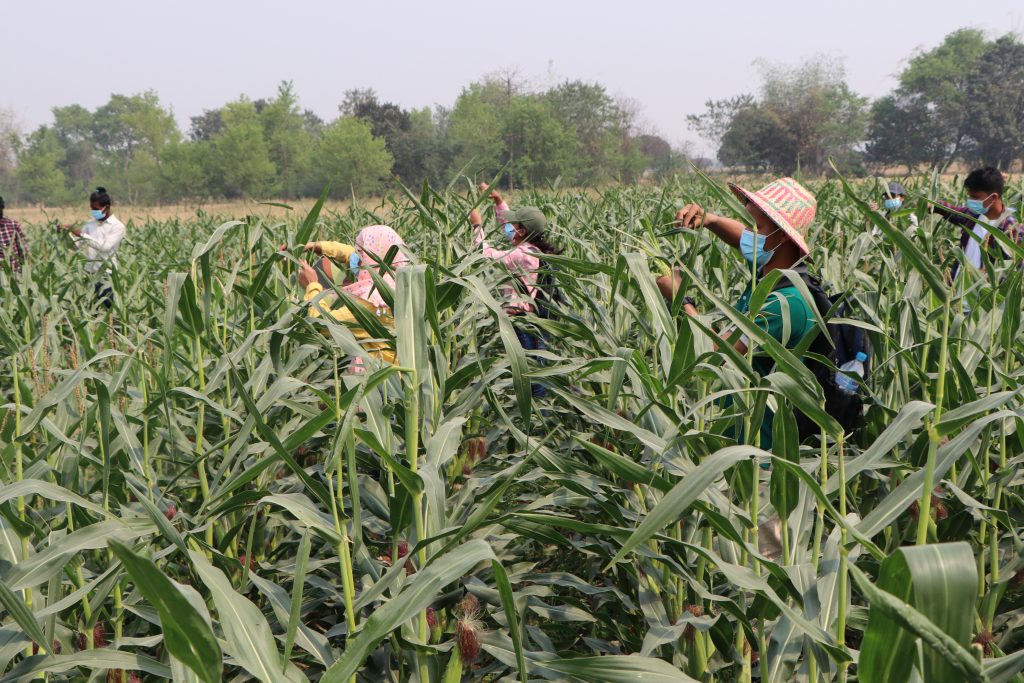 A nourishing experience
Applying the theoretical learnings of plant breeding and agronomy courses in a practical setting was an eye-opener for the postgraduates.
Student Sadhana Poudyal shared how the event had boosted her confidence in performing critical activities such as identifying the key features of pollen and seed parents. Now majoring in Seed Science and Technology, Poudyal previously worked with the Nepal Agriculture Research Council (NARC) and was granted a scholarship by CIMMYT, through the NSAF project, to begin a postgraduate program in 2019. "I was fascinated to learn about the remarkable progress made in hybrid seed production and I feel motivated to work in this sector in the future," she said. Poudyal plans to use these learnings during her research into baby corn at NARC after completing her studies.
"I have always been keen on learning plant genetics and breeding as I foresee a good scope in this area," said Lokendra Singh, another student at AFU. "This trip was definitely insightful, and I thoroughly enjoyed receiving a practical lesson on the advantages and limitations of the various types of hybrids including single and three-way cross hybrids. Today's experience has doubled my enthusiasm to work as a plant breeder after my graduation."
It is critical to engage students on the recent advances in seed science so that they are encouraged to pursue a career in agricultural research in Nepal. "One of the major challenges is recruiting a workforce with critical skills and knowledge in the local seed industry since many students go abroad after they graduate," said Upadhyaya. "We look forward to partnering with agricultural universities for many similar on-site learnings."
Educational experiences in the field, such as this, provide a better picture of the recent advancements and limitations in the seed sector which are usually not reflected in the textbooks. Creating a larger pool of skillful human resources, particularly in hybrid product development, improved seed production technologies and quality seed production, will not only help strengthen the local seed industry but also reduce the country's dependency on imports in the coming years.