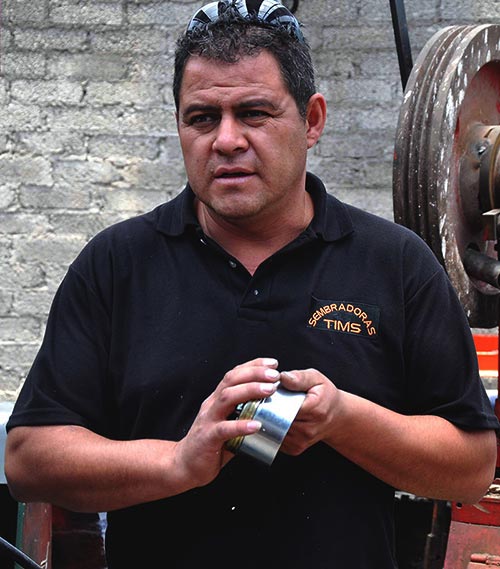 The building of local capacities is one of the objectives MasAgro pursues to achieve the adoption of conservation agriculture in Mexico. As part of this vision, MasAgro helps develop local machine manufacturers with the capacity to supply and service the implements farmers across the country need to implement conservation agriculture systems.
Martín Sánchez Gómez welcomed us to Sembradoras TIMS, the shop where he manufactures farm machinery, located in San Joaquín Coapango, Texcoco, State of Mexico. When we arrived, Sánchez and his family were in the middle of checking the details in preparation for an event to show the implements they have developed for conservation agriculture systems. They set up tents, chairs and a demonstration plot. This is the first demonstration Sánchez and his family have organized to show the machines they manufacture, and they invited several partners, such as CIMMYT, to attend.
Sembradoras TIMS is a family business that used to be a car repair shop before transitioning into the manufacture of farm implements five years ago, when the family started working with CIMMYT and learned about farm machine prototypes.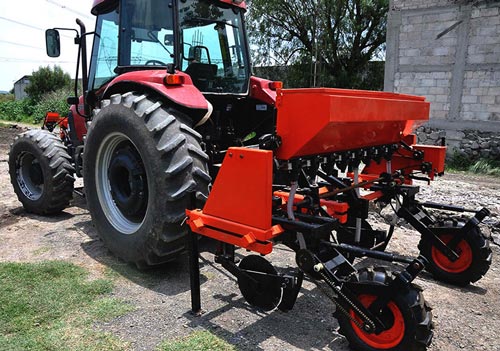 It all began when CIMMYT staff in charge of El Batán Experiment Station asked them to replace a harvester's four-cylinder engine with a six-cylinder one.
"I have always liked the idea of building things, but I didn't know how these machines work," says Sánchez. The first seeder they developed was the multiuse-multicrop seeder. During the process, "we would go to CIMMYT, make changes in the shop, test the machines, make new changes and then tried to find ways of improving them. If we were told 'this doesn't work,' we would change it. Later, CIMMYT started to give technicians our contact information and we started to get calls from other states of Mexico," says Sánchez. Due to these requests, they had more work at the shop, so Sánchez asked the whole family to join in. That's when they decided to make a complete change and focus on manufacturing machinery.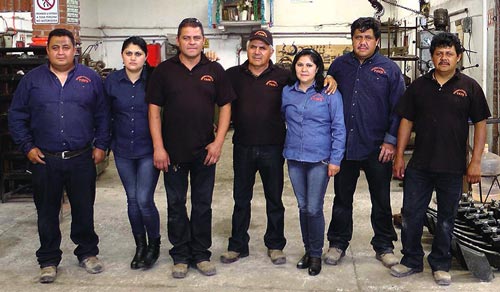 After the "big" seeders, TIMS began manufacturing manual and animal-drawn machines.
"I can't say we've done everything ourselves, because we learned a lot from CIMMYT staff like Gabriel Martínez, Jesús López, Javier Vargas, Jelle Van Loon, and Dr. Bram Govaerts, who never lost faith in us, and that counts for a lot."
That's how the Sánchez-Gómez family started a business where innovation and continuous improvements have allowed them to market different types of seeders. Just recently they started manufacturing hermetic metal silos for post-harvest management.