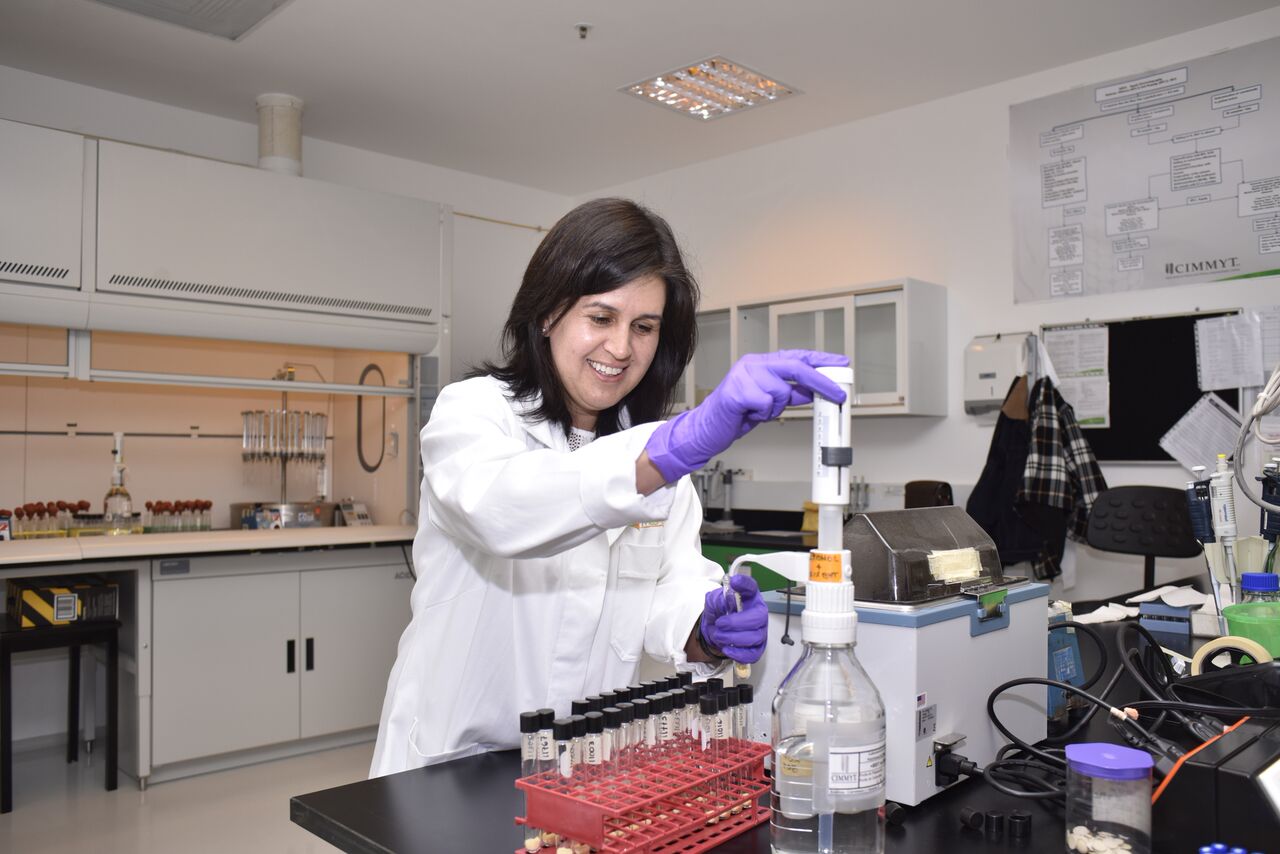 EL BATAN, Mexico (CIMMYT) – Discrimination in the science sector remains a significant challenge to achieving gender balance in education and professional research, said a top maize researcher.
"Unfortunately there is still discrimination, from the education level to the professional environment, and therefore there are still some areas that are largely dominated by men," said Natalia Palacios, maize nutrition quality specialist at the Mexico-based International Maize and Wheat Improvement Center (CIMMYT).
Gender balance is essential in science as it provides a range of perspectives that contribute to better solutions, Palacios said. She has been fascinated by nature and its workings since girlhood growing up in a small farming town in Colombia. Putting this fascination into action proved the possibilities a career in science could have, she said.
"I grew up in a very small farming town and I was always exposed to small farmers and agriculture. But it was when I did my undergrad internship at the International Center for Tropical Agriculture (CIAT) in Colombia that I realized the scope of potential contributing through science and agriculture has."
However, a U.N. study conducted in 14 countries indicates that woman and girls remain underrepresented in scientific fields. The probability for female students graduating with a bachelor's, master's or doctoral degree in a science-related field are 19, 8 and 2 percent respectively, while the percentages of male students are 37, 18 and 6, it said.
In an effort to address gender disparity, in December, U.N. member states adopted a resolution to establish an annual international day to mark the crucial role women and girls play in science and technological communities celebrated for the first time on Feb. 11 this year. The aim of the International Day for Women and Girls in Science is to further the access of women and girls and their participation in science, technology, engineering and mathematics education, training and research activities.
Palacios pursued her passion for science by studying microbiology at Andes University in Bogota, Colombia, continuing with doctoral studies in plant biochemistry at University of East Anglia and the John Innes Center in Norwich, England. She completed two postdoctoral degrees at the University of Dublin and at the Max Planck Institute for molecular plant physiology in Germany.
She has worked as nutritional quality specialist at CIMMYT since 2005 and is currently head of the maize nutritional quality laboratory. Her main focus is the development of maize germplasm with high nutritional quality, including high-quality protein maize, high zinc and high pro-vitamin A maize. This includes assessment of nutritional quality of food products and phenotyping of genetic diversity for nutritional, end-use quality and culinary quality of maize.
She has more than 40 journal articles published, seven book chapters and more than 10 science magazines and brochures.
Palacios shared her views on women and girls in the science sector in the following interview.
Q: Why is it important to have more woman and girls studying as well as working in scientific fields?
Having women and girls in science is as equally as important as having men – you can't have one without the other. We all have the same potential and we all can contribute to solve problems in science. Whether it's women, men, people from different cultural backgrounds, each have their own unique and different perspective and all of them contribute to creating better solutions when they work together.
Q: What challenges do women and girls face with regard to science today?
Unfortunately there is still discrimination, from the education level to the professional environment, and therefore there are still some areas that are largely dominated by men. There are still many pre-conceptual ideas that people uses to generalize the sexes. For example, the perception may be that women have less flexibility or that men are better working in the field. We just have to be open, hold back judgments and refrain from using one-size-fits-all methodologies, you will be surprised how wrong some of those paradigms can be. Let's not close the doors due to gender before giving people the opportunity to prove themselves.
Q. How does your research improve the lives of women and girls in the developing world?
I am part of a team working on developing maize with enhanced nutritional, end-use and culinary quality. I hope this research will lead to better diets and greater opportunities for everyone. However, our research is significantly important for mothers, who are more prone to malnutrition as their diets rely on only staple crops, which has a negative impact on their children. Malnutrition has an impact on their ability to study or work and limits their life opportunities. By ensuring that the end-use and culinary quality of maize is high, we expect to ease the process of cooking or processing it at home and for small-scale enterprises and create new income opportunities. This way, people can save time and money that then can be used for education and other more rewarding activities.
I also try to take any opportunity to encourage youth and women that have a passion for science to follow it and contribute to society based on their passion.
Q: What is your advice to young aspiring female scientists?
To follow dreams and aspirations. Keep working hard, believe in yourself and pursue the passion for science. Gender or cultural background should not limit such a passion.