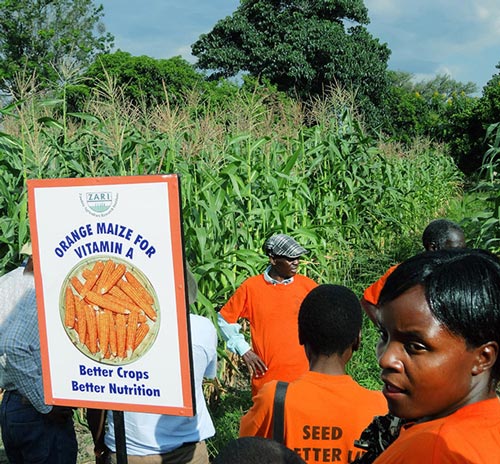 With over 50% of Zambian children under five vitamin A deficient, Zambia faces a major public health problem. This has resulted in several government intervention programs including vitamin A supplementation and sugar fortification, efforts which will soon be complemented by the release of three orange maize hybrids with higher levels of provitamin A carotenoids (compounds converted to vitamin A when consumed) developed by CIMMYT in collaboration with the Zambia Agriculture Research Institute (ZARI) and funded by HarvestPlus.
The release, dissemination, and promotion plans of these new hybrids were discussed during 18-21 March 2013 when the HarvestPlus maize project held its 10th planning and review meeting in Lusaka, Zambia. The meeting was co-organized by CIMMYT and HarvestPlus and attended by experts from various disciplines including nutritionists, biochemists, biologists, social scientists, public health specialists, and crop development experts from Zambia and other countries in sub-Saharan Africa. CIMMYT was represented by scientists Kevin Pixley and Thanda Dhliwayo.
The first days of the meeting focused on knowledge sharing, identification of gaps in the development and dissemination of provitamin A maize, and lessons learned from the Zambian experience as the project plans to expand to other countries in the region. On 20 March participants visited a ZamSeed seed production site where one of the hybrids is being multiplied, an orange maize demonstration plot, and a provitamin A maize testing site at SeedCo Zambia. Later, they visited the Sibuyunji Agricultural Camp in the Sibuyunji District where farmers shared their thoughts on provitamin A orange maize. "We are very happy to have orange maize as an option to avert vitamin A deficiency in our children," said a farmer growing one of the orange maize varieties. Taking advantage of the farmer-expert interactions, the day ended with a question-and-answer session between the farmers and the multidisciplinary expert team. The questions ranged from agronomy and orange maize production to its nutritional benefits.
The last day of the meeting was devoted to country presentations and the project's expansion plans. It was also announced that after 10 years of dedicated culminating in the release of the 3 varieties in Zambia, Kevin Pixley would be unable to continue as HarvestPlus maize crop leader due to his appointment as CIMMYT Genetic Resources Director. Thanda Dhliwayo (CIMMYT) and Abebe Menkir (IITA) will co-lead the maize crop activities for HarvestPlus effective immediately.